Why choose Physiotherapy with UFIT?
Our Approach to Physiotherapy
Beyond treating your existing pain and discomfort, UFIT Physiotherapy will assess and diagnose the cause of pain, find the most effective way to alleviate it, and help to prevent re-occurrence.
Our team of highly qualified and experienced physiotherapists treat all musculoskeletal and orthopedic problems. Our unique approach is to fully understand the root cause of the problem and offer an integrated solution to optimise your recovery and rehab and work with you to achieve your goals. We will work together to overcome any challenges on your recovery journey.
We are committed to helping you to overcome your injury and return you to action stronger than ever before.
23
dedicated Physio specialists
3500
lives changed annually
Physiotherapy Specialities
Musculoskeletal profiling & treatment
Soft tissue injuries
Ligament sprains
Muscle tears
Joint problems
Arthritis


Back and neck pain
Whiplash injury
Post-surgery rehabilitation
Ergonomic advice
Sports related injuries and Injury Prevention
Pre-natal
DID YOU KNOW?
If you purchase a program with us, you can access Physiotherapy for no additional cost as part of your program sessions. The outcome and recommendations would then be shared with your lead coach to ensure that all other program sessions were tailored accordingly.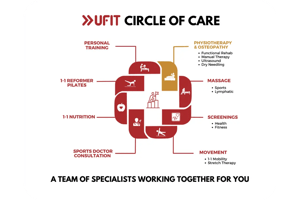 Your Road To Recovery
Fill out the form below and we will get in touch with you.
Consult with one of our highly qualified Physiotherapists so we can assess and understand your needs and goals.
Make an achievable treatment plan together.
Start your treatment and enjoy the improvements as you progress!
Book Your Physiotherapy Consultation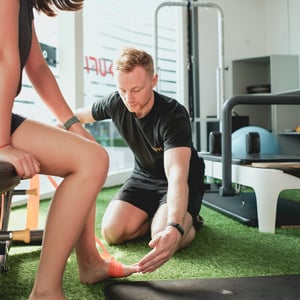 "I visited UFIT as I had been experiencing lower back pain. Nada was very friendly and provided advice, guidance and exercises in a clear and easy to understand manner. I was extremely pleased to have no back pain for the first time in years after just four sessions, and Nada provided a plan so that I can continue strengthening my lower back and improve my mobility."
"Great staff, location, and equipment. Would recommend UFIT to anyone who needs Physiotherapy."
"UFIT contains the industry's best professionals, who will take your injuries as seriously as if they were their own and take the time and energy to get you back to being at your optimum best."
Meet Our Physiotherapy Team
Club Street
Orchard
One-North
City Hall
Frequently Asked Questions
How can physiotherapy help me?
Physiotherapy is a science-based profession that aims to prevent, assess and treat problems relating to movement that might (but not always) be associated with injury, illness, pain or surgery. Physiotherapy is a holistic therapy that aims to discover the root cause and relieve pain/stiffness, improve movement and optimise health and wellbeing.
At UFIT, our key pillar is the use of exercise therapy and education to empower patients to take control of their health and recovery. We consider all factors that may affect your recovery: movement, sleep, nutrition, mindset and rest.
How do I find the right Physiotherapist for me?
Please be reassured that all of our therapists have broad training and skills and can appropriately manage most musculoskeletal or orthopaedic conditions. Most of our therapists have specific interests in certain conditions or therapies and this may help. If you have no preference, our team is excellent at steering you towards a suitable choice.
What should I expect for my first appointment? What should I wear?
Your first appointment will involve taking a thorough and detailed history of your condition. An examination of your movement, flexibility, strength and the integrity of your joints and muscles will take place. This will require moving and potentially completing exercises. Suitable activewear and footwear that you would use for exercise are recommended. Your therapist may need to view the area directly, therefore appropriate clothing is recommended to enable this (shorts / short sleeves top for example).
Following your appointment, your therapist will be able to explain to you what is contributing to your current condition and outline a treatment plan to optimise reaching your goals.
How long does a session last?
Our sessions are usually 45 or 60 minutes. Longer sessions are recommended if the injury is complex (e.g. multiple body areas affected / a long term injury) or if exercise therapy is recommended. If you are unsure, we would recommend booking a 45-minute consultation and discussing the optimal appointment length for your specific condition and treatment plan with your therapist.
Do I need physiotherapy or another service?
Physiotherapists are movement and exercise specialists. They treat a variety of problems with muscles, joints, tendons and ligaments. If you are experiencing a pain or limitation in movement in one of these body areas, a physiotherapist can help. As first-contact practitioners, they are also expertly trained to screen for other pathology or disease that may require referral to a doctor or other specialist for further testing and diagnostics.
As an integrated Health and Fitness company, we also have the pleasure of working alongside other Health and Wellness professionals. If we aren't the right service for you - we can point you in the direction of where you need to go.
How often will I require treatment and what type of treatment will I receive?
This is dependent on a variety of factors such as the nature of your injury and associated problems, current healing stage, treatment received to date and your own specific health status and treatment plan. Mapping out an optimum treatment protocol can usually be done after 1-2 sessions, once your therapist has a solid understanding of you, your condition and how your body is responding to therapy.
What are the different payment options
Credit Card, NETS and Bank Transfer.
We also work with a select number of partners to offer exclusive direct billing services.
Do I need to see a doctor first?
No. You do not need to see a doctor prior to consulting with a physiotherapist, however some insurance policies commonly state that a referral from a GP or specialist is required to qualify for reimbursement. Please check with your insurance policy.
As first-contact practitioners, physiotherapists are expertly trained to screen for other pathology or disease that may require referral to a doctor or other specialist for further testing and diagnostics.
Do I need to get an X-ray or scan first?
No. This is not required and has surprisingly been shown to prolong recovery. If a scan or further tests are required, your physiotherapist will indicate this to you and also be able to provide the context of what may change as a result of getting the test.
What training do your therapists have?
Our physiotherapists have completed rigorous academic and clinical training. All have attained a bachelors or masters degree in Physiotherapy and have registered with the Allied Health Professions Council - the regulatory body for Health Professionals in Singapore.
Many of our therapists have completed post-graduate training in a variety of areas including Sports Physiotherapy and Pain Management. You can be assured that our therapists are safe, competent and well-qualified.
Is the cost of therapy covered by my health insurance?
The cost of physiotherapy is usually redeemable against the outpatient physiotherapy or post-inpatient rehabilitation benefit on your health insurance. Terms and conditions vary widely between insurers and levels of insurance so you are recommended to verify exact details of coverage and limits directly with your insurer.
We work with a select group of insurance companies to offer direct billing services. Please enquire with any of our customer service team to check eligibility.
Do you accept direct billing?
We work with select partners and offer direct billing services to their clients. We currently have an established direct billing relationship with AETNA, Allianz and Cigna. Please enquire to learn how you can enjoy the benefits of this service.
Wellness Support Services
At UFIT, physiotherapy means more than treating your existing pain and discomfort. With state of the art methods, we take pride in providing the best physiotherapy client-centric service to meet your health needs.
Live Well
Take your Physiotherapy and rehabilitation journey to the next level by building sustainable habits that last a lifetime. Check out our blogs, written by our very own experts!
Physiotherapy Locations
21 Club St, #01-01
Singapore 069410
Phone: +65 6225 5059
E-Mail: ufitclinic@ufit.com.sg
181 Orchard Road
Orchard Central #06-11
Singapore 238896
Phone: +65 6509 0057
E-Mail: orchardclinic@ufit.com.sg
1 Fusionopolis Way
Galaxis Building #01-02
Singapore 138632
Phone: +65 6250 2944
E-Mail: cliniconenorth@ufit.com.sg
80 Bras Basah Road
Fairmont Hotel
Singapore 189560
Phone: +65 9646 9501
E-Mail: info@ufit.com.sg