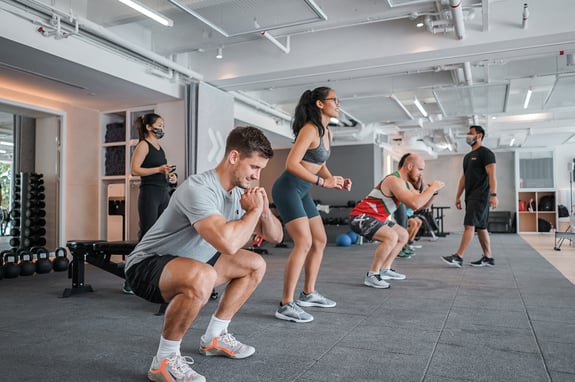 Private Classes
Bespoke Team Workouts
Build stronger ties with your business partners, clients and colleagues through a series of exclusive 60-minute workouts with our world-class coaches.
Classes are run at our state-of-the-art studios at City Hall, one-north & Club Street, and you can have the whole gym to yourselves.
All you need to do is get your team together and we'll handle the rest!
How It Works
Fill out the form below with your contact details and a member of the UFIT team will be in touch.
We will arrange a call with you to find out more about your teams' needs and goals. You can choose one of our popular classes below or we can design one for you.
Find a weekly time slot that works for your team and we'll get you booked in!
TOUCH
Burn
BURN is a great cardio workout suitable for all fitness levels. If you're looking to get stronger, fitter while improving your mobility, then this is the class for you!
TOUCH
HIIT
Adopting the priciples used with training athletes, HIIT incorporates mobility, strength work, speed development and conditioning into one class.
TOUCH
Pilates
Pilates targets stiffness in common areas of the body leaving you feeling more comfortable and relaxed.
TOUCH
Yoga
Practice a mix of traditional postures to build strength, endurance and flexibility. Perfect for relaxing and clearing your mind
TOUCH
Tennis
High energy, engaging tennis sessions to help improve your team's fitness, footwork and tennis skills. Suitable for all abilities.
TOUCH
Meditation
Meditation is designed to calm your nerves, relax your mind and body and lift your mood for the rest of the day.
Any questions? Interested in signing up?
Get In Touch With Us
OUR PRIVATE CLASS LOCATIONS
21 Club St, #01-01
Singapore 069410
Tel: +65 6225 5059
E-Mail: info@ufit.com.sg
1 Fusionopolis Way,
Galaxis Building #01-02
Singapore 138632
Phone:
+65
6250 2944
Email:
onenorth@ufit.com.sg
80 Bras Basah Road
Fairmont Hotel
Singapore 189560
Phone: +65 9646 9501
Email: info@ufit.com.sg