Get access to the same level of care as professional athletes
At UFIT, we never prioritise quick fixes, fad diets, or obsess over your physical appearance. Instead we're all about longevity. We focus on helping you move better, feel better and perform better by looking at all the core foundations of health and fitness together, rather than in isolation.
We know living a healthy, balanced lifestyle isn't always easy, but with our Circle of Care you can get support from experts in all areas of your wellbeing under one roof.
It's time to take control of your health, achieve your goals, and get long-lasting results.
Take a 360 approach to your health & wellbeing
Our Circle of Care is designed to support you in all the key foundations of health, so you can build sustainable habits and achieve long-lasting results.
Pay for one program, get access to all our 1-1 Services
Forget having to pay separately to see different professionals. Get incredible value for money by building a comprehensive, personalised program based on your goals and preferences incorporating multiple different UFIT services.
Work with a team of highly qualified professionals
Why work with one coach when you could have a team of health and fitness professionals under one roof collaborating to help you achieve your goals?
Our Circle of Care Services
Simply purchase a UFIT program and get access to all the following 1-1 services:
PLUS GET FREE UNLIMITED CLASSES
When you sign up for one of our 4 or 6-week programs (usually worth $396 per month).
"UFIT have exceeded all expectations. I started my PT journey back in January with Aly. She totally understood my needs and really put the 'Personal' in personal training. I achieved regular PBs, and you even get a personalised app, where you can track progress, daily goals etc and you can link it to your smart watch. For me, the gym always felt daunting, this is no longer the case, with UFIT.
Sadly, in June I ruptured my ACL playing netball. UFIT were able to shift me from PT sessions to Physiotherapy immediately - UFIT really is a one stop shop!
From pre to post op, Ian has used multiple techniques. Within 2 weeks, post op, I am already walking unaided. I couldn't recommend this team enough."
"I have had many personal trainers over the years and can speak highly for Devina's competency, professionalism and individualized approach to her client's fitness. Like many Asians with a sedentary job, I had issues with body composition (fat vs muscle), endurance and mobility (pelvis and hamstrings). Since training with her I have seen improvements in all of the above."
"The trainers here are great; they create high quality programs that keep clients on their toes, while pushing them to achieve their fitness goals.
I've been training at Ufit for over 2 years now, and I've seen consistent, positive results.
Would highly recommend this gym!"
"The service at UFIT is exceptional. From personal training to physio to group classes, there is high quality expertise in all areas. My PT provides a tailored programme to my specific needs in a fun and motivating way. The progress I have made in 2 years is phenomenal and that is down to the people and service UFIT provides. Highly recommend!"
UFIT's Circle of Care is best described as my "safe space" for all things wellness. I enjoy the vibes each component brings to my journey - the endorphin highs of group classes, to the structure and discipline of Personal Training. Reformer Pilates literally centres you which is wonderful. Physiotherapy helps keep you able to do the exercises you want to do and has been a lifesaver for my recent injury.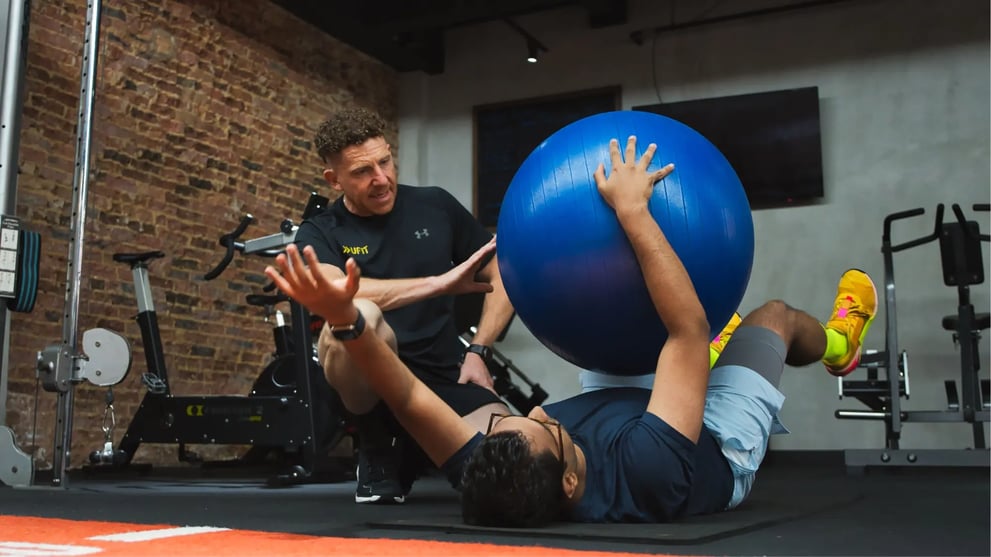 We believe in
HEALTH FIRST, THEN PERFORMANCE
We don't build temples on shaky foundations. We focus on all aspects of health and fitness, making sure our clients have mastered the basics before moving on to the next level of performance.
What does this mean in practice? We insist that all our clients:
Move well, with no limitation or pain.
Have adequate levels of muscle power and endurance for their age and sex, with no imbalances.
Have a good level of aerobic fitness and cardiovascular health.
Have healthy levels of metabolic health markers, such as cholesterol and blood lipid levels.
All of these aspects are crucial to living a long, vibrant life. It is only when we have thoroughly assessed and ticked all these boxes that we start moving on to your next level of training - focusing on performance in a certain area.
Why UFIT?
YOU'LL GET THE BEST RESULTS WITH A HOLISTIC APPROACH
We're proud to be offering a level of care that is usually only available for professional athletes - a support team of over 65 qualified health and fitness professionals who have years of experience in their field, and many with specialised sporting backgrounds - all working together to get you where you want to be.
Every time you use a different service as part of your program, our team will ensure your progress and next steps are shared with your lead coach, so everyone is working and communicating together.
We'll help you set goals, choose what services will benefit you the most, stay accountable, and regularly measure your progress to make sure you are on track.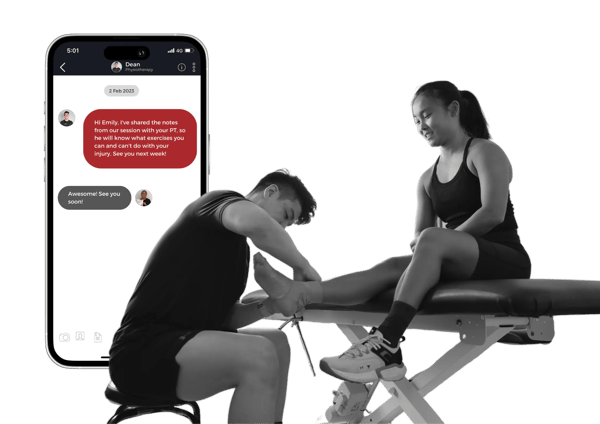 3 STEPS TO ACCESS OUR
CIRCLE OF CARE
Fill out the form below and we will connect you with our team so we can understand your needs and goals and find out which of our professionals is right for you.
Based on your goals, budget and desired frequency of training, our team will recommend which of our programs is most suitable for you and connect you with a lead coach.
Once you've committed, we'll book you in for your first session at your preferred location so you can start your program, get onboarded onto the UFIT coaching app, and get one step closer to achieving your health and fitness goals.
Program Options
12-Week Flexi Pack
12-week expiry
(av frequency - 1 sessions per week)
Access to our Circle of Care
PAY AS YOU GO
6-Week Program
6-week expiry
(av frequency - 2 sessions per week)
Access to our Circle of Care
ROLLING SUBSCRIPTION
SUBSCRIBE & SAVE UP TO 10%

Recommended
4-Week Program
4-week expiry
(av frequency - 3 sessions per week)
Access to our Circle of Care
ROLLING SUBSCRIPTION
SUBSCRIBE & SAVE UP TO 15%

ENROL IN OUR CIRCLE OF CARE
FREQUENTLY ASKED QUESTIONS
What are the expiry dates on the programs?
Our programs are set up around three expiry periods:
- A 12 week expiry for the 12-Flexi Pack
- A 6 week expiry for the 6-Week Program
- A 4 week expiry for the 4-Week Program

We have designed the pricing around rewarding those that come to see us more frequently and more consistently. Of course, you have the option to freeze your program for up to 4 weeks if you are travelling or injured - but we only allow one 'freeze' per 12 session package.
What happens if I don't get through all 12 sessions in the validity period?
We get it - life is busy! Sometimes it is hard to get through all the sessions in the prescribed time. Don't worry, you have a couple of options available to you:
Freeze your program: You may freeze your program once per 12 sessions for up to 4 weeks. If you are traveling or sick, this is the best option for you. Simply email ptsubscriptions@ufit.com.sg to request a freeze, and they will handle the back end admin for you.
Roll-over sessions: You may roll over up to four sessions from one program to the next, provided you have purchased another set of 12 sessions. Please note, only a maximum of four sessions can ever be rolled over from one program to the next, and the roll-over only happens if the next set of 12 has been purchased.
Share sessions: You may share up to three sessions of your set of 12 with one other friend or family member - a great way to spread the love and also get through your sessions!
Can I freeze my program?
You may freeze your program once per 12 sessions for up to 4 weeks. If you are traveling or sick, this is the best option for you. Simply email

ptsubscriptions@ufit.com.sg

to request a freeze, and they will handle the back end admin for you.
Can I pay as I go?
You can pay as you go with the flexi-pack. This is a 12-session program with a 12 week validity on all sessions.
Are my card details secure?
All payments and credit card details are held by a third party provider - Stripe - which is incredibly secure and protected.
What is the session duration of each of the services in the program?
- Personal Training - 60 mins
- Pilates - 60 mins
- Massage Therapy - 60 mins
- Nutrition Consultation – 45 mins
- Health, Fitness, Performance Screens - 60 mins
- Physiotherapy - 45 mins
- Osteopathy - 45 mins
- Pilates with Physiotherapist - 45 mins
- Sports Doctor Consultation - 30 mins
How do the professionals work together on my program?
All of the UFIT professionals collaborating on your program will have shared access to your data and insights via the new UFIT coaching app. They will know what your goals are and what strategies are in place to get you there, and they will be speaking to you and each other about your progress, your challenges, and the plan in place to overcome these. This is an incredibly unique and powerful approach that we are confident will get you the results you want.
Is it mandatory to use other services available in the Circle of Care?
By no means is it mandatory to use any of our other 1-1 services during your program. If you wish to just continue with just Personal Training for example, then that's absolutely fine! Your coach will recommend which other professionals you should see based on your goals and preferences.
How do I book in for the other services in the Circle of Care?
Speak to your coach, Whatsapp +65 9489 1136, or book in at the front desk. At the start of your program, you will sit down with your coach to map out what other sessions you want from UFIT, and also what you need to really support you in achieving your goals. Together, you can then create your weekly schedule and book in your sessions with the relevant professionals.