What We Offer
We are dedicated to helping our clients regain their mobility and return to the activities they love. That's why we have partnered with Cove Orthopaedic Clinic to offer an additional level of Sports Medicine care to our clients.
The orthopaedic doctors at Cove treat a comprehensive range of musculoskeletal disorders in both the upper and lower limbs, orthopaedic conditions related to trauma and sports injuries, and minimally invasive surgeries.
Sports Medicine Specialities
A wide variety of sports, musculoskeletal and chronic degenerative conditions
Complex tendinopathies and ligament injuries
Diagnostic ultrasound
Ultrasound guided interventions (steroid, PRP, prolotherapy, high volume, hydro dilatation and TENEX)


Sports and pre-participation screening
Team and event medicine
Preventative medicine


Your Road To Recovery
Fill out the form below and we will get in touch with you and connect you to the team at Cove.
Consult with one of the highly qualified doctors at Cove so they can assess and understand your needs and goals.
Make an achievable treatment plan together.
Start your treatment and enjoy the improvements as you progress!
DID YOU KNOW?
If you purchase a program with us, you can access a Sports Doctor Consultation for no additional cost as part of your program sessions. The outcome and recommendations would then be shared with your lead coach, who would tailor your program based on your health status and goals.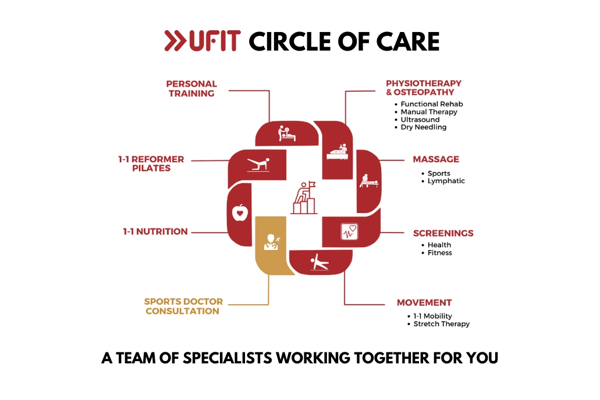 About Dr. Dinesh
Dr. Dinesh specialises in non invasive musculoskeletal injury treatment. He has a long history of experience working with various sports teams, including field experience in the Olympic and Paralympic Games.
Dr. Dinesh Sirisena
Sports & Exercise Medicine Consultant
Sports Medicine FAQs
What's the difference between Sports Medicine & Physiotherapy?
Sports medicine is a medical specialty where you will see a doctor who has undergone additional training in a mixture of different areas including orthopaedics, rehabilitation, musculoskeletal ultrasound imaging and interventions, exercise physiology, team medicine. Often they have experience in general/primary care medicine. Sports physicians work closely with physiotherapists, podiatrists, orthopaedic surgeons, rheumatologists, sports scientists, and dietitians.
Where do the sports doctor consultation & treatment sessions take place?
Sessions will take place at Cove Orthopaedic Clinic in Royal Square Novena,

101 Irrawaddy Rd, Singapore 329566.
How long does a session last?
Consultations are 30 minutes and follow ups are usually around 15 minutes, but this may vary according to your clinical need or if a procedure is being undertaken.
All initial consultations are included in our programs as part of our Circle of Care, but any follow up treatment or sessions with Cove fall outside of this and are up to the client to pay for separately.
What should I expect for my first appointment?
During the first visit, you will be taken through your presenting issues, with consideration of any injury mechanisms, underlying risk factors and other medical conditions. You will then be appropriately examined and if required, investigations will be undertaken or organised. To finished, treatment options will be discussed, including how to minimally affect your chosen activities and life.
Is the cost covered by my health insurance?
For existing UFIT members who have purchased a Circle of Care Program - you cannot claim a Sports Doctor consultation on insurance.
For new UFIT members - insurance cover will depend on your policy, inclusion and exclusion criteria and the level of coverage. We can help you with any claims and liaise with insurers if needed.
How often do I need to see a sports doctor?
This will depend on what the underlying problem is, what treatments are undertaken and what other underlying problems we need to help you with.
What is the down time after injections?
This is influenced by the type and site of injection. Generally we recommend a period of rest after any intervention, but this maybe slightly longer for weight bearing structures or after procedures that are into tendons. It will be individualised to you, with consideration of your daily activities and chosen sports.
Book Your Sports Doctor Consultation