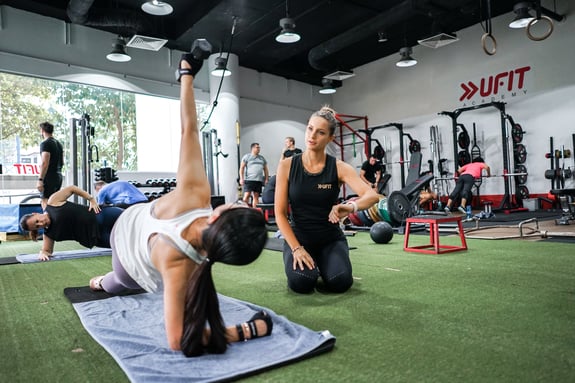 One-North Hub
Integrated Health & Fitness Hub
UFIT one-north is the most comprehensive personal training, strength & conditioning and youth training facility in Singapore. For anyone recovering from injuries, we work side by side with physiotherapists, rehabilitation specialists and nutritionists at the UFIT Clinic directly opposite and have physiotherapy-trained coaches with a wealth of knowledge and expertise to help you get back on track with your goals.
The Gym
9 Personal trainers and strength and conditioning coaches individualise programming to meet client-specific needs.

Fully equipped gym with state-of-the-art e

quipment to cater for first timers in fitness through to sports clients requiring elite strength and conditioning.

Coaches specialise in weight loss, strength, athletic performance, body transformation, youth training and pre-and post-natal.

Our hub offers excellent accessibility through public transport services and ample parking.
The Clinic
One-north Clinic has four

dedicated rehab treatment rooms and one rehab space featuring a Pilates reformer machine.

Our Physiotherapists have a range of specialities, including post operative rehabilitation, acute injury management and return to sport.

We also have a Massage Therapist, a Nutritionist, and an Osteopath to help you on your road to recovery.
One-North Health & Fitness Hub
1 Fusionpolis Place
#01-02
Singapore 138632
Club Hours
Monday – Friday: 6AM – 8PM
Saturday: 7AM – 1PM
Sunday: Closed