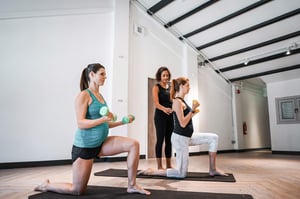 Pre & Post Natal
01

Pre-Natal Health Services

02

Post-Natal Health Services

03

Pre-Natal Personal Training

04

Post-Natal Personal Training
Pre-Natal Health Services
UFIT's pre-natal team of Physiotherapists, Pilates instructors, and Massage Therapists are specialists in the management of pregnancy-related aches and pains including:
Lower back pain

Upper back and neck pain

Pelvic pain

Pubic symphysis dysfunction

Carpal tunnel syndrome

Pre-natal/pregnancy massage
Our aim is to keep soon-to-be mums happy and healthy during pregnancy.
We can also refer you to our partners for a pelvic floor or specialist assessment to ensure that you avoid issues such as incontinence and back pain in the later stages of your pregnancy.
Post-Natal Health Services
Our highly-qualified team of Physiotherapists, Massage Therapists, and Pilates instructors are well-positioned to support your recovery and rehabilitation following childbirth. We work with external partners to provide a seamless recovery journey from the acute post-natal period and complications of childbirth, to safely returning back to activity and exercise.
Our team can help you with:
Rectus abdominis diastasis

Lower back pain

Neck pain

De Quervain's Tenosynovitis

Relief of muscle tension often associated with breastfeeding and poor sleep
The UFIT post-natal team work closely together to ensure that you make the best recovery possible following delivery. Book your consultation today!
Pre-Natal Personal Training
UFIT Pre-Natal training is designed for you, by our pre-natal qualified trainers, focusing on keeping you fit, strong and happy – no matter what stage of pregnancy you are in. We will help you focus on key areas such as your pelvic floor, whilst keeping you and your baby safe throughout.
An active pregnancy undoubtedly leads to a healthier and happier pregnancy. You will feel better, and that can only be a good thing for you and your baby! By focusing on building strength in key areas, you are also better prepared for your delivery day, and also for the hard work that comes after – helping you to get back on your feet and into action quicker.
Post-Natal Training
Pregnancy and giving birth can be hard on your body. Many women don't feel themselves for weeks or months after. On top of this, you now have the pressure of looking after a new life, as well as battling through sleepless nights and (often) poor nutrition choices that come with them.
We're here to help – to meet you where you are now in terms of your fitness and health, and slowly guide you back to where you want to be. Our post-natal qualified trainers are very experienced in terms of targeting the key muscle groups important for new mothers, but more importantly tailoring workouts to meet your energy levels on a given day – providing you a workout that leaves you feeling energised and strong, rather than wiped out and tired.
4 Steps To Ignite Your Greatness
Fill out the form below and we will get in contact with you!
Consult with one of our highly-qualified professionals so we can assess and understand your needs and goals.
Make an achievable pre/post-natal plan together.
Start your journey and enjoy the improvements as you progress!
Club Street
Orchard
One-North
City Hall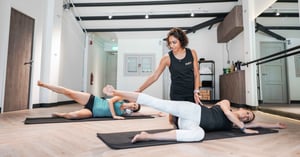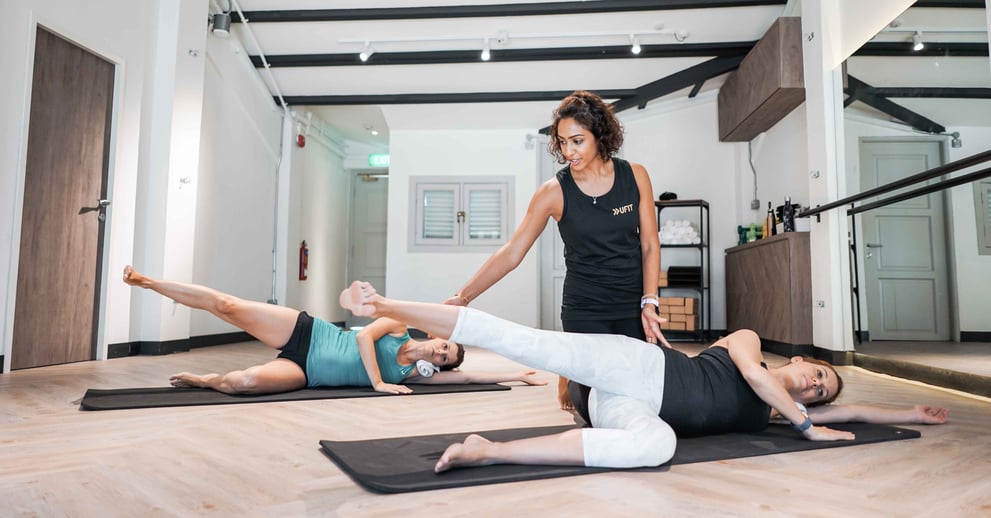 LIVE WELL
Take your recovery and rehabilitation journey to the next level by building sustainable habits that last a lifetime. Check out our blogs, written by our very own experts!
Pre/Post Natal Locations
21 Club St, #01-01
Singapore 069410
Tel: +65 6225 5059
E-Mail: ufitclinic@ufit.com.sg
181 Orchard Road
Orchard Central #06-11
Singapore 238896
Tel: +65 6509 0057
E-Mail: orchardclinic@ufit.com.sg
1 Fusionopolis Way,
Galaxis Building #01-02
Singapore 138632
Tel: +65 6250 2944
E-Mail: onenorth@ufit.com.sg
80 Bras Basah Road
Fairmont Hotel
Singapore 189560
Phone: +65 9646 9501
Email: info@ufit.com.sg