MASSAGE THERAPY
We don't just treat your symptoms, we deal with the source of your issues using a variety of massage techniques.
Why UFIT For Massage Therapy?
We believe in providing quality care that will make a difference, and therefore every session includes an assessment of your issues and objective charting of your range of movement, function, and pain.
Using different massage techniques, such as Sports Massage and Lymphatic Drainage Therapy, we treat a wide range of patients. This includes athletes from different sporting backgrounds to aid their performance and avoid injury, pre-and post-natal mothers to help with pain management and the challenges they face while caring for their baby.
We also treat those suffering from chronic pain issues in their neck, back, hips or legs, who need help with their symptoms while they work to find a solution.
4 Steps To Ignite Your Greatness
Fill out the form below and we will contact you to ensure that Massage Therapy is the right service for you.
Consult with one of our highly-qualified Massage Therapists so we can assess and understand your needs and goals.
Make an achievable treatment plan together.
Start your treatment and enjoy the improvements as you progress!
DID YOU KNOW?
If you purchase a program with us, you can access a Sports Massage for no additional cost as part of your program sessions. Any problem areas or advice from your therapist would be shared with your lead coach, who would tailor your program accordingly based on your health status and goals.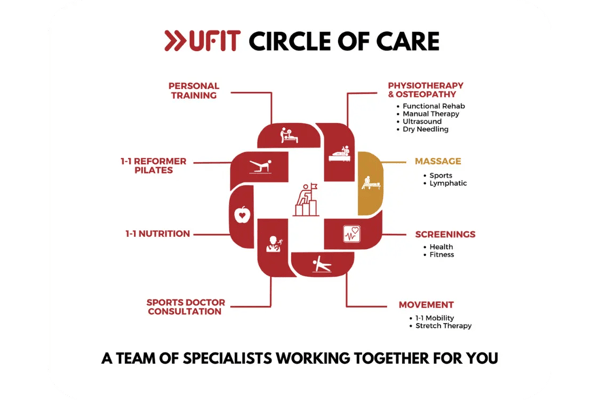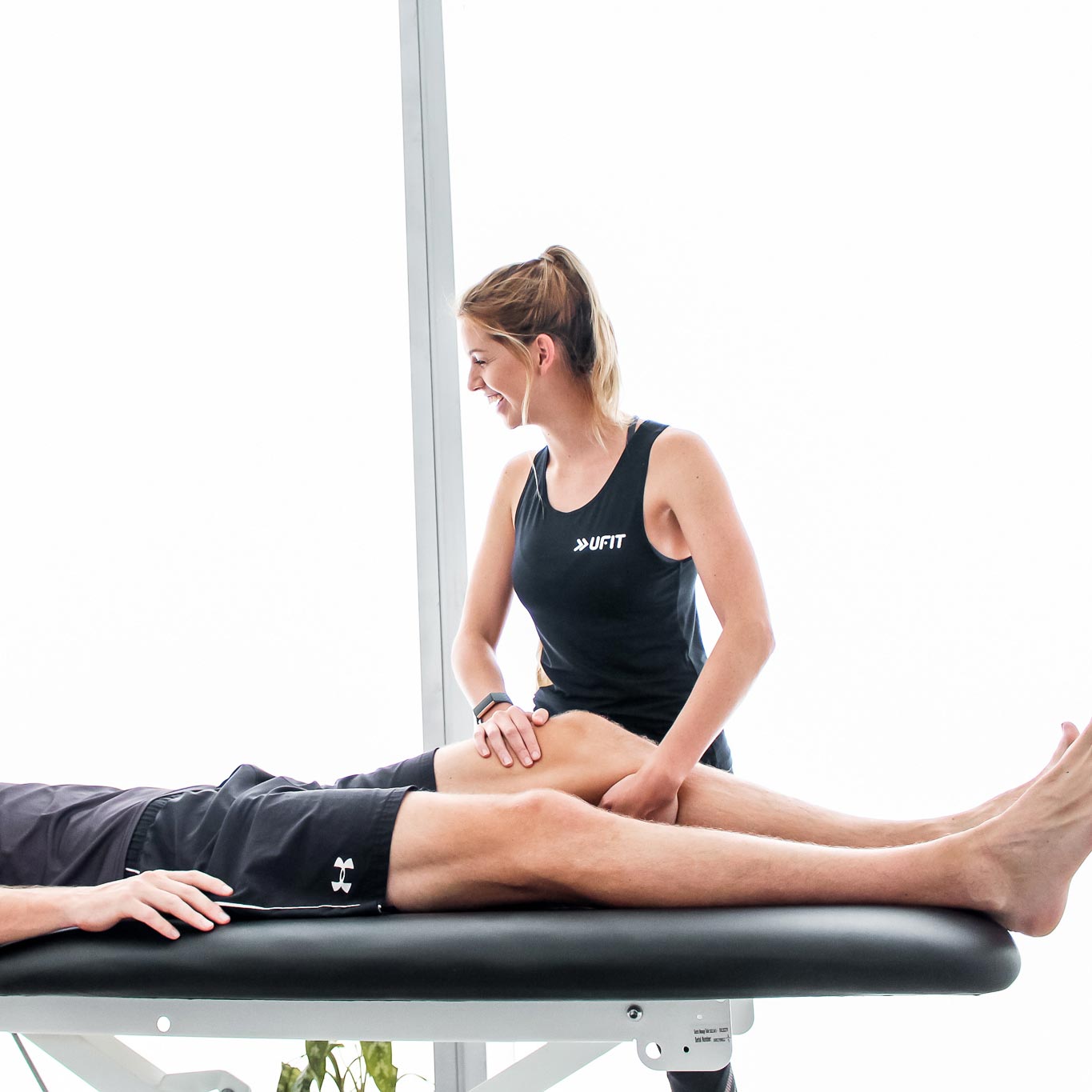 "Recovery is an important part of my exercise regime. Cassi's remedial massage has expedited my recovery, protected me from injury and increased my ability to push myself and therefore also my strength and fitness. Her experience and knowledge are second to none and I only wish I had been referred to her sooner."
"Cassie gives the best deep-tissue massages. She is able to target tight muscles and wills them to relax. When I started with Cassie I was experiencing lower back pain that prevented me from doing the sports and activities that I love. After regularly getting massages from Cassie, I can swim, bike, and run! It's clear that Cassie is passionate about her work and she is the best!"
"I went to UFIT Orchard Clinic post knee op and had a wonderful experience. The therapists "go the extra mile" to ensure I understand the issues, also recommend treatments that will help me regain full confidence and competence functionally in the long term. Their attitude are also very friendly and non-judgemental! I highly recommend you give this place a try!"
"I visited the UFIT Clinic after experiencing some upper back pain. The sports massages with Cassie helped relieve the muscle stress. What I really liked about the experience was the focus on fully body recovery and also learning foam rolling techniques so that I could prevent future injuries"
"Cassie and Jade from UFIT are amazing at what they do. I came to them with a debilitating knee injury and they have helped me recover back to my pre-injury running pace which I thought was not possible. They are both extremely knowledgeable and skilled in the art of sports therapy and played a pivotal role in my healing journey."
Massage Therapy FAQs
What is a sports massage and what are the benefits?
A sports massage is a therapy to treat musculoskeletal pain and injuries. It involves the techniques of kneading (by using the fingers, palms, forearm and elbow) to manipulate muscle tissues. The benefits include:
- Helps relieve muscle tension
- Helps reduce swelling
- Increases sports performance and aids recovery
- Helps promote flexibility
- Helps prevent injury
I'm not an athlete. Can I still benefit from a sports massage?
Yes! Sports massages are not just for athletes. Anyone leading an active, healthy lifestyle can benefit from a sports massage. Those who live a more sedentary lifestyle can also benefit from regular sports massages to release muscle tension.
Are sports massages painful?
We work within your pain threshold. There are certain knots and trigger points that require stronger pressure, which may cause discomfort. However we can always adjust the pressure accordingly if you feel any discomfort.
How often should I get a sports massage?
It depends on a few factors such as the Frequency, Intensity and Time (F.I.T) of your activities, and whether you have chronic pain or acute injury. Serious athletes may benefit from a weekly sports massage, but others may only need one every three or four weeks. If you let us know your goals and conditions, we can advise on the frequency.
What is Lymphatic Drainage Massage Therapy and what are the benefits?
LDMT is the gentle process of removing an excess accumulation of fluid, toxins and waste in the body. The benefits include:
- Reduces fluid retention, swelling and inflammation
- Boosts your immune system
- Helps reduce cellulite, chronic fatigue and mild anxiety
- Boosts your metabolism and enhances digestion
- Helps reduce pain and muscle spasms
Live Well
Take your recovery and rehabilitation journey to the next level by building sustainable habits that last a lifetime. Check out our blogs, written by our very own experts!
Massage Therapy Locations
21 Club St, #01-01
Singapore 069410
Phone: +65 6225 5059
E-Mail: ufitclinic@ufit.com.sg
181 Orchard Road
Orchard Central #06-11
Singapore, 238896
Tel: +65 6509 0057
E-Mail: orchardclinic@ufit.com.sg
1 Fusionopolis Way,
Galaxis Building #01-02
Singapore 138632
Phone: +65 6250 2944
E-Mail: cliniconenorth@ufit.com.sg
80 Bras Basah Road
Fairmont Hotel
Singapore 189560
Phone: +65 9646 9501
Email: info@ufit.com.sg