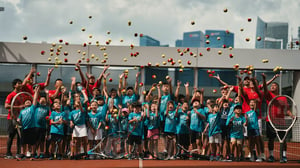 JUNIOR TENNIS CAMPS
UPCOMING CAMP CALENDAR
Red Ball (5 - 6 years)
Orange Ball (7 - 8 years)
Green Ball (9 - 10 years)
Yellow Ball (11 - 16 years)
3 - 7 January 2022
9:00AM - 10:30AM
Junior Tennis Camp
Savitar Tennis Centre, Fairmont Hotel
3 - 7 January 2022
10:30AM - 12:00PM
Junior Tennis Camp
Savitar Tennis Centre, Fairmont Hotel
10 - 14 January 2022
9:00AM - 10:30AM
Junior Tennis Camp
Savitar Tennis Centre, Fairmont Hotel
10 - 14 January 2022
10:30AM - 12:00PM
Junior Tennis Camp
Savitar Tennis Centre, Fairmont Hotel
3 - 7 January 2022
9:00AM - 12:00PM
Junior Tennis Camp
Savitar Tennis Centre, Fairmont Hotel
10 - 14 January 2022
9:00AM - 12:00PM
Junior Tennis Camp
Savitar Tennis Centre, Fairmont Hotel
3 - 7 January 2022
9:00AM - 12:00PM
Junior Tennis Camp (Development)
Savitar Tennis Centre, Fairmont Hotel
3 - 7 January 2022
1:00PM - 4:00PM
Junior Tennis Camp (Performance)
Savitar Tennis Centre, Fairmont Hotel
10 - 14 January 2022
9:00AM - 12:00PM
Junior Tennis Camp (Development)
Savitar Tennis Centre, Fairmont Hotel
10 - 14 January 2022
12:30PM - 3:30PM
Junior Tennis Camp (Development)
Savitar Tennis Centre, Fairmont Hotel
3 - 7 January 2022
1:00PM - 4:00PM
Junior Tennis Camp
Savitar Tennis Centre, Fairmont Hotel
10 - 14 January 2022
12:30PM - 3:30PM
Junior Tennis Camp
Savitar Tennis Centre, Fairmont Hotel
Any Questions?
GET IN TOUCH WITH US
LOCATION
To get to the Savitar Tennis Centre, enter the Farimont Hotel lobby; take the lift to 8th floor and follow signs to the swimming pool. Once outside, walk around the the smaller swimming pool and down the corridor to the tennis courts.
Savitar Tennis Centre is situated directly above the Raffles City Shopping Centre and lots of parking is available below. The City Hall MRT is nearby.
80 Bras Basah Road
Singapore 189560
WORK SMART
Evolve your training, keep your mind focused and remain unstoppable. Whether you're just getting started on your sports journey, an elite athlete, or somewhere in between,
check out our blogs to help you train smarter and achieve your goals.