Terri has dedicated the last 16 years to understanding human behaviour, and how to produce sustainable, lasting changes in the areas of addiction, mental health, and most recently fitness, wellness and lifestyle. As an experienced behavioural change specialist, she fully understands the challenges of making lifestyle changes and, most importantly, making them last. Terri is dedicated to enhancing the well-being of her clients by giving them the tools and confidence to achieve a healthy body and mind.
Terri loves to work with clients that are looking to level up in all areas of life by guiding them to be healthy, happy and strong. She specialises in working with 30+ busy professionals that are seeking meaningful change to enable them to thrive and be the best version of themselves.
She has a solid knowledge base of working with female physiology and understands how to navigate the different life stages including perimenopause, menopause and beyond.
Terri believes that with the right support and mindset - anything is possible.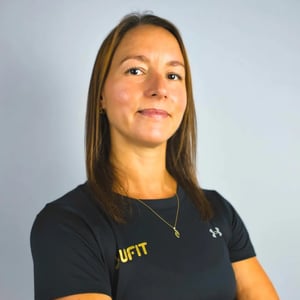 Qualifications
BSc Psychology

MSc Health Psychology

NCSF Certified Personal Trainer

Muscle Nerds Nutrition Foundations

Positive Psychology Coach and Practitioner (in training)
Girls Gone Strong Pre and Post Natal Certified

Dr Stacy Sims: Menopause 2.0 Next level Training for Optimal Performance

Dr Stacy Sims Women are not Small Men: Science Based Strategies to Help Active Women Perform with their Physiology

200 hour Yoga Teacher Training (Yoga Movement)

"Since I started my fitness training, I am truly amazed by my progress, from an unfit person, with not much core strength, stability, and flexible movement to a person who now has some core strength, more flexible, stable and able to do many of the movements, Through the training with you, I have also gained mental resilience and perseverance. The sense of accomplishment and achievements, knowing that if I press on, I can eventually do it. Terri is instrumental in leading me to this new season of my life, to begin seeking to be free, to love myself more, and to grow stronger mentally and emotionally.
Terri played a big part in building me up - to be strong in mind, emotions, and physical fitness. She truly cares about my growth, not only in our fitness program but also our whole well-being, our emotional and mental health. To me, Terri is an awesome coach, one who tries to understand me, who encourages me, designs a program to support my fitness needs, and cheers me on. I am truly very grateful that we met, and embark on this journey of exploration, discovery, experience, and growth together. Thank you for being part of this journey with me! "
"2020 has been a massive leap for me in terms of health, confidence and positive lifestyle choices. Investing in my health and fitness with Terri as my coach has been genuinely life changing.
My motivation to get fitter, stronger and healthier are because of my parents. I don't want to have the health issues they have at their age, specifically Type 2 diabetes. With COVID-19 being such a risk for those with underlying health concerns, I knew I had to make serious changes to my lifestyle if I want to head into my mid-forties and beyond a stronger, healthier and fitter person.
Terri has been the coach and mentor to my motivation. I feel brilliant after a session with her, and even though my sessions are tough, I really do enjoy them. Terri gives me great (science and physiology based) advice, lifts me up and pushes me hard. My workouts are incredibly varied, she understands my strengths and weaknesses, she challenges me, and I have lifted weights I never thought I could! I have become fitter and am making the right choices when it comes to food. I have learnt to persevere and be consistent which is Terri's mantra, and now, about 6 months in, I can see the results. I don't think I could have achieved what I have without Terri. She's really believed in me and that's been incredibly important, particularly with the challenges of this year.

I remained committed because I can feel and see the impact of all the changes I have made. Terri is an absolute legend."
Get in touch with us
Book Your free Health Consultation