UFIT's Approach
Community
Where Can I train?
UFIT's Approach To Personal Training
Do you have health and fitness goals you have always dreamed about achieving?
Whether they are performance related, fat loss, improved health and vitality, strength, or muscle tone, our team of experienced coaches can create an individualised training program for you, designed to achieve long-lasting results.
You will also get access to our on-site team of nutritionists, physiotherapists, and rehab specialists. Our truly holistic approach to health and fitness will have you achieving your goals in no time.
UFIT Singapore Community
Our community is the foundation of everything that we do at UFIT. We don't see ourselves as a gym. We see ourselves as a hub where you can get all the support you need, achieve your fitness goals and celebrate your achievements, together.
UFIT Personal Training Locations
We have over 50 experienced Personal Trainers to choose from at four gym locations in Singapore: Club Street, Orchard Road, one-north and City Hall. View our locations.
GET STARTED TODAY
Book yourself in for a free gym tour and health consultation
4 Steps To Ignite Your Greatness
1
CHAT
Fill out the form below and we will book you in for a call with one of our team, so we can understand your needs and goals, and find out which Personal Trainer is right for you.
2
MEET
Meet a UFIT fitness professional at one of our state-of-the-art gyms for a complimentary 45-minute health and fitness consultation. We will work with you to create a bespoke training program that draws on our wealth of in-house knowledge in fitness, rehabilitation, nutrition and sports coaching to enable you to meet your specific goals and ignite your greatness!
3
PLAN
Once you've committed, we will share your goals, needs and health metrics with your chosen personal trainer, who will design a highly individualised training program that addresses your specific health and fitness goals.
4
TRAIN
Start your personal training programme with your chosen PT, meet the UFIT community, and get all the tools you need to complete your goals and ignite your greatness!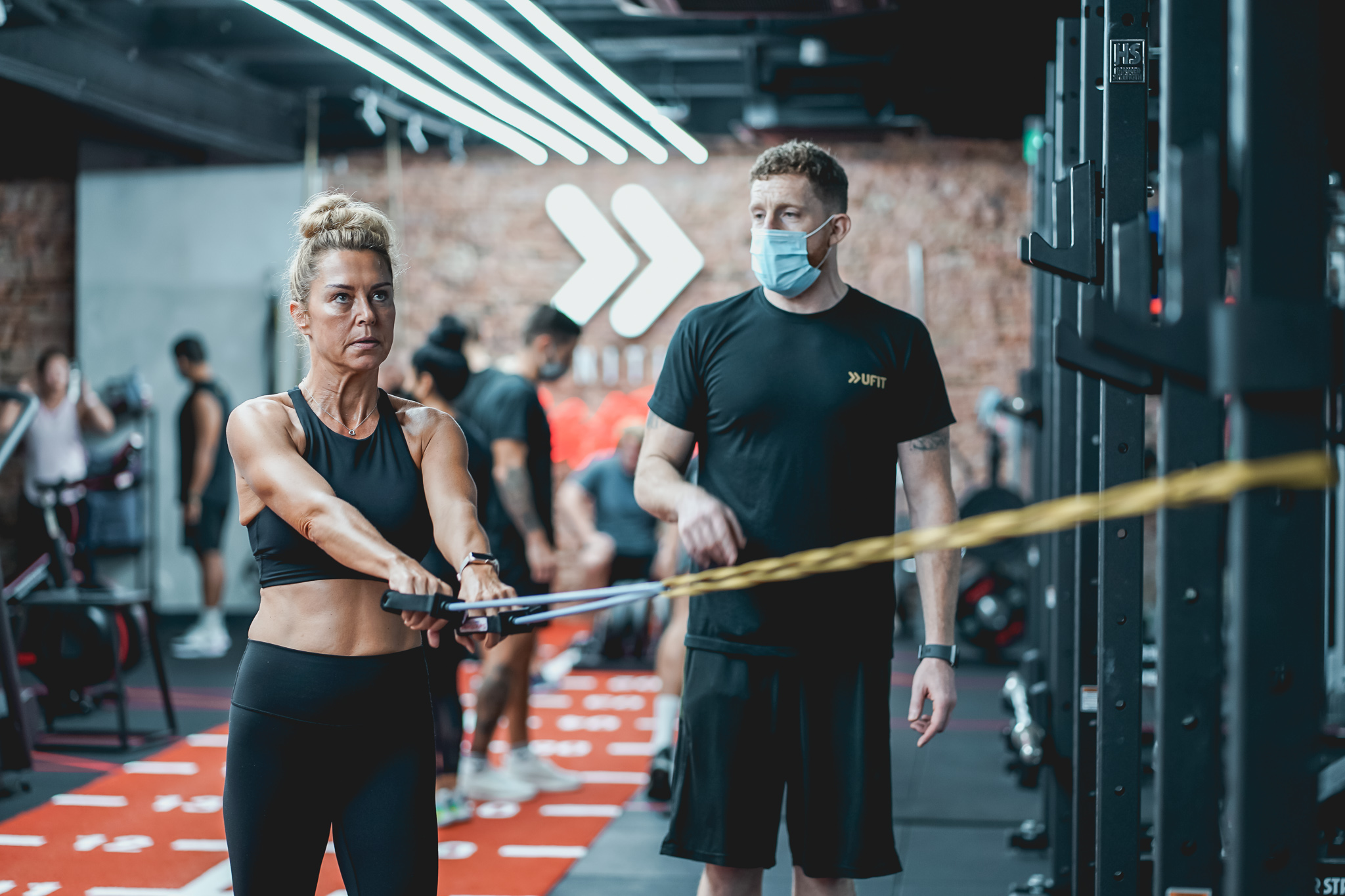 I have been training at UFIT for just over 2 years and the whole team there makes you feel very welcome and at ease. I started my PT journey with Gareth and have not looked back since - he is extremely knowledgeable, patient and supportive. Gareth has motivated and guided me throughout this journey and always pushes me to the next level - always keeping everything fresh and varied. Not only has Gareth supported me through the physical aspect of my training, he has been instrumental with the changes in my lifestyle choices and food - thanks Boss!
Meet The Team
Club Street
Orchard
One-North
City Hall
Book Your Free Health Consultation
Personal Training FAQs
Where can I train?
We have personal training in Singapore available at the following locations: Club Street, Orchard Road, City Hall, and one-north. Our gyms are open seven days a week, with sessions by appointment only.
Can I choose my personal trainer?
You are matched with your PT on the following criteria:

Your goals: What do you want to achieve your health and fitness goals, and what do you need to do to get there.
Your preferred training style: Do you prefer strength-based barbell work, a more functional style, or more cardio-based workouts? Do you prefer a gradual, programmed approach, or a more fun and varied experience?
Availability: What are your preferred training days and times, and which coaches are available then?
Trainer preference: Do you prefer a male or female personal trainer? Have you got a preference for a specific coach that you've seen online or heard about?
Budget: Do you have a specific budget in mind for your Personal training package?
Don't worry if you're not sure of the answers to some of these questions - we will walk you through all these steps in your Health Consultation!
What is the difference between the different level of personal trainers?
We have four different levels of personal trainers at UFIT: Coach, Senior Coach, Advanced, and Elite.
The difference between the coaches is their experience in the industry, their qualifications, and the results they have demonstrated with their clients at UFIT.
However, please don't stress - all of our coaches at UFIT are amazing. It is more important to find a coach you click with, available at the right times and within your budget, than what level they are at.
Which PT packages are on offer?
We have 12, 25 and 50 PT packages available. All sessions are 1-hour long.
How many times a week should I train?
This is a tough question, and essentially comes down to your availability and budget! What we know for sure is that the more sessions you commit to in a week, the quicker you will get to where you want to be on your health and fitness journey. Most of our clients commit to 2-3 sessions a week to really see an impact.
Do you provide nutrition plans?
Our personal trainers do not provide nutrition plans, but they will be happy to provide nutrition guidance - advice on when and what to eat around training sessions, suggested daily calorie intake and macro proportions, and practical strategies to avoid common pitfalls.
If you require more guidance and support with your nutrition, we have a team of degree-qualified nutritionists who are available to work with you on a one-to-one basis to design an individualised nutrition plan for you to help you achieve your goals.
What times can I train?
Our personal trainers are available from 6am to 9pm - just let us know your desired times and we will see who is available to coach you!
Are there expiry dates on the Personal Training packages?
We want you to get results, so we ask that you commit to a minimum of one session a week. As such, the expiry on your packages will mirror this: a 12 pack has a 12 week expiry, a 25 pack has a 25 week expiry, etc.
If you need to put a pause on your package because of sickness, injury or travel, please speak to your coach and they will help you arrange this!
Are there any membership fees or hidden costs?
There are no membership fees or hidden costs. All our personal training sessions are sold as packages to offer you the best flexibility possible.
Personal Training Locations
CLUB STREET
21 Club St, #01-01
Singapore 069410
ORCHARD
160 Orchard Road
OG Orchard Point #B2-02
Singapore, 238842
Phone:
+65
6835 7274
E-Mail: orchard@ufit.com.sg
ONE-NORTH
1 Fusionopolis Way
Galaxis Building #01-02
Singapore 138632
Phone:
+65
6250 2944
E-Mail:
onenorth@ufit.com.sg
City Hall
80 Bras Basah Road
Fairmont Hotel
Singapore 189560
E-Mail: info@ufit.com.sg