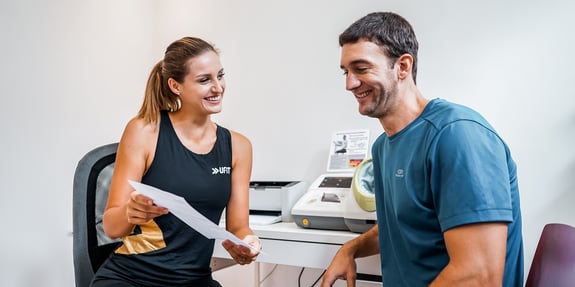 Anthropometric Screening
Our Approach
What Is Kinanthropometry?
What Do You Measure?
Our Approach
Our full anthropometric screening is a comprehensive test that covers body measurements such as skinfolds, girths, and breadths, following the ISAK standards, to assess the status of different important parameters for sports practice, such as: muscle mass, adipose tissue, bone mass and structure, etc. This test will help your sports nutritionist come up with appropriate strategies for your dietary treatment.
This is very relevant for any athlete wanting to assess and/or optimise their physique for their sport based on national and international sport references.
What Is Kinanthropometry
Kinanthropometry is the area of science concerned with the measurement of human body composition. As a result of changes in lifestyles, nutrition, activity levels and ethnic composition of populations, changes to the distribution of body dimensions are forever occurring.
Kinanthropometry is the interface between anatomy and movement. It takes the measurement of the human body and determines its capability for function and movement in a range of settings (ISAK global).
What Do You Measure?
Basic: Body mass, height, sitting height.
Skinfolds: triceps, subscapular, biceps, iliac-crest, supraspinale, abdominal, front thigh, medial calf.
Girths: head, arm relaxed, arm flexed, forearm, chest, waist, gluteal, max thigh, medial thigh, calf.
Breadths: Biacromial, biiliocristal, transverse chest, AP chest depth, humerus, femur.
Key Measurements and Indices
Basic measurements (Kg and % of muscle mass, bone mass, skin mass and residual mass)
Basal Metabolic Rate: amount of energy expended while at rest
Estimated energy expenditure: amount of energy used in a regular day
BMI & fat-muscle Ratio
Wast to hip ratio: relates to cardiovascular health
Cocicity index: measure of central obesity related to cardiovascular health
Ponderal Index: measure of leanness of a person calculated as a relationship between mass and height
Six Skinfold Sum: far mass indicator compared to a health or sports reference.
General Apidosity: mass and distribution of fat in the body
Bone-muscle index: tells how much muscle mass you have per kg of bone mass
Sports related to skeletal structure: body resemblance to specific sports based on your skeletal size & structure

Manouvrier Index: ratio between the lengths of the torso and the lower limits