Rachel is a lover of the outdoors and enjoys activities such as hiking and swimming. She participated in Rhythmic Gymnastics for 10 years growing up, and particularly loves the strength, flexibility, elegance, and power the sport requires.
After suffering with an eating disorder, Rachel understands that being fit and healthy doesn't just mean being physically well, but mentally feeling good about yourself too. She is empathetic, and enjoys getting to know her clients on a deeper level. She loves motivating clients to push beyond their self-imposed limits and witnessing them achieve new milestones. Their sense of joy, no matter how big or small the accomplishment, is what keeps her going and she loves celebrating with them!
Rachel places strong emphasis on improving overall movement quality, with a focus on core training as many people tend to neglect this. When her clients feel stronger and move with more confidence, it's a win for Rachel!
Rachel speaks Chinese & English.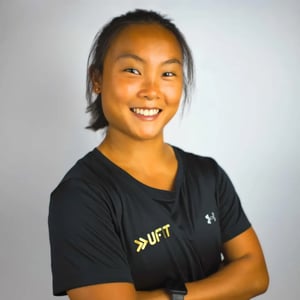 "Do more of what makes you happy."
Qualifications
Honours (Distinction) in Sports Science and Management
National Council of Strength and Fitness (NCSF) Personal Trainer Certification
Clean Health Fitness Institute Performance PT Coach Certification Level 1 (ongoing)
Get in touch with us
Book Your free Health Consultation