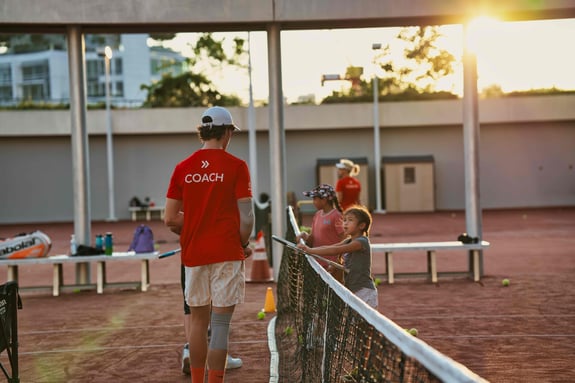 WHAT DOES IT TAKE?
We are on a mission to work together to create a vibrant inclusive community in which our clients can achieve their desired health and fitness goals. Our purpose is to ignite and celebrate the greatness in every individual that walks through our doors.
If this resonates with you, and you are a qualified Tennis Coach with a passion for the game, developing your career, working hard, and helping clients to get healthy, strong and fit - we want to speak to you!
RESPONSIBILITIES
120+ hours of tennis coaching per month
Setting clear, objective goals with clients, and achieving them
Writing individually tailored programmes for private lesson clients
Working closely with fellow coaches during both Junior and Adult Programs
Refer clients to UFIT fitness, physiotherapy / nutrition team (where necessary)
Update and maintain your schedule on the company system
Be an active member of our community
REQUIREMENTS
Tennis Coaching Certification from a reputable provider such as AATC, PTR, RPT or ITF
Evidence of further professional development and a passion for tennis
Ability to play tennis at a high competent level with the ability to correctly demo all strokes
Excited to live and work in Singapore, and be part of the UFIT team culture
Current CPR/AED qualification
TOUCH
Vision
Vision
To house the world's most vibrant health, fitness and sports community.
TOUCH
Mission
Mission
By working together, we provide an integrated health, fitness and sports community for people striving to achieve their personal goals.
TOUCH
Purpose
Purpose
To ignite and celebrate the greatness in everyone.
IGNITING GREATNESS
Whether it is training, nutrition, rehabilitation or performance, we believe everyone has greatness within them.
We are committed to collaborating as a team to ignite and celebrate the greatness in everyone.