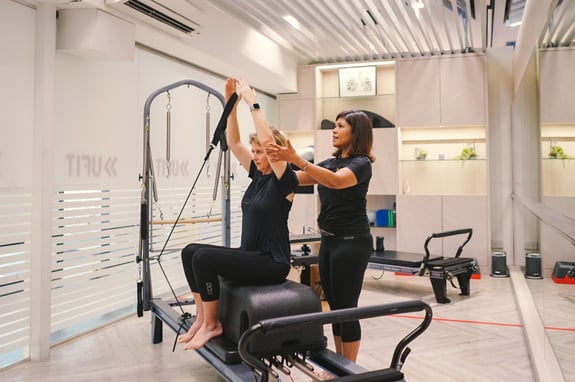 Senior Pilates Instructor
Due to our company's affirmed support and commitment to developing a Singaporean core, this role is only available to Singaporeans.
WHAT DOES IT TAKE?
We are looking for our next Senior Pilates Instructor to grow our vibrant community, and keep pushing the standards of our pilates classes higher and higher!
One of UFIT's services and offerings has always been its vibrant pilates classes. Not only does they provide a high level of engagement between the UFIT team and its members, it is also a great way to introduce newcomers to Singapore to UFIT. The Senior Pilates Instructor will be on a mission to grow our pilates community, keep our clients and staff happy and engaged, and ensure high standards are kept across all classes.
If this resonates with you, and you are a qualified Pilates Instructor with a passion for health, developing your career, working hard, and helping clients to get healthy, strong and injury free - we want to speak to you!
RESPONSIBILITIES
PERSONAL:
Help clients achieve their health and fitness goals
Conduct pilates classes in a group setting - curating a fun and challenging atmosphere full of variety and quality instruction
Track and record data to show the progress of each client
Support and promote UFIT community events
Lead your team and community with positivity and a can-do attitude
SALES AND OPERATIONS:
Manage the team in the first-time client experience to ensure standards remain high and instructors follow protocol
Follow up with all clients that come to the end of their packages/credits and do not re-purchase with the ultimate goal of reducing churn
BUSINESS DEVELOPMENT:
Develop and fulfil a portfolio of pilates classes that grows UFIT's existing brand and offering across Singapore
Devise a strategy to increase the size of the UFIT community and improve engagement of the existing customer base
TEAM AND HR:
Develop the pilates team to ensure that the highest quality standards are maintained, whilst ensuring the team feels valued and happy
Recruit for new instructors to the team, including engaging in long term succession planning
COMMUNITY:
Actively engage in UFIT client relations - reaching out and speaking to members of the community to maintain a pulse check
Continue to drive awareness of UFIT community events, especially regarding attendance from both staff and clients
REQUIREMENTS
Minimum 3 years leading reformer pilates classes and delivering private sessions
Excited to be part of the UFIT team culture
Leadership experience
This role is for you if you:
are self-motivated with a work ethic to match
relish a challenge
have great communication and personal skills
have all the attributes to be a strong team leader
know how to cultivate and grow a community
TOUCH
Vision
Vision
To house the world's most vibrant health, fitness and sports community.
TOUCH
Mission
Mission
By working together, we provide an integrated health, fitness and sports community for people striving to achieve their personal goals.
TOUCH
Purpose
Purpose
To ignite and celebrate the greatness in everyone.
IGNITING GREATNESS
Whether it is training, nutrition, rehabilitation or performance, we believe everyone has greatness within them.
We are committed to collaborating as a team to ignite and celebrate the greatness in everyone.