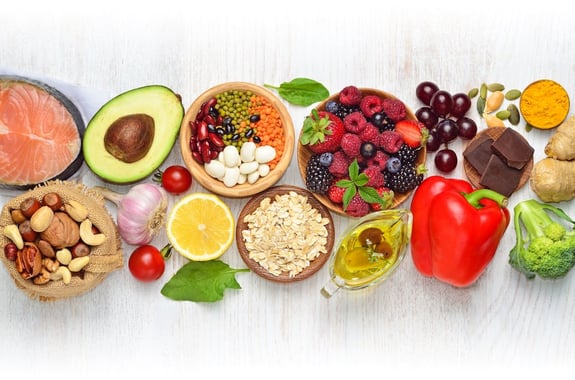 Weight Management
Our Approach
What To Expect
Our Approach
Whether you are looking to lose weight, gain weight, optimise your body composition (levels of muscle and fat), or have a healthy level of weight gain during pregnancy, our Nutritionists are here to help!
We will work alongside you to sift through the vast amount of "nutrition advice" out there and provide you with clarity on the steps you need to take to achieve your goals. We are not about quick fixes or fad diets; our approach will always be backed up by well-researched science. We will help steer you away from pseudoscience and marketing ploys, which can do more harm than good on your health and your pocket!
What To Expect
With our extensive knowledge of all things nutrition and one-to-one client experience, we will create a tailor made program specifically for you. Your body, your lifestyle, your dietary requirements and goals. We will be with you every step of the way to provide support, help keep you accountable, and make adjustments to your program if needed. We will sit down with you, really get to know you, and determine the best way we can work together in order to achieve your aims.
We will calculate your macronutrient (protein, carbohydrate and fat) requirements, and use our in-depth knowledge as Nutritionists to provide you not just with numbers (that don't mean much in the real world), but with an easily implementable plan that's tailored to suit you. You will be given bespoke and actionable advice aligned to your food tastes and preferences.
Our aim is to help you achieve your goals by giving you the guidance, confidence and tools you need to build healthy habits that you can sustain independently in the long term.
4 Steps To Ignite Your Greatness
1
CHAT
Fill out the form below and we will contact you to ensure that Sports Nutrition is the right service for you.
2
ASSESS
Consult with one of our highly-qualified Nutritionists so we can assess and understand your needs and goals.
3
PLAN
Make an achievable nutrition plan together.
4
OPTIMISE
Start your plan and enjoy the improvements as you progress!
"Debbie is a terrific practitioner, great personality, and very supportive of the whole process. When you're dissatisfied with your body image it's pretty challenging to share that with someone else, but I was made to feel very comfortable from day one."
LIVE WELL
Take your eating habits to the next level by building sustainable habits that last a lifetime. Check out our blogs, written by our experts!
Nutrition Locations
Club Street
21 Club St, #01-01
Singapore 069410

Tel: +65 6225 5059
E-Mail: ufitclinic@ufit.com.sg
Orchard
181 Orchard Road
Orchard Central #06-11
Singapore 238896

Phone: +65 6509 0057
E-Mail: orchardclinic@ufit.com.sg
one-north
1 Fusionopolis Way
Galaxis Building #01-02
Singapore 138632

Phone: +65 6250 2944
E-Mail: cliniconenorth@ufit.com.sg