HOW IT WORKS
All runners taking part in UFIT Corporate Run 2021 must use the MyRaceGate app to track their run. Please download via the links below:
Once you've downloaded the app, you will need your registration email and booking reference details to log in. If you do not have these yet, please email ufitrun@metasport.com.sg.
KEY THINGS TO REMEMBER BEFORE YOUR RACE
FULL BATTERY
Make sure your phone is fully charged, before you start your challenge. Low battery will prevent your app from starting.
WEAR A HEADSET
You must wear a headset for the best audio guiding experience. Ensure your audio is turned up on your device to hear our audio messages. You can listen to music at the same time while you are doing your challenge.
LEARN THE RULES
Check out the rules and regulations of the UFIT Corporate Run here
HAVE THE RIGHT SETTINGS BEFORE YOU LOGIN TO THE APP
LOCATION SETTINGS
Make sure your device has "Location Services" turned on and set to 'always'. You will be prompted to enable Location Services by the app after download.
POWER SETTINGS
Please disable low power mode / battery saver mode / night mode on your phone as the app will not be able to track your distance, and you will not receive the audio messages.
APP BATTERY USAGE SETTINGS
(FOR ANDROID ONLY)
Android phones have app settings.
Go to "App Management" and select the MyRaceGate app from the list.
Select "Battery Usage" and select the highest power option, often called "Run in background"
MOBILE DATA ON / WIFI OFF
Ensure mobile data is turned on. Ensure wifi is turned off.
NOW YOU'RE READY TO START!
LOGIN
Log in using the email used for registration and booking reference number received in the confirmation email.
Then go to the start area. Remember, you must start your race at the time you booked your slot.
START & RUN
Once you reach the start line a "Start Race" button will appear on your screen. Tap 'Start Race' when you are ready to begin and a message followed by a 10-second countdown will start. Ensure you have a stable GPS signal before you press START. Check that your blue dot is not moving a lot anymore while you are standing still. Wait for it to settle (up to 1 min). If it doesn't steady then restart your phone.
FINISH
Once you have completed your challenge, you will hear the congratulatory message as you cross the finish line, and the app will automatically stop tracking with no manual intervention required.
KEY FEATURES
Select your target time
Enter your target time for your chosen distance. Like your own personal coach, you will receive motivational audio messages along the route advising if you are ahead or behind your goal time.
Choose your competitors
Select two runners who have already completed your chosen distance. You will receive regular audio messages during your run advising if you are ahead or behind your chosen competitors. An extra bit of motivation to drive you faster!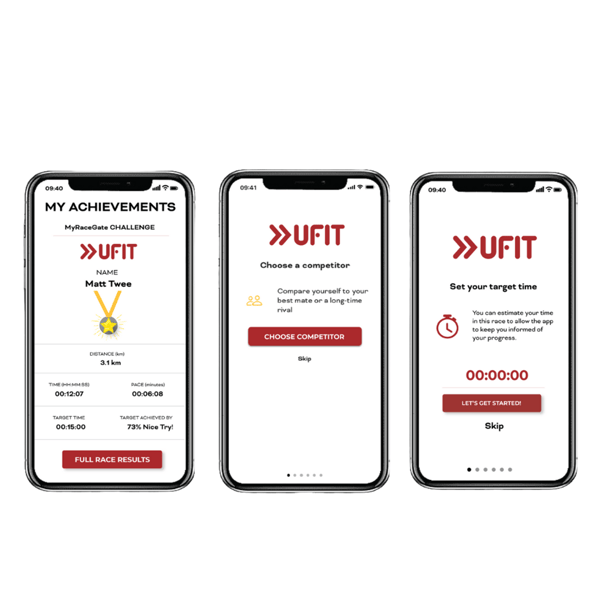 MYRACEGATE APP FAQs
When can I start using the app?
The MyRaceGate app is ready for you to download:
Once you've downloaded the app, you will need to login using your registration email and booking reference number.
If you have not received these yet, please email us at ufitrun@metasport.com.
Why do I need to use the app?
The MyRaceGate app will track your run and enhance your race experience thanks to its unique in-app audio messaging. When you've tracked your run through the racing app, we will validate and publish your time in the

official results online

.
Do I need to carry my smartphone?
Yes – you need it because the MyRaceGate app is the official way to track your run. As well as recording your run and instantly capturing your result, the app features exclusive audio updates at regular intervals to boost your morale every kilometer. Running with your smartphone also means you will be able to call someone if you need to.
How do I log into the app?
Open the MyRaceGate app and enter the email used for registration and the booking reference number received in the confirmation email.
I haven't received my email with app log-in details. What should I do?
You can resend your confirmation email here
How do I set up GPS tracking?
Ensure mobile data is switched on and that you have given the MyRaceGate app permission to use your location in your phone settings. You will be prompted to enable location services by the app during the set-up process. If you are using iOS 14, make sure you allow precise location.
What is the in-app audio experience?
We have included a motivating audio commentary to direct you around the course for your ease and safety. It will also enhance your race experience and let you know how far you have run, and how you are doing compared to your target time.
Can I turn the audio experience off?
No, the directional messaging is compulsory.
Can I do a practice run with the MyRaceGate app before race day?
No. You won't be able to use the race app before starting your race during the time slot you have booked.
Can I pause my run?
You cannot pause your run once you have started (ie. if you stop to take a photo, use the bathroom, tie your shoelaces). The timer will continue running just like in a normal race!