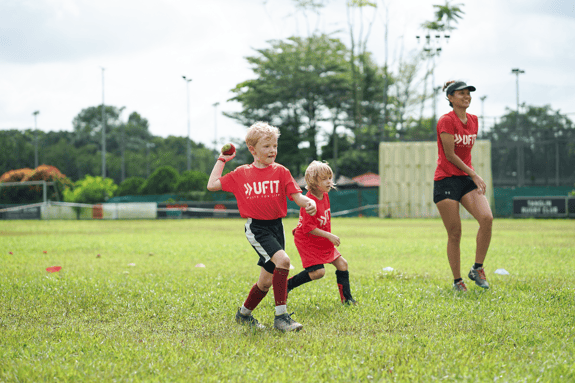 Sports For Life Program
01

About

02

What to Expect?

03

When's The Next Program?
Together We Win
UFIT's Sports For Life program teaches children the benefits of a healthy mind and body, while building a base of life skills that are critical to future development.
The program is a specific pathway for kids' health and fitness, based on their age group, athletic ability, and personal goals. All programs will be conducted by UFIT's team of best-in-class coaches and led by Chris Hodges.
What to Expect?
Each age group is different but all have the overall aim of improving physical and mental skills and attributes.
For the younger programs - orange (6 to 8 years) and green (9 to 11 years), they will be predominantly outside having fun and learning. Our aim is to teach them how to use their bodies effectively while interacting and developing their social and decision-making skills.
The older programs - yellow (12 to 15 years) and gold (15 to 18 years) aim to teach participants how to safely use a gym, develop their physical skills and introduce more advanced mental skills such as goal-setting, relaxation, and imagery.
Program Dates
The next program starts on Monday 18th April and ends on Monday 13th June (9-weeks).
If you are interested in joining the program, sign up below or email sports@ufit.com.sg.
New to our Sports For Life Program?
SIGN UP FOR YOUR FREE TRIAL
MIXED MARTIAL ARTS
Our Mixed Martial Arts (MMA) camps are designed to be fun and engaging while developing a variety of MMA skills, including the basic stances, kicks and blocks. The camps are led by Sean Douglas, who has been involved in martial arts since he was nine, with a black belt in Taekwondo and a blue belt in Jiujitsu. He has coached multiple youth camps and was also the winner of Singapore's first ever MMA event in 2006. All camps are kept small allowing children of all levels to develop at a pace that is right for them.
SCHEDULE
Sports For Life Green (9 - 11 Years)
Sports For Life Yellow (12 - 15 Years)
Mixed Martial Arts (12 - 15 Years)
Monday 4:30 pm - 5:30 pm
Fairmont Hotel, Raffles City
Monday 18th April - Monday 13th June (9 Weeks)
Declan Martens, Personal Trainer
Monday 5:30 pm - 6:30 pm
Fairmont Hotel, Raffles City
Monday 18th April to Monday 13th June
Declan Martins, UFIT Personal Trainer
Wednesday 4:00pm - 5:00pm
One-North, Buona Vista
Wednesday 20th April - Wednesday 15th June (9 Weeks)
Jacob Prosser
Thursday 4:00pm - 5:00pm
Orchard
Thursday 21st April - Thursday 16th June (9 Weeks)
Charles Davies, Personal Trainer
Monday 4:00 - 5:30 pm
Fairmont Hotel, Raffles City
Monday 18th April - Monday 13th June (9 weeks)
Sean Douglas
All Programs Are Age Specific
(ages 6 - 8 years)
Orange
Kids will be guided through a program that introduces them to the fundamentals of movement and coordination. There will be a huge amount of fun and highly energetic games and exercises that will help motivate them to develop skills for all sports and day-to-day life.
(ages 9 - 11 years)
Green
Children will really start to see the results of their efforts and continued physical improvement. Learning the value of teamwork, discipline, and reaching for your goals will complement the children's physical development. This is key to instilling intrinsic motivation and confidence that will help them push that little bit harder.
(ages 12 -15 years)
Yellow
Here, they will learn more about the benefits of being in great physical and mental shape. This program will include goal setting, injury prevention, and nutritional advice, providing a "toolbox" of valuable life skills. It's about feeling good, approaching life with confidence, and setting yourself up to be the best version of yourself.
(ages 15 - 18 years)
Gold
As your child matures, it's vital that both mental (imagery, self-talk) and physical (speed, strength, agility) skills are refined and advanced. We will prepare your child for the competitive and demanding environment of high-school and university sport. We give a taste of what's to come and educate on how to prepare for the next sporting level, all while keeping your child healthy, injury-free and most importantly, enjoying their sport.
FAQs
Where is the program held?
We have three locations for the yellow (12 to 15 years) and gold programs (15 to 18 years) - Fairmont, Orchard and One-North. For the younger orange (6 to 8 years) and green (9 to 11 years) programs we are only at the Fairmont, as we use the outdoor space to allow more room to play and learn.
What happens if there is wet weather?
The yellow (12 to 15 years) and gold (15 to 18 years) are both held indoors. When there is wet weather for the orange (6 to 8 years) and green (9 to 11 years) programs we will go inside the Fairmont Studio and have the class there.
How long does each program last and what is the cost?
We have four terms through the year, each lasting between 6 and 10 weeks. Each term will have its own focus and outcomes that the sessions are designed to achieve. The cost is $35/session.
How do I register my child?
Follow the sign up link above and select the program you would like to sign your child up too. If you have any issues please email
sports@ufit.com.sg
I am interested but cannot see a class at a suitable time.
It may be that our classes are currently full or we have not yet got a class on the day your child is available. If you want to sign up on other days please email
sports@ufit.com.sg
and we will try our best to find a class that works for your child.
What does a typical session look like?
For the younger ages (6 to 11 years) we will be outside - developing physical and social skills through a variety of games and activities. While the older ages (12 to 18 years) will be indoors further developing their physical attributes in the gym while learning from our instructors about more advanced mental skills such as goal-setting, imagery and relaxation.
ARE THE PROGRAMS COVID SAFE
Our programs always follow the latest government guidelines, so we will always be within the safety rules. We do take extra precautions to keep social distancing and hygiene.
WORK SMART
Evolve your training, keep your mind focused and remain unstoppable. Whether you're just getting started on your fitness journey, an experienced gym-goer, or somewhere in between, check out our blogs to help you train smarter and achieve your goals.