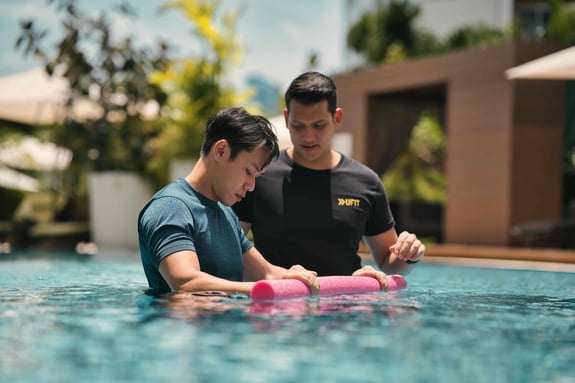 Hydrotherapy
Assess and treat your pain underwater
What is Hydrotherapy?
An effective form of rehabilitation, hydrotherapy is simply the use of exercise in water to treat a wide spectrum of conditions. These include general joint pain, lower back pain, pain related to arthritis, orthopaedic conditions, sports injuries, treatment post orthopaedic surgeries such as hip and knee replacements, and much more.
01

DECREASES LOAD ON JOINTS

02

INCREASES STRENGTH

03

FEEL GOOD FACTOR

04

IMPROVES BALANCE
Being submerged in the water decreases the effect of gravity on your joints and muscles, allowing you to focus on controlled, guided and pain-free movement. Ideal for when exercising on land is too painful.
The resistance from the water creates an unstable environment, which helps muscles work harder without stressing the bones and joints. Exercises can be progressed by increasing the speed of movement, by increasing the surface area, or by introducing various special forms of floats.
It can be frustrating not being able to exercise due to pain or weight-bearing limitations. The water enables you to carry out exercises that are usually very difficult to carry out on land as the body feels much lighter in the water. This in turn helps improve the quality of movement of stiff or weak joints.
Water is an extremely effective way to challenge and retrain balance which can be lost following surgery.
4 Steps To Ignite Your Greatness
1
Chat
Fill out the form below and we will get in contact with you!
2
Meet
Consult with one of our highly-qualified professionals so we can assess and understand your needs and goals.
3
Plan
Make an achievable treatment plan together.
4
TREAT
Start your journey and enjoy the improvements as you progress!
LIVE WELL
Take your recovery and rehabilitation journey to the next level by building sustainable habits that last a lifetime. Check out our blogs, written by our very own experts!