Life can be hectic, and often times when we get busy and do not have the time to take care of ourselves. With the confusing amount of information online, it can be daunting to get into a proper routine for your health and fitness. We spoke to one of our clients who has been training with Will Foden, as he shares his experience working with one of our many personal trainers.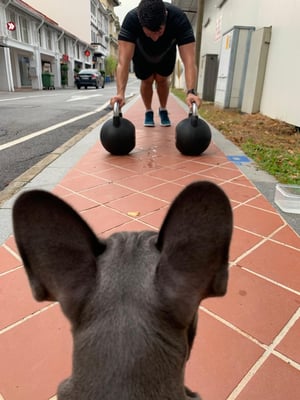 Gregory getting a workout in as his companion watches on
Like many before him, Gregory sought out a personal trainer to offer him advice, knowledge and motivation to stay active and healthy. As a professional working in Management, priorities have to be juggled, but working with a highly-qualified trainer takes away the guesswork, allowing you to focus on what needs to be done and then show up for training.
Why did you reach out for coaching?
Gregory: General health, weight loss and fitness.


What have you achieved working with us online? (Gregory did the Online Coaching option before our gyms are open during the Circuit Breaker Lockdown period)
Gregory: Significant improvement in fitness and mobility, the fitness app is great – Will gives detailed explanations of each exercise and the activity tracking helps keep the motivation up. Program was really well-designed to meet my current state and future goals and changed dynamically as we progressed. During the Covid-19 lockdown, 10 of our staff signed up with Will for online coaching to keep active and motivated. The entire team enjoyed it and saw results - and through the lockdown, it was great to have Will driving each person to get out, get some air, space and push their fitness to keep the mind and body active.


If someone was thinking about Signing up for coaching what would you say?
Gregory: If you think you're doing it right, you're probably not. Will is an extremely knowledgeable and professional coach who takes a deep interest in his clients and their wellbeing. Will covers fitness, strength, nutrition and lifestyle and his coaching is a great journey to go on to develop and understand your own body - rather than disjointed, point in time training which likely doesn't evolve with your progression and factor in the external pressures of day to day life. 10/10 recommend Will and the UFIT team to anyone looking to make impactful health and body changes or to simply keep active and healthy.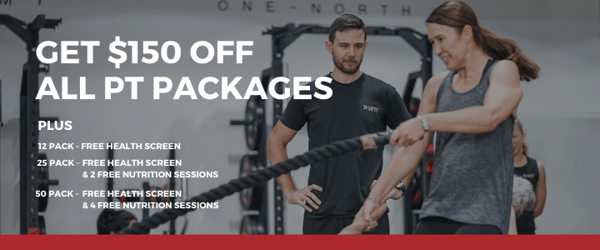 With the reopening of our outlets, now is the time to take charge of your health and fitness again. We also have a PT Promo ongoing to help get you started, on top of our Online Coaching options. Speak to us for a complimentary health consultation and we can help devise a plan to suit your goals and needs. Greatness starts now.