It's time to get your running shoes on!
UFIT are organising a 24-hour run on Saturday 30 - Sunday 31 May to help raise awareness for Majulah Movement, who deliver set meals and treat packs to front-line workers and the migrant community.
The idea is to have members of the Community running around the clock, in a virtual relay format. Every UFIT staff member is running for at least 30mins over a 24 hour period – and we're inviting you to join us (virtually) from your local neighbourhood. Each person will run for 30-minutes and, our aim is to collectively run 1,000km over the 24 hours.
This is the perfect opportunity to raise money for an incredible cause, whilst achieving something amazing, together. It's free to enter, but we would be very grateful if you could make a donation to Majulah Movement upon entry.
So what are you waiting for? Sign up today by clicking on the button below!
INTRODUCING Majulah Movement
Majulah Movement deliver set meals and treat packs to front-line workers and the migrant community.
Our front-liners are attending patients on a daily basis across hospitals island wide. We want to show our support by donating heart-warming set meals and treat packs so that they can concentrate on doing what they do best – saving lives.
Also, much of what Singapore is today has been built by the migrant community and as they have been largely affected by the pandemic, we want to lend a hand by donating set meals and treat packs to brighten their days.
We would love your support! Here's how your money can help...
$10 will provide between 1-2 set meals from home-grown business

with fresh, wholesome ingredients.

$10 will provide 1 treat pack, containing

an assortment of items ranging from chocolates, nuts, dried fruits, chips, swiss rolls, cakes and much more.
Any donation, no matter how large or small, will make a huge difference in helping Majulah Movement continue to do their incredible work.

WE WOULD LOVE YOUR SUPPORT
We would be extremely grateful if you could make a donation to Majulah upon entry and/or ask family and friends to sponsor you. Donations to Majulah Movement can be made via Paylah or via their website:
How to donate via Paylah:
Scan the QR code below with your mobile phone camera.
Visit the PayLah app and make a donation.
Please remember to mention UFIT in the payment reference!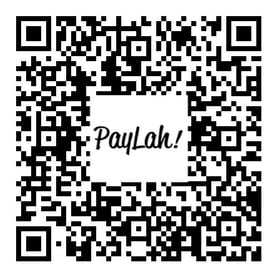 How to donate via their Website:
Visit the Majulah Movement website here
Scroll down the homepage and choose how many set meals and/or treat packs you would like to donate and click "Add To Cart"
At checkout, remember to use the discount code: "UFIT" , so we can track our amazing fundraising efforts! Please note, this can only be applied via the normal checkout process

(not Apple Pay or Google Pay, or any form of express checkout options).
---
more about the event
The virtual run has been split up into 48 30-minute running slots so we will have people running around the clock.
If you would prefer to walk instead of run, that's absolutely fine!
On the day, make sure you keep track of your distance so we know how far we have run as a team. We recommend using Strava or RunKeeper apps (both free).
Once you have finished your run, please share your total distance with your UFIT team leader via the WhatsApp group (you will be invited to this once you have entered the event).
You are welcome to run for longer than 30-minutes, just let us know your total distance after you have completed your run.
After the 24-hour run is complete, we will tally up the total distance traveled by the whole community. Our aim is to pass the 1,000km mark!