Dave Lee, Physiotherapist at UFIT Clinic Orchard and triathlete, gives us insight into the world of triathlon competitions. If you have not heard of the Metasprint Series, they are entry-level events that are risk-free and offer short distances to everyone new to the sport of Triathlon. The MetaSprint Series is a friendly three-race series that welcomes first-timers and experienced athletes to the sport of Triathlon. Start your journey with a swim-run at the Aquathlon on 9 February 2020, followed by a safe run-bike-run at the Duathlon on 8 March 2020. Lastly, combine the three disciplines for the fun way to Tri at the Triathlon on 19 April 2020. But for veteran athletes who may have previous injuries, Dave's knowledge of injuries that affect endurance athletes, especially cyclists, can help you gain better understanding and nip any issues in the bud before problems arise.
Besides working with clients as a physiotherapist, competing in triathlons is a personal passion of Dave's and is something that is very close to his heart.
What is Triathlon?
For the seasoned triathlete, feel free to skip over this first section. For beginners, here are the basics: Triathlon is a multi-sport event with three disciplines – swimming, cycling and running. A contested fourth discipline is transition – the area where athletes change gear for the next segment of the race. Races can be won or lost during transition alone. The first all-important transition (aptly named T1) is between the swim and the bike and T2 is the frantic dash between the bike and the run.
Triathlons can vary in distance, novice distances (e.g. 300m swim, 8km bike, 2km run) are aimed to encourage new participants. The distances progressively increase to a full Ironman or 140.6 (representing the total mileage over the triathlon – definitely not for the faint of heart). The water section can be conducted in a pool or in open water such as a lake or the sea. In recent years endurance athletes and various companies have looked to test physical and psychological limits with double, triple, quintuple and even decathlons! The elements can also have an impact on the difficulty and challenge: water and air temperature, elevation, terrain.
How did I get into triathlons?
I've been an avid athlete throughout my life. Football, circuit training, gym, running, you name it. I was motivated to increase my running distance when I decided to run the London Marathon for charity (football just wasn't doing it for me anymore). I loved the buzz and atmosphere of the event itself, but I found the training a little monotonous.
That's when I decided to shake things up. I grew up in the lush hills and mountains of Wales, arguably the cycle capital of the world (okay, I might be biased but we are proud that the 2018 Tour De France winner, Geraint Thomas, hails from Cardiff), so it wasn't difficult to get involved. In no time I had switched my car for a first shiny new road bike for my daily commute. I started competing in and enjoying cycling sportives. Fast forward a year later and something exciting was still missing…
I began delving deeper into the slippery slope of the world of triathlon. Having previously worked as a lifeguard, and having the running and cycling experience under my belt, it felt like a natural transition. I had seen a local Olympic triathlon advertised in Cardiff Bay. As fate would have it, a friend had to drop out due to injury. At this point I had only swam 200m in open water and this would be a 1,500m swim. I was anxious but decided to take the plunge, quite literally! I came out of the water absolutely buzzing with excitement and adrenaline!
The rest, as they say, is history. I have completed super sprint, sprint, Olympic and middle distance (70.3) triathlons. I regularly swim in open water at home (hit me up for recommendations in and around Singapore!) and my ultimate goal is to complete a few ironman distance triathlons – including bringing home the medal in my home country Wales.
What do I love about Triathlons?
Well, what's not to love? If I had to pick one thing, versatility would be the key word. Triathlon is a sport that ANYBODY can participate in. I said this to a friend recently, and she said 'not me, I couldn't, I'd die', but in no time, by breaking it down from the mammoth that it first seems, I had her reluctantly admitting that she could probably do a novice distance. You can test yourself against a variety of distances and environments, compete against your own personal best or participate just for fun. While triathlon is a solo sport, you'll never be alone. Triathletes come in all shapes, sizes, ages, and ability levels.
One of my fondest tri-memories is being at the swim start with a married couple in their 70s who were completing their 30th joint triathlon (#goals)! Six months later I was lucky enough to have the chance to help the super league elite triathletes out of the water in Sentosa Cove, Singapore. The diversity of those people says it all! I've found that the social aspect is great too. Some of the people I have met will be friends for life, and sharing a common interest means that people often congregate to have social cycles or even training on the weekends/holidays. I've seen people of all ages and abilities join tri clubs for a one off event and within weeks they are hooked.
Injuries associated with triathletes and the role of the physiotherapist
As with any sport, endurance athletes can develop injuries. With triathlons, the pain tends to fall into three categories – posture-related (usually due to cycling position), overuse injuries or trauma. Overuse injuries can often start as a 'niggle' and many participants try the age old method of 'running it off'. Take it from me, that's not the best method. Without appropriate intervention these niggles can progressively worsen and affect not only your training but work, home life and sleep. That's where physiotherapy comes in. Your physiotherapist is there to assist with adjuncts to alleviate pain, load management , biomechanics (mechanical laws in relation to the way the body moves) and other aspects of strength and conditioning that can reduce and alleviate pain.
Trauma in triathlons is usually related to a specific incident (falling off a bike, rolling an ankle, etc.) After trauma the body needs time to heal. Sometimes the body will heal on its own, other times Orthopedic surgery may be required. Either way, the knowledge and expertise of a physiotherapist can aid your rehabilitation process so by the time you return to training or competition you are able to do so with maximum efficiency and minimum pain. Of course, without physiotherapy it is still possible to return but there's an increased likelihood of reduced efficiency and/or overuse injuries.
Back and neck pain is primarily related to position on the bike, particularly for those that cycle long distances. This can sometimes be eliminated with an appropriate bike fit and set-up, and physiotherapists can help with mobility and strength in these areas.
A little more on Physiotherapy
Physiotherapists are movement specialists - we get anatomy, pathology and physiology. We understand the desire to keep going and only stop athletes from training when absolutely necessary. Rather than stopping, we aim to devise a plan to adapt training and aid recovery. Occasionally this can involve liaising and communicating with personal trainers and coaches. With its versatility, triathlons can certainly offer various ways to maintain cardiovascular fitness and muscular strength while rehabilitating.
While physiotherapists possess a lot of amazing powers, nobody can predict injuries, particularly trauma. Research has shown that strength training can reduce overuse injuries occurrences by almost half. Strength and conditioning can be a key aspect in a triathlete's training plan but unfortunately is often neglected to allow time for another swim, cycle or run.
Prehab and injury prevention
We've all heard the age-old saying "prevention is better than cure". Prehab and injury prevention are key focus areas for physiotherapists. While we're always going to be here for you after an injury, I'm sure most would agree it's better to prevent. Using movement analysis screening and relating those findings to swimming, cycling and running, physiotherapists can help to devise tailored programs to work on strength, movement control or mobility.
---
About the author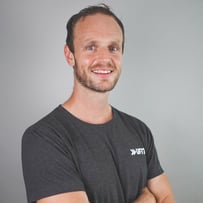 With a love for sport and exercise from an early age, Dave is a UK qualified physiotherapist from Cardiff University with a previous degree in Sport Science. Prior to working as a medical professional Dave spent six years working in the health and fitness industry. He is also an avid athlete with experience in football, marathons, cycling sportives, and triathlons.