With many races and runs delayed in the current situation, some of us might be thinking of doing a race once they are up, or even doing a virtual run! If you yooking to take on your first half-marathon but unsure on how to get started, UFIT one-north Osteopath Zoe McParlin shares with you 13 tips to tackle your first one!
One of the best pieces of advice is to use your last long run as a dress rehearsal, so on race day you know exactly what you will be doing and it's just a routine. You don't want to try anything new on race day so this is your perfect chance to go through everything from nutrition, pace, to the shoes and socks you wear.
One of the most important elements is nutrition you want to test your breakfast and how you are going to fuel and hydrate through the race. This will help prevent any discomfort, hitting the wall and toilet stops that could ruin your race day experience. Experiment and find out what works for you, what works for your friend might not work for you. As much as we would like there's no exact guidelines or science for what works for each person. Usain Bolt fuelled his Beijing Olympic glory of chicken nuggets so find what works for you. For more information on how to make your diet work for your performance click here.


5. Taper
No matter how your training has gone make sure you take it easy in the lead up to the race in order to give your legs the best chance! You want to start thinking about tapering in the last two weeks before the race. The last thing you want is to be tired on the start line. There is no point trying to cram in training right at the last minute. Your body simply won't have the time to absorb the benefits of the training in order to help you perform better.


6. Start fresh
In the week before prioritising recovery, make sure you eat well and stay hydrated - which is especially important in Singapore. You don't want to start off dehydrated! Another crucial element is to make sure you get enough sleep in the build-up. Feeling a bit sluggish in the taper? Get a sports massage or an assessment by an osteopath or physiotherapist. Manual therapy before an event has been suggested to improve focus, performance and help you be relaxed before the race.


7.Carb load correctly
The favourite part of many people's build up to race day. The latest advice is to increase your carb intake by increase 8-12g per Kg of body weight in the 24hrs before race. This can improve your performance by 2-3%!

8. Turn up prepared
Have everything ready the night before, races in Singapore are always very early. You want to get to the starting pen with the least amount of stress as possible, so make sure everything is prepped and ready to go. Get there with time to drop off your bag and do a warm-up consisting of a short 5 minute jog to get the legs moving.
9.
Eat Breakfast
Half marathons in Singapore often start very early, so it's very tempting to sleep in till the last minutes. However, breakfast is the most important meal of the day so don't skip it even if it seems strange to be eating it before 3am! Make sure you eat the breakfast that you have practiced before and don't try anything new. Try to eat 3‐4 hrs before the race and aim for 1-4g per kg of carbs per kg again low in fibre and fat. UFIT Nutrition can help you with plans catered for performance!
Again, don't forget to stay hydrated! Singapore is hot and humid so it's essential to start fully hydrated. Drink 500‐700ml up to the hour before and just take sips 30 minutes before.
10. Get your fuelling in the race correct
During the race make use of all the drinks stops. Even rising your mouth with a sports drink for 5-10 secs without even swallowing it has proven to have significant benefits. During the run you want to take in a combination of glucose and fructose. Which gels, blocks, drinks, sweets you use is completely personal.
11. Keep moving after the race:
Firstly, congratulations you've finished a half marathon! As soon as you cross the line your recovery process starts. You might feel hot, sweaty and exhausted but try to keep walking around to slowly bring your heart rate down. Once you cross the line make sure you pick up the water, sports drink, banana and other goodies including that all important medal.
12. Rehydrate and EAT
Everyone knows it's hot here in Singapore no matter what time you run so it's vital to make sure you replace the fluid that you've just lost. Aim to drink to quench your thirst with your urine being pale yellow colour. After you've had some time to drink you want to eat a high carbohydrate snack with a bit of protein within 30 minutes. The post-race banana they often give out is a perfect start. The small snack will keep you going till you can go get that big well-deserved breakfast, you want it to be half carbs with some protein.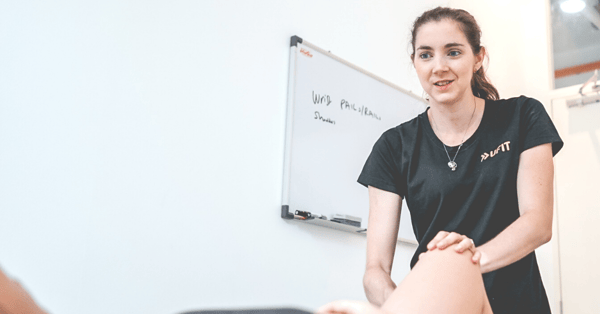 13. Get a Post-race massage or Appointment:
In the days after a race it is completely normal to be sore. Often the muscular soreness will peak 48 hours after the race. In a paper looking at over 1693 studies of ways to recover from exercise, massage and manual therapy came out tops for reducing soreness, fatigue and inflammation! So why not treat yourself to a well deserved massage and check-up! At UFIT Clinic we have a great team of osteopaths, physios and massage therapists that will be able to help you recover as soon as possible. After you've been well looked after you'll be ready to start thinking about the possibility of lacing though shoes up again.
---
ABOUT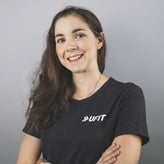 Zoe has always been active in sports as a child, and when she had minor injuries she was interested to find out how one part of the musculoskeletal system could have an impact on another. With that she decided to study Osteopathy and with its core principle that the body works together to overcome injury.