On 25 August 2019, Dave Lee, Physiotherapist at UFIT Clinic Orchard raced in the Indofood Ironman 70.3 Bintan, which was a great event that attracted athletes from all around the globe to test themselves. We had some time to speak with Dave on his race and how he conquered it.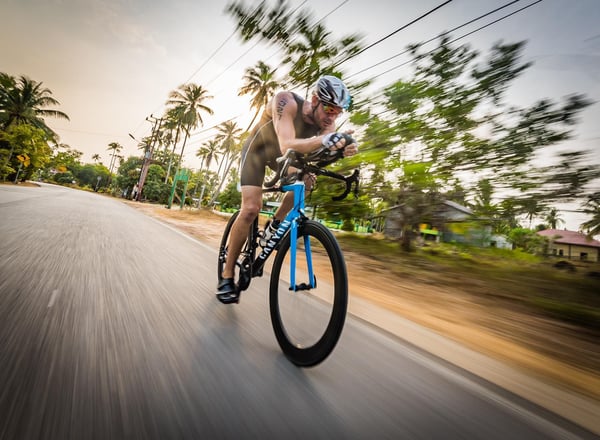 Photo courtesy of Darren Wheeler, Ironman and MetaSport (Instagram: @thatcameraman, @ironman703bintan, and @metasport_sg)
Would you be able to tell us a bit more about this race?
D: This race was a 70.3 triathlon also known as a half ironman and it is one of a series of races organised by the World Triathlon Corporation. The 70.3 refers to the total distance covered in miles during the race: 1.2 mile (1.9km) swim, a 56 mile (90km) bike ride and a 13.1 (21.1km) run. The 70.3 culminates each year with a World Championship competition, for which the competitors qualify in the 12 months prior to the championship race.
What prompted your decision to participate in this race?
D: I moved to Singapore to join UFIT as a Physiotherapist at the Orchard Clinic in Feburary 2019. My goal was already to complete a half ironman race and build to a full ironman but this was originally going to be in Europe. After accepting the job I started to look into the Asia Pacific options. Bintan seemed like the ideal race. Easy access from Singapore, having the ability to recce the course and it allowing me 6 months to train and adapt to the weather. It was voted Asia's best destination triathlon with crystal clear water. It certainly delivered on that front. To build up to the race I have completed a sprint tri and olympic distance. I had contacted Metasport tri club prior to relocating as I knew I was going to pursue my tri training and wanted to start training with a club. All my previous training had been individual. This has had a huge influence on my training. The sessions are planned by professional triathletes. The club is very sociable, meaning I have made many new friends as well as training partners that have helped me settle into Singapore with ease.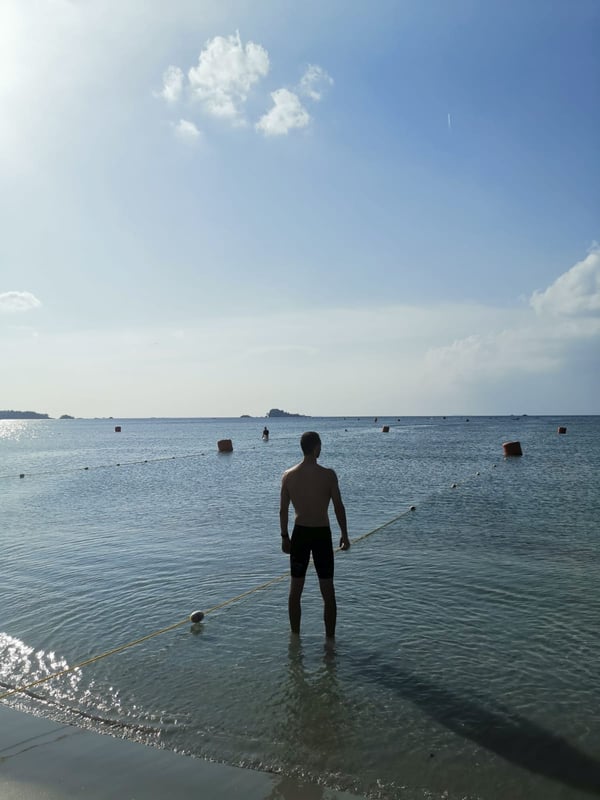 How was the experience and how tough was this race compared to previous races you have done?
D: The experience was amazing. I loved the buzz of big races since completing the London Marathon in 2014. A lot of effort is put in by the organisers to make the event as smooth and succinct as possible. The race is on a Sunday but the course recce and expo start taking place from Friday. Athletes start arriving in the different hotels and the atmosphere starts to build. The biggest test for me was the heat and humidity. In my last middle distance event in Wales there were a lot of hills which meant a bike leg of 3 hours. I knew I could do better on this course but due to the British winter, there are things to arrange for relocation and getting a new bike in Singapore, so I hadn't had consistent bike training for 6 months.
What was your result?
D: My overall time was 04:48:46. This placed me 8th in my age group (35-39) and 25th overall. I had knocked nearly an hour off my previous time. However, it is worth noting that in triathlon it is very hard to compare times as every course is different and can be influenced by so many external factors. Individual times are as follow: swim 00:34:23, Bike 02:31:50 and run 01:38:59. The remaining time is for transitioning (T1 and T2). Transition area is the area your bike is set up alongside other equipment. You are timed how quickly you transition from one part of the race to the other.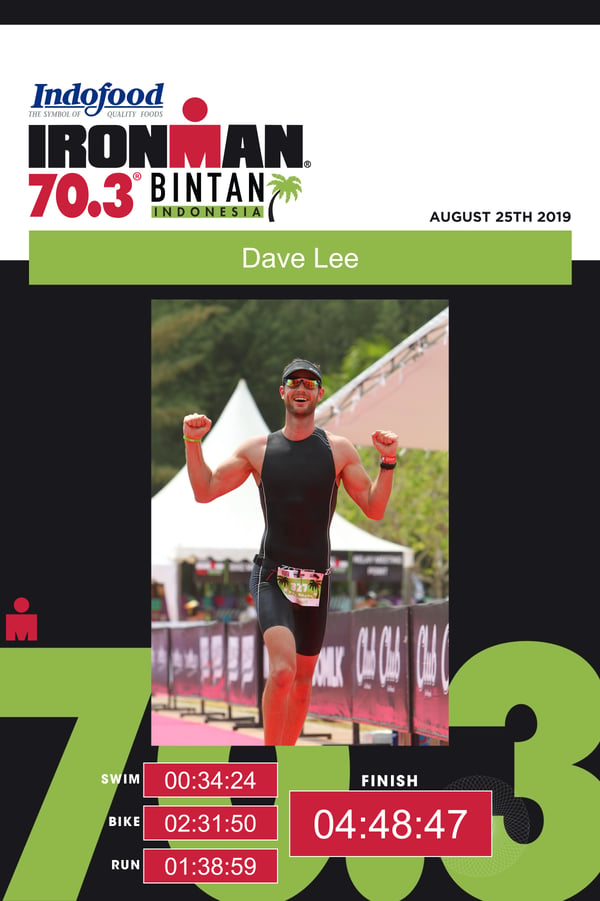 Photo courtesy of Darren Wheeler, Ironman and MetaSport (Instagram: @thatcameraman, @ironman703bintan, and @metasport_sg)
What is next for you?
Being a physiotherapist I have always been a big advocate for cross training and recovery as I feel this is what helps overuse injuries. I even completed a Spartan Race 3 weeks before this event and a few people thought I was a bit mad but I love variety. I have always tried to incorporate trail running, strength training, pilates, circuits and obstacle courses like Tough Mudder.
The world championship is 15 months away as this is one of the first qualifying races in the calendar I have plenty of time to plan. If I hadn't qualified I was going to look at doing a full ironman next year but I may delay this till 2021 for now! My next race is actually a 5km swim in Krabi in November. I know I can do the distance of the swim with the right training so it is more about battling my fear of swimming in deep open water - I blame Jaws! I will probably try and do 1 or 2 other 70.3 next year if I can.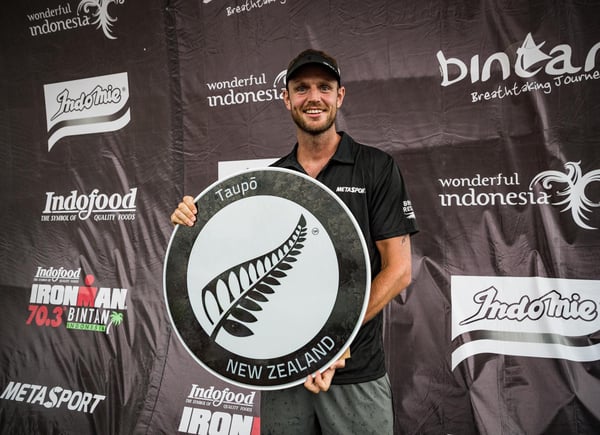 I am also looking into some running-specific races over the next couple of months as I would like to try and get a personal best on a half marathon. My aim is to now delve even deeper into the metrics of my training and be as specific as possible. I know if I breakdown and analyse my numbers I can improve on many areas alongside the swim, bike, and run such as nutrition and hydration strategies , strength training and transitioning. A new time trial bike rather than a road bike would also be a lovely aerodynamic option for improving time depending on the courses I am riding! However, ask anyone in triathlon and they will tell you how much of an expensive sport it can be when looking at all the marginal gains you can make!
We wish Dave all the best for his future races and greatly appreciate him taking the time to speak to us. If you are in town, drop by UFIT Clinic Orchard and say hi, perhaps he might even share a tip or two on triathlons and injury prevention!
---