History tells us that our ancestors began running millions of years ago. It is a form of locomotion that can get us from A to B in a shorter amount of time than walking. It is one of the most popular and practiced sports worldwide and requires minimal expense and equipment.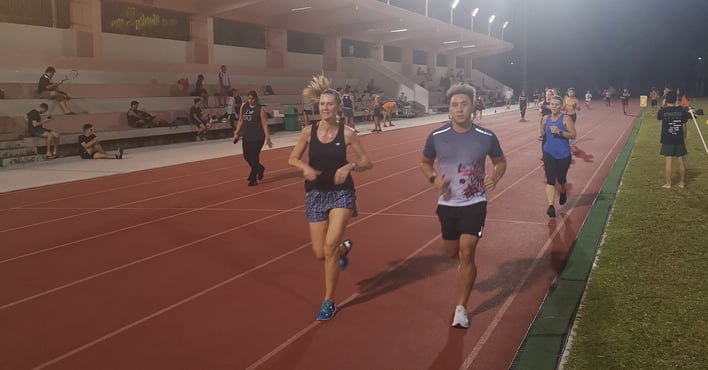 If this the case, how come so many of us don't run?
The simple answer would be, unlike our ancestors, the majority of us no longer need to hunt on foot! Fair answer.
However, this is not the answer you will receive from someone in the 21st century. Not enough time, injury, safety, equipment, weather, commitment to other activities, injury, lack of confidence, availability of transport, to name a few. Do these sound familiar?
If these are the reasons why people don't run, what about the reasons for why people choose to run? If we take competitive running/sport out of the equation then the majority of intentions can be placed into the following categories:
Supports weight loss/maintenance
Boosts mental mealth
Strengthens cardiovascular system
Prevents high blood pressure
Increases physical strength
Strengthens the immune system
Improves concentration and memory
Better sleep
Increase happiness and contentment
These are not individual opinions but the strong physical and psychological benefits have been proven with science. Unfortunately, alongside evidence-based science some myths have also developed!.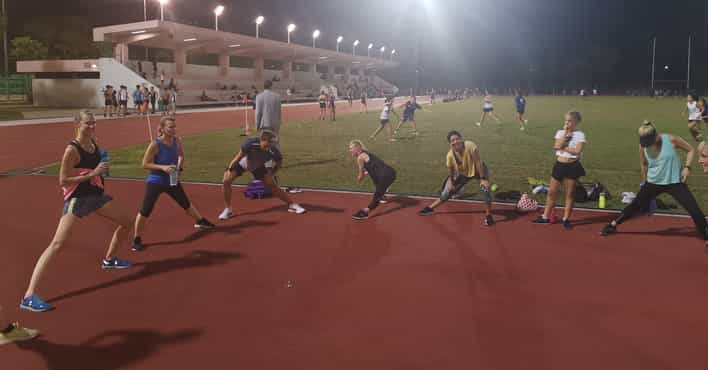 Myth: Running is bad for your knees
As a physiotherapist and as a runner this is one of the most frustrating things to hear. Science has since proven that this is a myth! In fact, running can help strengthen your bones and soft tissues through progressive loading.
Myth: You need to complete some static stretches before you run
Although regular stretching can improve your joint mobility you do not need to stretch before a run. Instead warm up with some dynamic exercises/drills such as body weight lunges, hip swings, butt kicks and high knees.
Myth: Mileage matters
Depending on your goal the volume of running is only one metric you need to monitor. Changing the intensity of sessions can also improve performance. Train smarter, not harder!
Myth: I don't need to train for strength as a runner
You don't NEED to train for strength but once again research has shown that strength training can not only build muscle but help prevent injuries to the tendon and bone! As an adjunct it has a positive correlation with performance.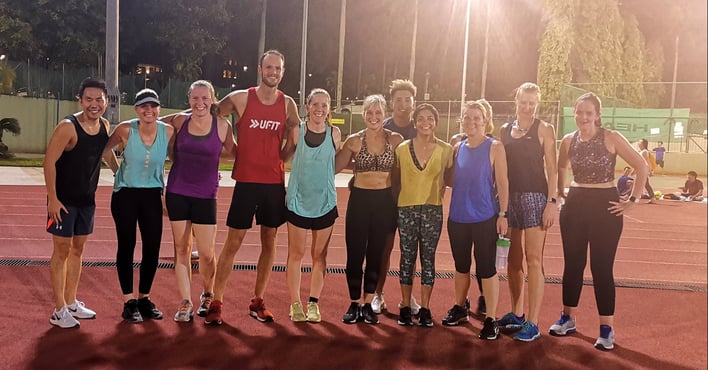 So what is UFIT RUN all about?
UFIT RUN encompasses interval training and hill/strength sessions into your running program. It involves a warm up, drills and a main set.
This is open to ALL abilities and will be adjusted accordingly. Many newcomers can be apprehensive about interval and hill training. Adapting the session to your individual training needs, we will make the session specific to you within a fun and sociable environment. The most important factor is not to compare yourself with any other runners but to begin to work on your psychological and physical health. Performance will improve if you maintain consistency with training.
---
What run classes attendees think
"This is not your average Run class. Dave brings an expanse of knowledge, rooted in science, to the class and uses several guiding factors to help you improve your performance as a runner, whether you are a novice or a veteran. With just a few classes I have come to understand the importance of pace, cadence and good form. And it really helps when the community has some amazing runners who are warm, welcoming and supportive. For me though, the biggest differentiating factor has been Dave's dedication to keeping us accountable via a weekly benchmarking of our personal goals. Very few coaches go that extra, extra mile and that is enough reason for me to call this one of the best UFIT classes"
"The Runfit classes Dave provides have helped me understand the fundamentals of pacing which has improved my running. With a scientific background and a passion for running himself, Dave understands the importance of good posture, gait and provides tips to help improve performance. In addition , I have also expanded my running knowledge, I have learnt lots of useful tips, Finally, the classes are fun. I have a love/hate relationship, love the feeling afterwards, hate the thought before. I would say to anyone who is thinking of it, its a safe environment with a nice group of people. "
---
About the author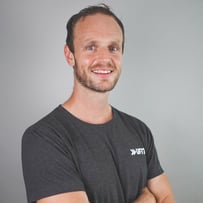 With a love for sport and exercise from an early age, Dave is a UK qualified physiotherapist from Cardiff University with a previous degree in Sport Science. Prior to working as a medical professional Dave spent six years working in the health and fitness industry. He is also an avid athlete with experience in football, marathons, cycling sportives, and triathlons.