Every year, Muslims around the world observe the holy month of Ramadan by fasting from dawn till dusk each day. We're kept busy with work, school, training, commutes and social interactions, making each day zoom by. This year, many of us are observing Ramadan under lockdown and now that we are halfway through, some of our team members share how they are coping during this period.

As many of you know, a number of our Muslim team members are observing Ramadan during the Circuit Breaker period. That means that they abstain from eating and drinking between sunrise and sunset. In Singapore, that is about 14 hours (not so bad if you compare with Denmark that's fasting up to 18.5 hours this year!)
There are two important meals of the day; a pre-dawn meal (suhur) taken before sunrise (about 5.40am) and a break-fast meal (iftar) at sunset (about 7.10pm).
What they eat during pre-dawn is crucial because it has to to sustain them throughout the day. This year is a little different as they do not need to be outdoors (less strenuous in that sense). Fathur, our coach at UFIT Club Street is at home with a toddler and a 1-month-old baby – and this is where all his energy goes to right now!
Fathur makes it a point to make his pre-dawn meal simple but nutritious – consume foods that are high in fibre (wholegrains, cereals, fruits, vegetables) and make sure to drink lots of water!
Fathur's Pre-Dawn Meal
The break-fast meal can be tricky as they have been restricting food for the past hours that therefore would have to keep in mind not to overeat. Meals need to have more high-quality proteins and less carbs. Hydration is also key throughout the night.
It is also important to continue being active, Fathur would either do a light workout or go for a run in the evening (observing social distancing and measures imposed by the Government!)
UFIT senior physiotherapist Nada also shares how she copes during this Ramadan while staying in.
"Plan your days ahead so you don't get stuck with nothing to do, as that can make time feel like a drag. While we may feel lethargic or feel like we should conserve energy while fasting, staying sedentary isn't the best option for our musculoskeletal health. I don't always have the energy for a run or a high-intensity workout, so I make sure to do at least some form of movement each day – even if it's just foam rolling, mobility exercises, or yoga.
During Ramadan, the decreased water intake can lead to dehydration of the fascia – a continuous web of connective tissue found beneath the superficial skin. Layers of fascia glide over one another to contribute to movement. Dehydrated fascia does not glide well and can impede our mobility. Even though the experience of thirst and mild dehydration is an essential part of Ramadan, we can still ensure that our fascia remain supple and mobile through movement. Afterall, in the words of Ida Rolf -MOTION IS LOTION."
While Nada has been staying home, she has joined in on some of our UFIT virtual classes such as pilates for a lower-intensity workout, yet challenging enough to improve her mobility, strength and stability.
Here's a little mobility drill that Nada does at home during this period.
Nada's Stretches and Drills to keep you mobile
We hope these experiences benefit those of you who are observing the fasting month. Stay healthy, stay sane and stay home! In the meantime, you can join our #1Month1Goal community below to reach our goals during this month!
---
About the authors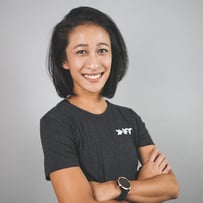 Nada Khalid is a senior Physiotherapist who graduated from Trinity College Dublin (Ireland) with a BSc (Hons) in Physiotherapy. She started her career back home in Singapore at KK Women's & Children's Hospital (KKH). Nada spent eight years as a competitive sprinter and hurdler in her school days, before making a transition to play varsity Touch Rugby. These days she remains active in Muay Thai, competing in amateur and professional bouts in Singapore and Thailand.
---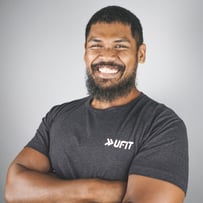 Fathur Rahman is a personal trainer with over five years of experience. He is a keen rugby player and has represented Singapore at both U16 and U19 levels and he currently trains with the men's national team. Away from the gym, Fathur likes to relax at home with his kids and continues to play rugby for Wanderers Rugby Club. Despite Fathur's large physical presence, his one biggest fear is cockroaches.

---