Alison MacDougall was never a big fan of exercise. She always said she wasn't interested and it just wasn't for her, after all, she's not sporty and athletic and the general perception is that "gyms are only for the fit?"
Gyms can be tough environments if you're not the most confident and can lead to you feeling judged, nervous, anxious and completely unmotivated. When you're left to your own devices in a regular membership gym, you might be thinking "which buttons do I press? Am I lifting enough? Is that the right way round? Is this doing anything for me?" All of which is totally counter-productive to you hitting your goals and achieving what you have set out to achieve.
State anxiety has been extensively researched in fitness settings, and has been found to lessen motivation to participate in exercise (Leary, 1992).
This is something Alison MacDougall feels passionately about. Having never been a gym-goer she took a chance on a personal trainer with UFIT as she realised that she needed to do something, being in her mid-forties and overweight.
What inspired you to get fit?
A: I have been overweight all my life with the whole yo-yo dieting thing but got to a point when I was fed up puffing when I went up the stairs, struggling to get things to wear and generally being unhappy. As I began to lose weight I started to exercise a little and once I got across the threshold I loved it!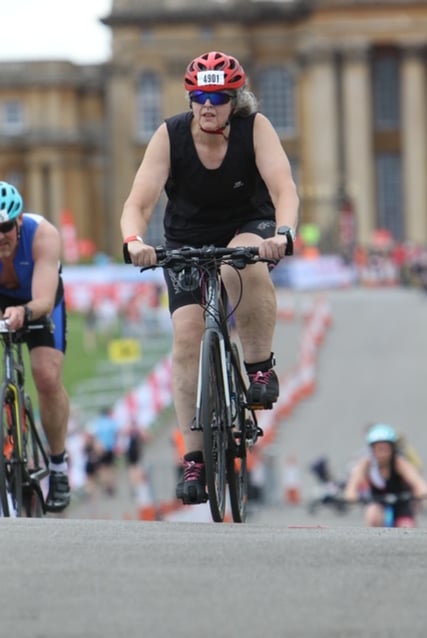 What has been your greatest challenge and achievement?
A: I am not a runner and I am still as slow as a snail but I enjoy a few obstacles so I started with bootcamps and then moved onto the Mighty Deerstalker - the toughest night time 15km trail run in Scotland in freezing weather. To date my toughest challenge was cycling from London to Paris in 3 days, I've never seen hills quite like what I've seen as there wasn't much opportunity for hill training in Singapore.
What or who is your inspiration?
A: Anyone doing extraordinary sporting challenges!
Tell us about the importance of looking after yourself?
A: One thing I have realised is that the more I move the better I feel physically and mentally. The guys at UFIT have been great at helping me realise that rest and de-load days, stretching and sport massage are all part of the process.
Do you have any words of encouragement for anybody else who doesn't feel that they are a natural athlete but want to get started?
A: Getting through the door at any gym is the first step and it can be intimidating. Going with a training buddy can help you both find something you enjoy. However for me, if you can laugh at yourself, work to your own abilities (I still modify things… a lot), and keep going back you will start to see the benefits. If you need a buddy I am happy to be there for you... I can be seen doing Metcon at UFIT Tanjong Pagar!
Any thoughts on UFIT?
A: I walked passed the gym door a few times before I eventually went in and I am glad I did. The coaches were encouraging and recognise when to push you. I work with one of the UFIT Personal Trainers, Alan, who manages the program around my goals. I have the need to keep things fresh and varied. Coupled with the various races that I sign up for, I also have to keep in mind some of the joint issues I experience. What I love about UFIT is the integrated service, the physiotherapist keeps my joint issues manageable with treatment and advice, which is integrated into my training plan. The sports massage also helps with easing and stretching bits that I sometimes didn't know I had!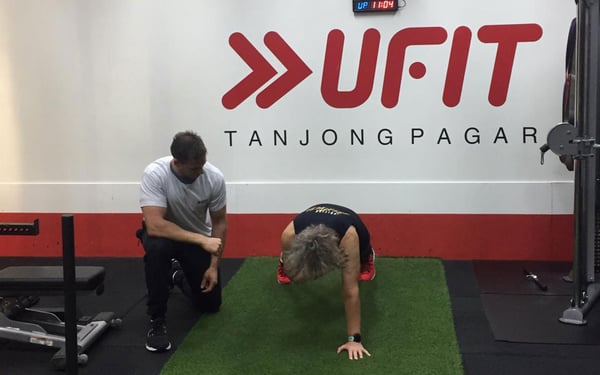 Every member of the UFIT team wants you to succeed and push you even when you don't think you can. What's up next?
A: An Olympic-distance triathlon. I'm also very interested in the Mount Everest Base Camp trip with UFIT Retreats which is a lifelong dream of mine. Lastly, the 2020 IronMan 70.3 and then who knows?!
UFIT studios are not classic membership gyms where you are left floundering. Every person is recognised as a unique individual with bespoke needs and goals. After a friendly consultation we match you with a personal trainer whom we believe will suit you best, based on your health and fitness but also your personality and desires. Leigh Withers, Manager of UFIT Amoy Street says, "Our trial process is where we really want to make the client feel as comfortable as possible and discuss their goals, fears, struggles and what they like in the gym. It's when you get to know who they really are and what great things we can achieve together. Our trainers have vast experience and diverse qualifications so there really is someone for everyone. We whole-heartedly encourage everyone to "leave their ego at the door" when they step into UFIT.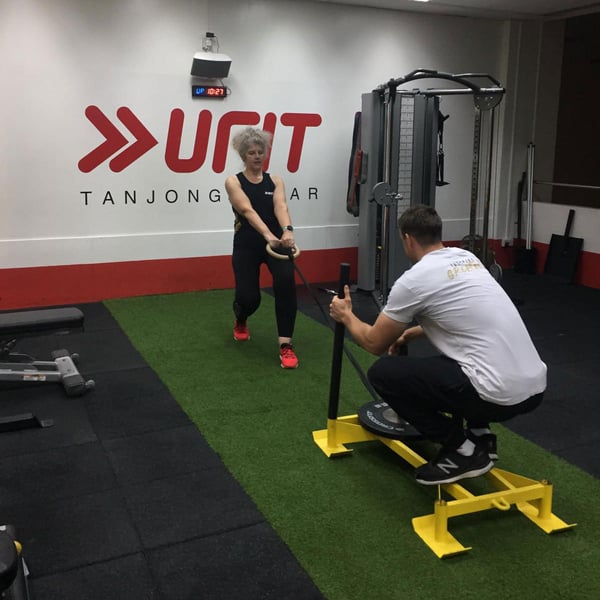 Alison now also takes part in the CrossFit classes held at UFIT Tanjong Pagar, something she used to think was the ultimate in elitism! "CrossFit has this image that you have to be an uber fit, pumped-up, barbell-smashing, ego-centric fitness addict. But actually it's just a really good fun bunch of people, working and sweating hard and supporting each other during great workouts with great music! You can scale EVERYTHING to your level, I highly recommend it!"
Throughout UFIT we have a broad range of clients, who all have their own goals and fears and come to us lacking direction and motivation. With us they have found an environment which they feel safe in, which is down in part to the trainers themselves. The community they experience and become a part of ultimately brings them to the results they see. Those things combined dispel that gym-fear and catapults you to your happy place!
Alison also works with Maire Nic Amhlaoibh for physiotherapy and Lynsey Keyes for Sports Massage at UFIT Clinic.
---
About the author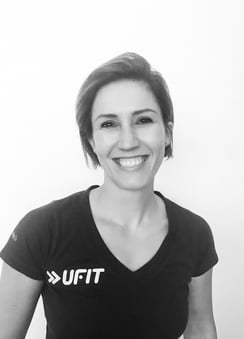 Lynsey Keyes is a UK-trained massage therapist certified in both ITEC and BTEC level 4 Massage and Anatomy and Physiology. Having spent 15 years working in high-pressure marketing roles, Lynsey decided to embrace her ultimate passion in bodywork and use her experience to help people overcome the physical and mental stresses that everyday life puts upon us.
A former dancer and ballet teacher, Lynsey regularly takes part in CrossFit, Bootcamps, running, yoga and chasing her two kids.
---