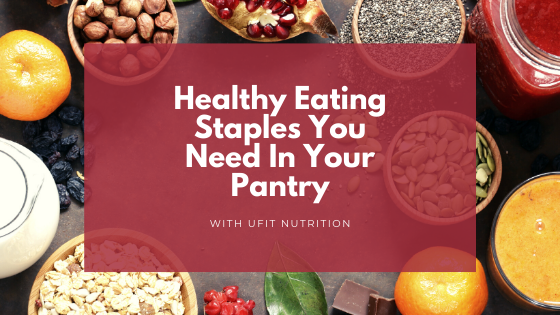 Not sure what to stock in your pantry? Well we've got some tips for you to help begin your healthy eating journey.

Having delicious and nutritious ingredients on hand will help you put together a meal that is good for the whole family. These days there are so many options out there, no wonder there is so much confusion about what is good for us and what isn't, so hopefully this list will help serve as a guide and make the decisions a little easier for you. If you're looking to overhaul your pantry, start gradually by adding a few ingredients at a time, getting familiar with ingredients that you are not sure off or have never used before.

Oils
These days there are so many oils out there and it can be overwhelming. When we go to the supermarket there are so many different options staring us in the face and it can be confusing trying to choose which oils are good for our health. Basically all you need are two oils - one you can cook with at high temperatures and one you can use for dressings and dipping sauces. They may be a bit pricier but do yourself a favour and spend the extra money, your health is worth it!
Extra Virgin Olive Oil: Great for cooking at high temperatures and has a neutral flavour so it won't overpower your food. Also great for salad dressings!
Avocado Oil: has one of the highest smoke points so it can be cooked at a high heat. Has a nutty flavour and has a high content of monounsaturated fats (the good fats). Great for cooking but also for dressings and just a drizzle over your salads is also a great way to use avocado oil.
Sesame Oil: A staple in Asian cooking, great for marinades, sauces and dressings.
Canned Foods
Tinned Tomatoes: A great base for homemade sauces. Whipping up a batch of home-made tomato and basil sauce will never be easier!
Beans: Chickpeas, kidney beans, black beans, white beans are great sources of fibre and protein and are a great addition to soups, homemade dips, and pasta. Always rinse your beans before using them as this helps reduce the sodium level and control the flavour, also look for BPA-free cans if possible.
Salmon and Tuna: Great for a quick versatile meal full of omega 3 fatty acids. Salads, pies or a snack with some crackers. Be careful when choosing tinned fish - watch the sodium level and look for BPA-free packaging.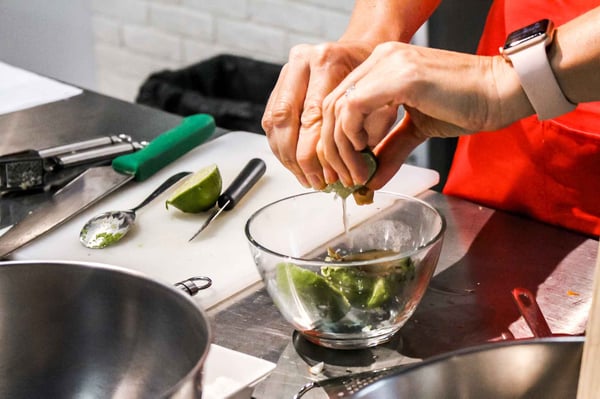 Nuts and Seeds
Nuts and Seeds are a great addition to your pantry. They not only add different textures and flavours to your foods but they are also full of healthy fats, vitamins and minerals. They also contain fibre and protein and can help lower cholesterol and can help with inflammation.
Make your own homemade trail mix using different nuts and seeds for a healthy snack alternative instead of reaching for a packet of potato chips. A handful of trail mix will also make you feel fuller for longer.
My favourites options are: Sunflower seeds, pumpkin seeds, sesame seeds, flaxseeds, almonds, cashews, walnuts, macadamia nuts and pistachios. When choosing nuts and seeds be sure to buy them in their natural or roasted state without any added oils and salt.
Herbs and Spices
They can not only add amazing flavour to our foods but are also full of health benefits such as helping with inflammation in the body, digestion, asthma, headaches, insomnia, cholesterol, stress and even possibly some cancers. Herbs and spices are also full of vitamins, minerals, enzymes, and antioxidants.
Herbs: Mint, rosemary, parsley, coriander, thyme, basil, etc.
Spices: Turmeric, cinnamon, coriander, cumin, chilli powder.
Apple Cider Vinegar
A natural fat-fighting vinegar, apple cider vinegar keeps you fuller for longer due to the acetic acid. Great for weight loss and digestion, sore throats, gas and constipation. Use it in marinades and salad dressings. You can even add a teaspoon to a hot lemon drink. When buying ACV look for Organic ACV with the "mother" which simply means it is unpasteurised and unfiltered. The "mother" is the beneficial bacteria that helps create the fermentation process.
Nutritional Yeast
A plant-based protein, nutritional yeast is great as a cheese substitute. It is nutty in flavour and full of Vitamin B, protein and fibre. It is great as a pizza topping, in your pasta, soups and salads.
Oats and Quinoa
High in fibre, they are also a complex carbohydrate which means they are slower in digestion, keeping us fuller for longer.
Oats are great in smoothies, breakfast options and can also be used in your baking.
Quinoa is great in our salads and is also a great binder for burgers and can also be used in baking.
Flour
Nut flour, coconut flour, wholewheat flour and buckwheat flour are all great alternatives to white flour. Just be sure when substituting for a white flour which most recipes call for as it may not be a 1:1 replacement.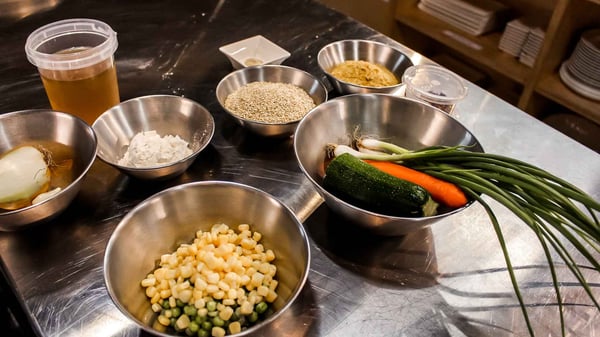 Sweeteners
Raw Honey: Always buy raw honey as it as its the healthiest.
Stevia: Stevia is a plant-based sweetener that can be used as a substitute for sugar.
Dates: Dates are high in fibre and potassium and also contain vitamins and minerals. Best to look for and buy "Medjool Dates".
Coconut Sugar: Great replacement for white sugar in baking. Better than table sugar as it not processed and comes from the sap of the flower from the coconut palm. When used sparingly it is a better alternative to white table sugar.
Stocks
Having a good quality stock on hand such as chicken, beef, vegetable or even a bone broth is great to add to your soups and sauces. Using some stock to cook your rice, quinoa or even to cook cauliflower in for mash will not only add flavour but a good quality stock can also add vitamins and minerals to your food. Be sure that when you are purchasing a stock the only ingredients that should be listed are the bones, vegetables, salt and herbs and should also have no added hormones and be antibiotic-free. Bone broth is great for colds and flu's - simply heat it up and have it as a warm drink.
So there you go, a list of items you can stock your pantry with to prepare healthy and delicious meals! If you are unsure of what you can do with these ingredients, our nutrition team will be on hand to share a few recipes to add to your repertoire!