As we wind down the last day 2020, we have had some time to reflect on what has been an especially challenging year. The coronavirus pandemic has been on every one's minds this whole year, but it is thanks to all of you in the community that we have got through the year.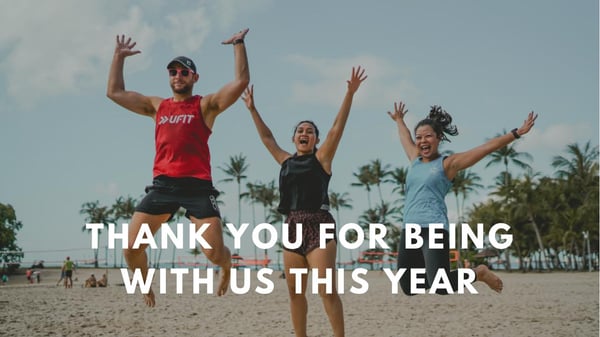 We have particularly enjoyed setting your health and fitness goals with you during the Circuit Breaker lockdown period, so that we are all able to continue stay active and support each other during uncertain times. When we were able to get out, it was heartening to see every single person in our UFIT Community joining us for our 24-hour virtual run where we covered close to 3,000km collectively and helped raise money for our migrant workers in Singapore.
While we were unable to get together for a big Christmas celebration, our Singapore To Santa virtual event gathered our teams and community for an expedition from Singapore to the North Pole, where we've covered a little over 53,000km and raised over $20,000 for YMCA Singapore.
Amidst this trying year, we have been incredibly grateful for the support of the community, which also saw us launch UFIT Sports to help foster and create a lifelong passion in sports. We have achieved GREATNESS in the last 12 months thanks to you, and we would love to ignite that greatness in you again in 2021, much like how you have done so for us this year.

In the meantime, stay safe and have a good break over the festive period, and we can't wait to see you again in the new year!