Just a few months ago, the name "COVID-19" would have been completely alien to us. Now, we can hardly get through a day without hearing it on the news, reading about it in the papers or just through someone else's conversations. With the evolving COVID-19 situation globally, there has been advice from the Ministry of Health to avoid non-essential travel and companies getting their employees to work from home and avoid crowds.
Your Health and Safety
To ensure the safety of everybody who walks through our doors, we are adhering to all standards and best practices to ensure the safety of our community in the evolving COVID-19 situation.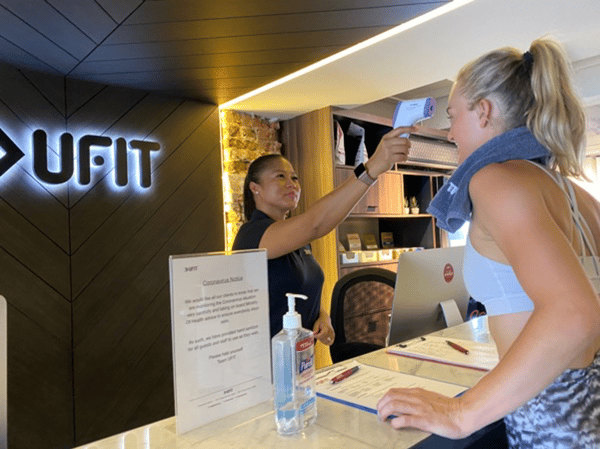 Routine Temperature checks at our facilities
Temperature Checks
Our staff will continue with temperature checks twice daily to ensure we are in the best condition to serve you.


Cleanliness of Facilities
Our team have stepped up efforts to ensure the environment is clean and safe. Coaches and clients will continue to keep equipment clean and will sanitise and wipe them down before and after use. Towels will also be used on mats and benches as required. We have also provided hand sanitiser at the reception desk.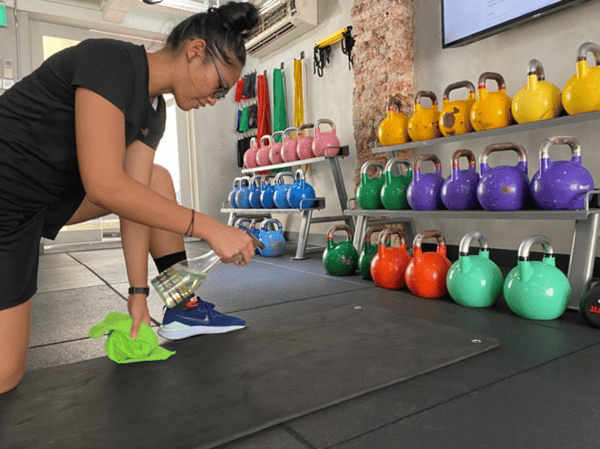 Coach Ayu doing her part to keep the training area clean after a session
For Your Wellbeing
The wellbeing of our community is of utmost importance, so if you are feeling unwell, or are showing any respiratory symptoms or fever, please see a doctor, rest at home and cancel your session. We will waive the cancellation fee. If you wish to train after an episode of fever or illness, please get a clearance letter from your doctor stating that you are safe to train.


Staying Fit Mentally and Physically
Exercise is very helpful at reducing stress levels and being in a good place mentally is always a good thing especially during trying times. Therefore, we should still look to get in some exercise if we are well to do so. Workouts can be done anywhere, even in the comfort of your home.


Stay in, Work Out
With a handful of us staying or getting work done at home, it can be convenient to skip your workouts for the comfort of your couch. However, there are many things you can do when it comes to exercising at home without equipment, and if you are unable to head down to the gym, technology allows us to bring your coaches to you.


Training Remotely
If you have travelled to a restricted country, you should be serving the 14-day Stay-Home Notice. We understand that this means you will not be able to attend in-person sessions. You can still continue your Personal Training remotely and this can be supported with our Online Coaching service. On the other hand, if you are someone who needs more accountability for your exercise routine, the service would also come in handy for you.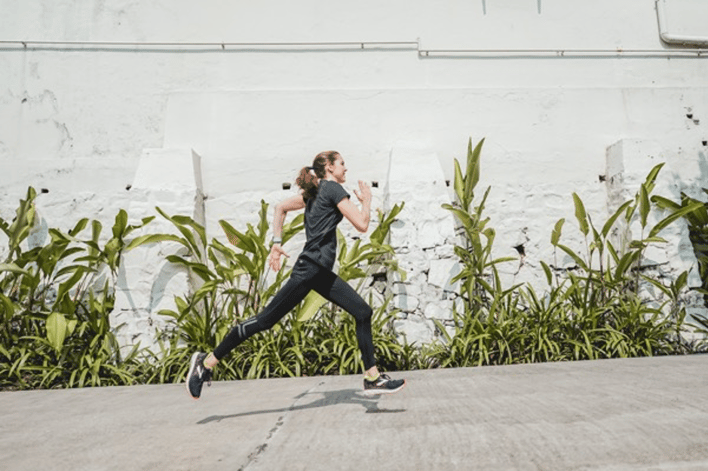 You can still get your workout in outdoors
Break a Sweat in the Open
Getting a workout in outdoors could also be beneficial, especially if you have been spending the day in an enclosed and air-conditioned room or office. Outdoor Bootcamps sessions allow you to work out outdoor while getting some fresh air and for your overall mood and health.


Fuel Yourself Well
On top of staying active, we should also look to fuel ourselves well. While there are no specific food items that can completely prevent or cure diseases, it doesn't hurt to keep your body running optimally and feeding it right to support your immune system. UFIT Nutritionist Wendy Riddell shares 6 tips below when it comes to your nutrition during this period.
Eat the Rainbow
Plants are rich in antioxidants, vitamins and minerals. This is one of the best ways to support your immune system. The more colour on your plate the better variety you will get in terms of vitamin intake, so get those pretty colours in – they are good for you.
Drink that Water
Get in around 3 litres of water in a day – Singapore is super-hot and we sweat A LOT. Dehydration weakens the immune system as water is critical for all bodily functions. Don't underestimate the importance of H2O!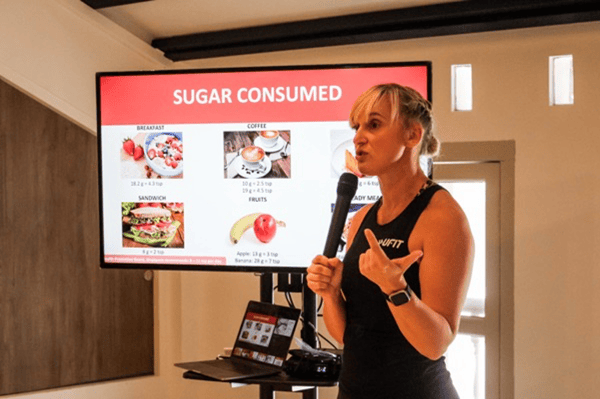 Nutritionist, Bootcamp coach and Clean & Lean Manager Wendy Riddell sharing nutritional knowledge
Drop the Sugar
Eating refined sugar can dampen our immune response for several hours consumption. So avoid processed foods that are high in sugar especially sodas, processed fruit juices, candy, cookies and cakes.


Herbs and Spices
Turmeric, Ginger, Cayenne pepper, garlic and cinnamon! This list goes on and on. These have so many fantastic benefits for the body's immune system. They make your food taste good too, which is always a big plus!

Zinc
You can find Zinc in a variety of food such as shellfish, legumes (Chickpeas, lentils, etc.) and red meat (consume in moderation). Zinc is a great way of boosting our immune system, and if you feel that you might not be consuming enough Zinc from food a Zinc supplement may help to fill the gaps.


Happy Gut, Happy Immune System
A healthy gut microbe is very important for multiple reasons, with the immune system being one. We need to get the balance between the good and bad bacteria in our gut. Probiotics are key to this. You can take probiotic capsules, but we can also get probiotics from fermented food. Some foods you can try are, Kimchi, sauerkraut, yoghurt, cheese, kombucha etc.


Nutrition "Cheat Sheet" for Immune System Support
UFIT Nutritionist Pamela Ibarra also provides a handy list that we can easily refer to help support our immune system
Avoid very low-calorie intake: Your body needs energy to keep your defensive system working effectively
Eat enough protein: Aim to get at least 30g in each meal
Fruits and/or vegetables every-single-day, every-single-meal.
Avoid micronutrient deficiencies, it's okay to supplement with a multivitamin.
Take a daily probiotic. Seriously, if you don't, start now.
Get your daily D vitamin from sun exposure or supplementation.
Prioritise sleep! 7 to 8 hours of good quality sleep a day keeps the doctor away.
Don't overtrain and if you have long training sessions planned, make sure you fuel with an appropriate amount of carbohydrates.
Eat well and rehydrate after workouts.
Avoid binge drinking
Manage your stress levels and avoid being too stressed out


It Starts With Your Hands
Your personal hygiene is key during this period, washing your hands with soap regularly and using hand sanitisers should be common practice by now. Avoiding people showing symptoms of illness, crowded areas and hand shaking would also help. Avoid touching your eyes, nose, mouth and sharing of personal items. Practice good food hygiene and ensure proper cleanliness at eating areas, who wants to eat at unsanitary areas anyway?
We are committed to your wellbeing and thank you for your understanding in this difficult time but we are strong and we will keep fighting. For now, stay safe and healthy!
#SGunited #UFITunited