Looking to have something suitable for breakfast or brunch this weekend? Look no further than some English muffins made healthy with cauliflower. And to go with it we are also sharing recipes for coriander smashed avo and homemade mayonnaise to complete your meal.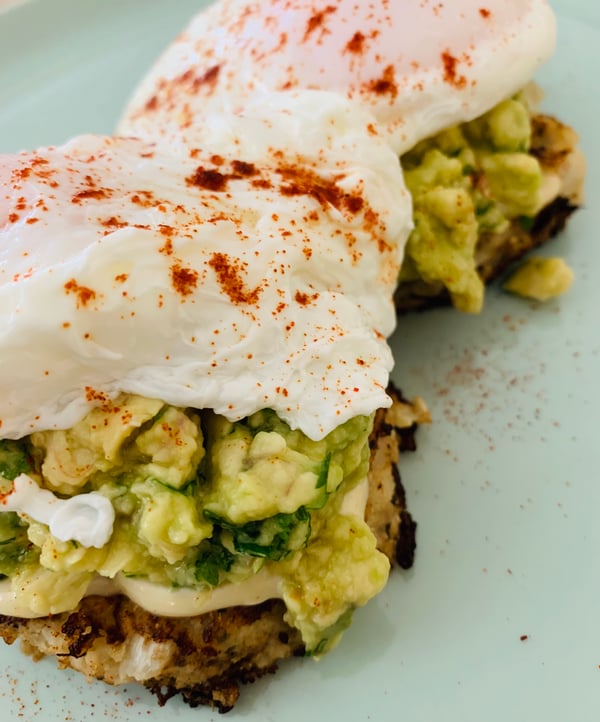 Cauliflower English Muffins
Ingredients
2 cups cauliflower rice (broken down cauliflower)

2 tsp dried herbs of choice
1 tsp sea salt
1 egg
Egg rings are required for this.
Method
Place all the ingredients into a bowl and mix well.

Heat a frying pan on medium heat with some oil, grease the egg rings and place spoonfuls of the mixture into the rings and flatten down, cook until golden on both sides.
Carefully remove the egg rings and transfer to a plate lined with some baking paper, repeat process until you have used all the mixture.
Smashed Coriander Avo
Ingredients
1 avocado

1 tbsp chopped fresh coriander
Juice half a lemon
Pinch of sea salt
Method
Peel and take the pit out of the avocado and place in a bowl with coriander, lemon juice, salt mash all together with a fork. Set aside.
Homemade Mayonnaise
Ingredients
2 eggs

1 tsp dijon mustard
500ml olive oil
Salt and pepper to taste
Juice 1 lemon
Prosciutto
Method
In a blender add the eggs and mustard. Blend and then gradually add in the oil in a slow and steady stream. When all the oil has been added it will be nice and creamy, add in the lemon juice and taste for seasoning then add salt and pepper.

Pan grill prosciutto until crispy then set aside.
In a bowl place the mixed salad greens, topped with the creamy egg mixture and prosciutto and top with half an avocado.
Notes: You get a large quantity of the mayonnaise for this recipe, if needed you can always half the mixture and it will store in the fridge for about 5 days.
To Serve: Place two cauliflower English muffins on a plate, spread over some of the mayonnaise and top it with the smashed avo and two poached eggs and a sprinkle of sweet paprika.
To understand more about nutrition and different recipes, join us for our Clean & Lean Challenge and kick your nutrition into high gear!