There's always room for dessert... Get your hands on these delicious brownies for your guests!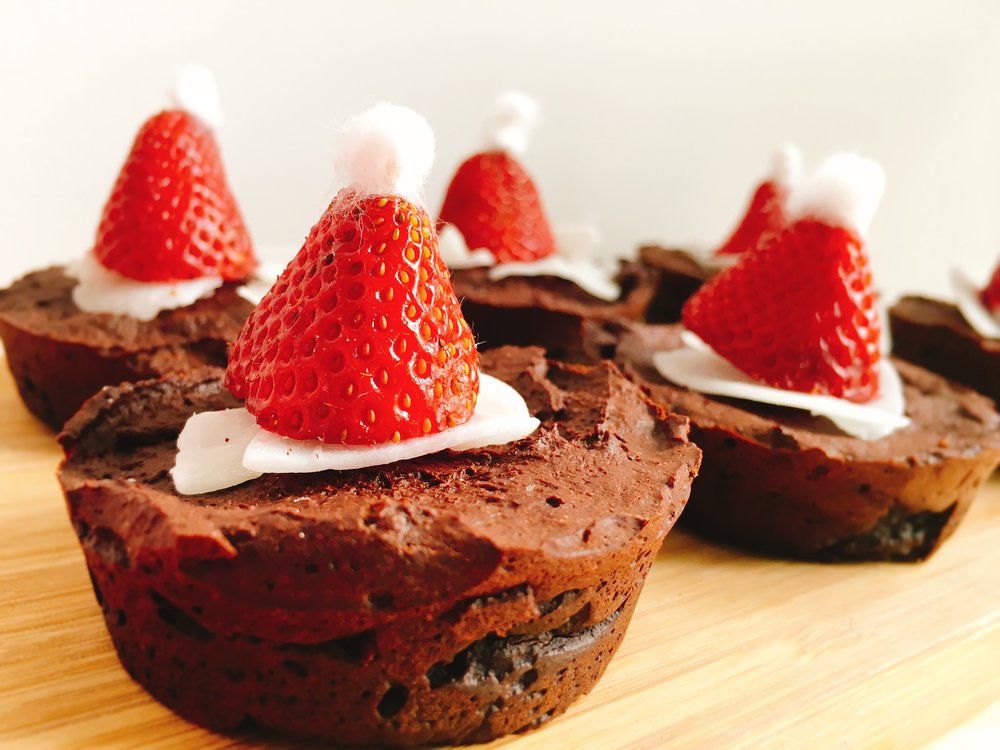 INGREDIENTS:
200grams 100% cacao chocolate (1 bar)
3/4 cup unsweetened cocoa powder
1 cup nut flour of your choice
3 eggs
1 egg white
1/3 cup coconut oil
1/3 cup water
1 tbsp almond butter (room temperature)
1/2 tsp baking powder
1/2 tsp vanilla extract
Stevia to taste
Coconut chips
DECORATION:
12 toothpicks
Cotton
12 strawberries
METHOD:
1. Melt half of the coconut oil and the chocolate bar in a sauce pan. Once melted, pour on a bowl and reserve. On a different bowl mix the remaining coconut oil, eggs, egg white, almond butter, vanilla extract and stevia.
2. Put this mix into the melted chocolate bowl (by now should be cooler).
3. Combine well and then add the dry ingredients. Brush with coconut oil a muffin tray (12) and pour the mix, filling only 1/3 of the cup.
4. Bake on a preheated oven to 200C for 12/15 minutes. Cool down and remove from the mould. Wash the strawberries and remove the stem. Chop the bottom to make "the hats" and place on top of the brownie.
5. Use a small amount of cotton to wrap the end of a toothpick, then place on top of the strawberry and press. Use the Coconut chips to finish the decoration, as shown in the picture.
---
For more information for UFITs Nutrition programs get in touch with us here. Join our next Clean & Lean Challenges that we run 4 times a year providing you with the opportunity to change your healthy habits into a lifestyle.
Thanks to @Soff.it for providing these deliciously creative recipes.