Christian's journey on UFIT's Clean and Lean Challenge left us in awe of his commitment to the programme and the outstanding results he achieved! We're so proud of you Christian and we look forward to seeing you back this year!
Christian began the programme with 27.97% a body fat and weighed 98.4kg. At the end of the four weeks his body fat fell to 18.83 % and weight to 90kg. When you dedicate your time, brain and energy to your goals and anything is possible, Christian is one of our shining examples.
BEFORE

AFTER

We received this truly humble message from Christian about his experience of the Clean and Lean Challenge, which he describes as 'a truly-eye opening and inspiring month.'
'Thank-you so much, I am absolutely over the moon! I did stick to the plan and I did quite a lot of exercise - thanks Bex, Gilo and Lawrence for the awesome support at bootcamp - but I am still stunned, shocked and amazed by the huge positive impact on me that this programme has had. Almost immediately after quitting sugar and carbs, I began to feel more balanced, energised and focussed; some talked of headaches and a lack of energy in the first few weeks, I had none of that, just a feeling of control and increasing well-being that grew day by day.
Winning is nice of course, and I cant wait to kick off the personal training sessions, but in all honesty I already felt I'd won. We all have, we are all winners, and do you know how we succeeded, because of each other, the support, ideas and importantly the shared humour that saw us all through!
Wendy, Noa Harari and the UFIT team, you guys are fabulous, clearly extremely knowledgable but also so lovely, approachable and personable, we never felt embarrassed to ask our silly questions and that was super helpful. The 'safe' environment you created for us surely helped us all to stay on track & achieve our own personal goals.
It would be easy to feel a bit of a sense of loss now we've 'finished' the programme...but I don't, its not really a programme is it, more a 'reprogramming' exercise...I will carry this through for the rest of my life. I'll still fall off the wagon on a Saturday night and maybe sneak a square of Dairy Milk here and there, but I now really understand what my body needs to be strong and healthy. I won't be going back to 'Old Me,' that's for sure.
Thanks Wendy, Noa and the rest of my fellow "C&L12ers" for a truly-eye opening and inspiring month. James - you should be proud of these guys. Congratulations to the other winners and everyone for getting stuck in!'
Christian
P.S. In the spirt of the Oscars, also big thanks to my gorgeous wife for getting involved and supporting me!
---
We took five minutes with Christian to ask him more about his Clean and Lean Challenge experience!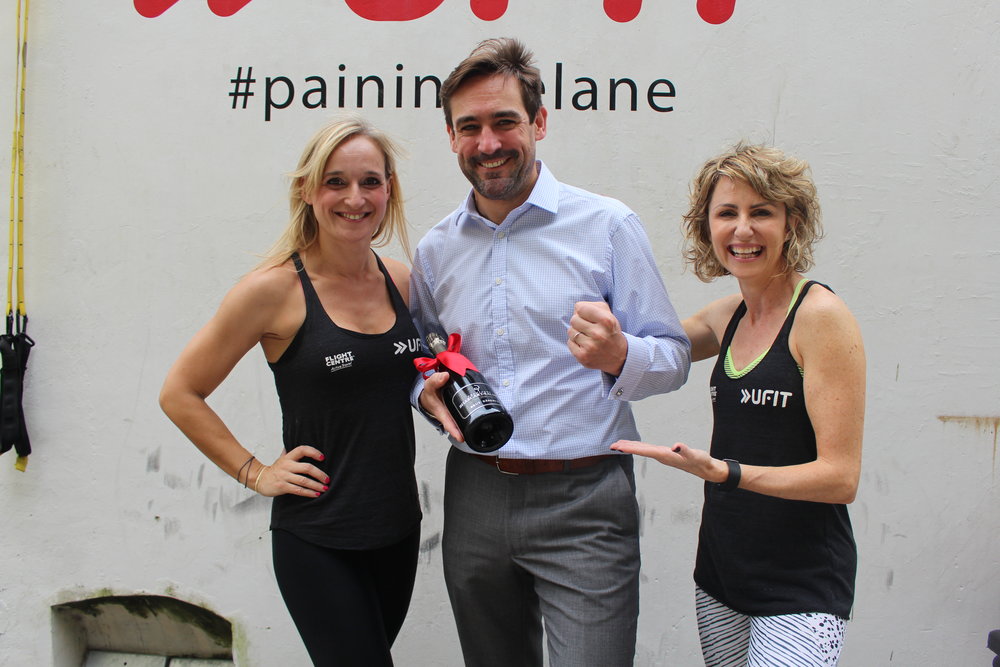 1. What made you sign up for Clean & Lean?
a. I was growing more and more unsatisfied with my body shape and fitness levels...moving to Singapore with the outdoors, beach/pool lifestyle really brought this into focus. Seeing others achieving such fast, deep and long-lasting success with CL was an opportunity I couldn't ignore. Notwithstanding this, committing to what for me was to be a radical change programme, was frankly scary – I am so glad I did!
2. How was your first week?
a. Some struggled and via the FB group we supported each other. In all honestly, I didn't struggle, the nutrition plan suited me and throwing myself into the bootcamps kept me focused and motivated. I began to feel the positive results almost immediately.
3. Did you sign up with a friend or by yourself?
a. With my wife
4. How have you felt each week?
a. Increasingly good! And it's continued after the end of the 4 week period.
5. Did it get easier?
a. It got easier as we began to understand the impact of the nutrition changes and got used to eating differently – or rather just being better prepared to eat consistently differently. Two things changed, firstly eating better made me feel great, more energetic, balanced and focused; secondly as time went by I began to experiment more with food and ingredients – by the middle weeks we were eating not only well, but tasty too!
6. Congratulations, you made it to the end of the four weeks how do you feel now?
a. Like a different, better, more energetic, focussed and younger, version of my fat, old, tired self.
7. What was the biggest surprise after the four weeks?
a. That I have stuck to it since and continue to lose weight/fat and feel increasingly fit.
8. What kept you motivated?
a. The results. Simple as that, all I have to do is look in the mirror or at an old pair of trousers – now 6 inches too big!
9. Would you recommend to a friend?
a. 1000%
---
For more information for UFITs Nutrition programs get in touch with us here. Join our next Clean & Lean Challenges that we run 4 times a year providing you with the opportunity to change your healthy habits into a lifestyle.