It doesn't take killing yourself in the gym and starving yourself to achieve the results you want for your you body and health. Just ask Steve Chapman, a recent graduate of our body transformation course. Over the course of 5 months, Steve and his trainer, Matt, applied the UFIT principles of exercise and nutrition to achieve his goals.
We sat down with Steve and Matt to hear about the transformation.
Steve's trainer, Matt
Steve's results are testament to the motivation and drive he applied to the training, lifestyle and nutritional guidance I gave him. During Steve's training his focus was on fat loss. He wasn't fixated on 6 pack abs and pecs, he just wanted to drop some fat and be healthier all of which we achieved together.
In total he lost 23kg over the course of 5 months and has maintained these results a year on continuing his training with me at UFIT Amoy street. He has now developed sustainable habits that will keep him in shape for the long term and allow him to enjoy life's pleasures too.
He didn't have to kill himself in the gym, diet strictly or endure hours of endless cardio to achieve these results, he followed a structured training and nutrition program that was adapted as he progressed and was consistent with his efforts in and out of the gym.
Cutting the alcohol was a big task for Steve and one that he had to be fairly strict with. Don't get me wrong he had a few slip ups along the way, which Steve was always upfront about, but we just got on progressing with the goals we set and kept moving forward. Now he's in a position to enjoy these things but at a more moderate level!
Not only has his body composition improved but his health markers too, loosing a large amount of fat from his abdominal area means a significant reduction in risk factors that can lead to cardiovascular disease.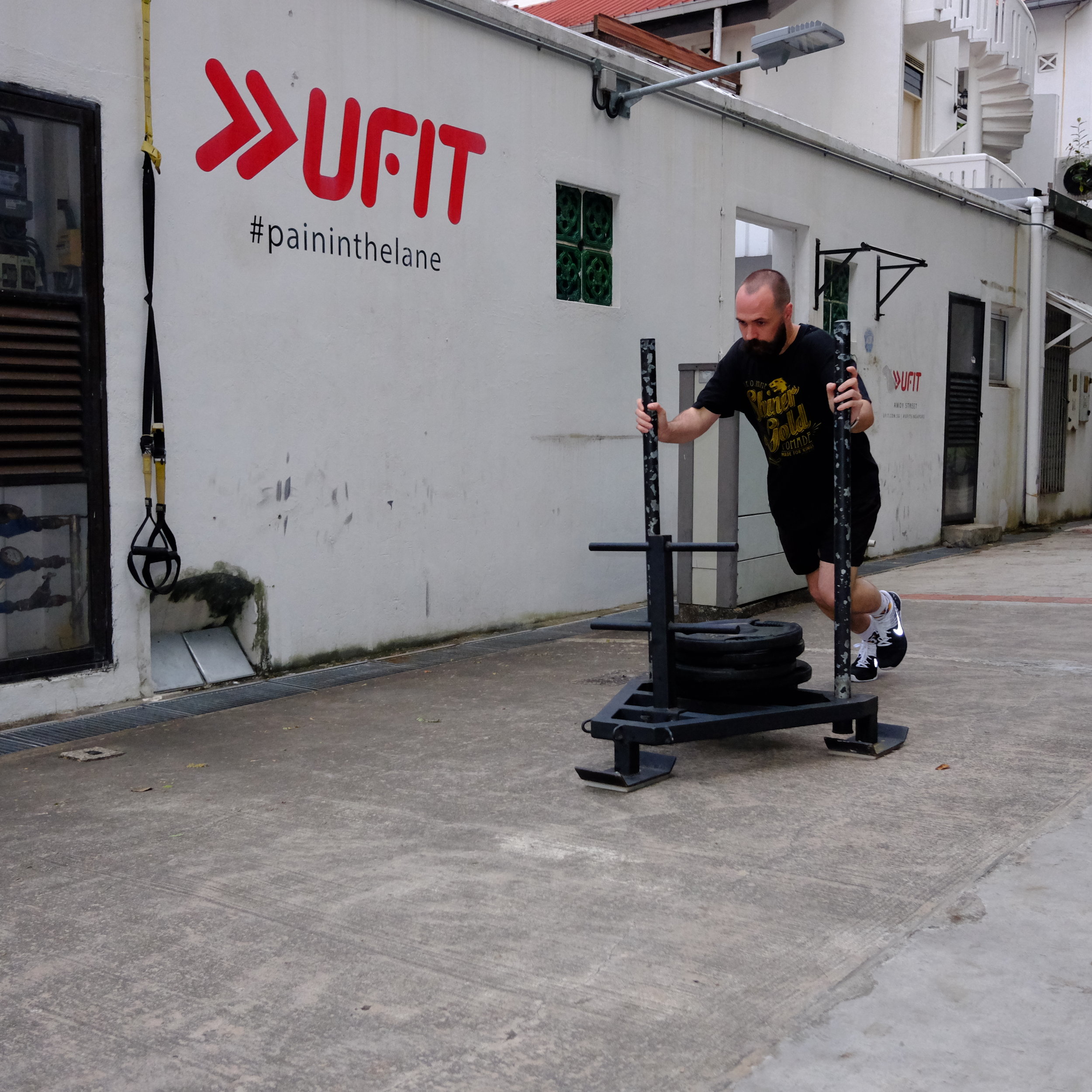 Steve's Story
Steve is the General Manager & award winning Head Barber of Jermyn Street Barbers in Amoy Street. Check them out at www.jermynstreet.com.sg
1. What led you to start personal training with UFIT
I had Matt met through cutting his hair, when chatting about his job I became interested in his theory of training and its started from there. Initially I wasn't sure how it was going to go as I had never worked out at a gym before so I started on a session or two a week. I soon started to see results and got hooked from there!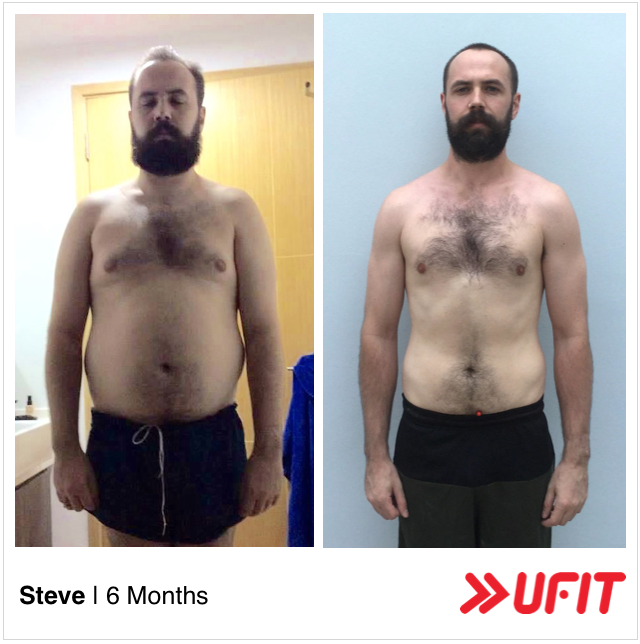 2. How has that fit into your busy lifestyle and how have you managed to balance that with the demands of running a business?
Luckily for me mine and Matt's diary match up well. We both work with people in a service based industry, so my quiet times were the same as matts. This allowed us to find a good routine that fit both schedules. I now have my regular slots I look forward to and training has just become part of my weekly routine. I also find it a great way to relax away from the stresses of running a business. A rare time in the week where I can shut off and just do as I am told without having to think too much. Thats the dynamic I like to train, Matt is the professional who knows what is best for my training, so when it comes to the session I let him structure organise the way he sees fit.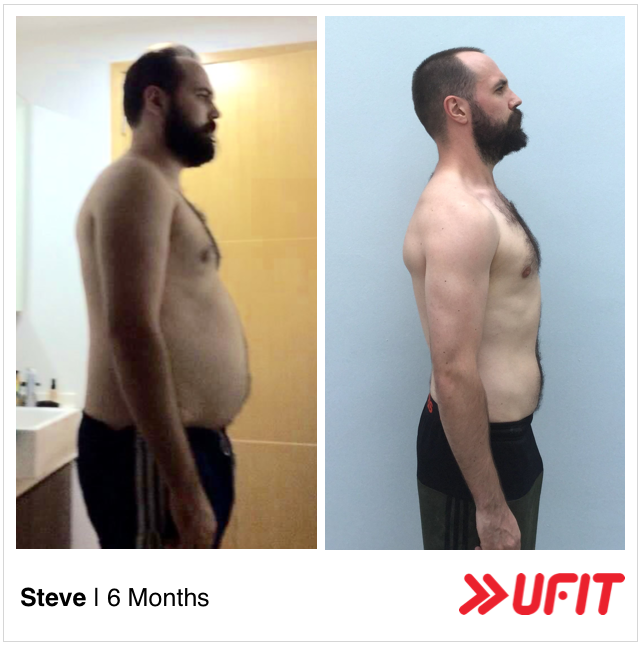 3. What have you enjoyed most about your training? And what have you found challenging?
As I said before everything was really new to me when training. In a way that is good as I was useless across the board when I started. I think a main motivator for me was seeing my performance get better as well as my weight going down. I was getting smaller and stronger which was the aim. There are certain elements I enjoy more but generally I see every session as a new challenge and that keeps me motivated. The way Matt has been training me is in progressive cycles so the sessions change reasonably frequently which keeps it fresh for me too.
The main challenge for me was cutting down on the drinking and the hangover munchies. I was very strict with myself for the first 6 six months but now allow myself to enjoy some of the finer things in life every now and then! I found I could become unmotivated or annoyed with myself if I had a big weekend but matt kept me on track with his realistic approach to training and diet. Every now and then it goes a bit off but the most important thing is to get back on it. I have learnt to enjoy the times I let go as well as the times I am well behave.
4. What kind of program have they had you on?
Matt is the best person to ask! As I mentioned before really leave all this to him. I prefer not to know the workout before I turn up and like it to be kept fresh. I had certain goals I wanted to achieve but matt found different and interesting ways to work towards them without it becoming repetitive. Without knowing I would be working certain muscle groups or movements that would then come together to reach the bigger goal. I think that is the key to a great trainer.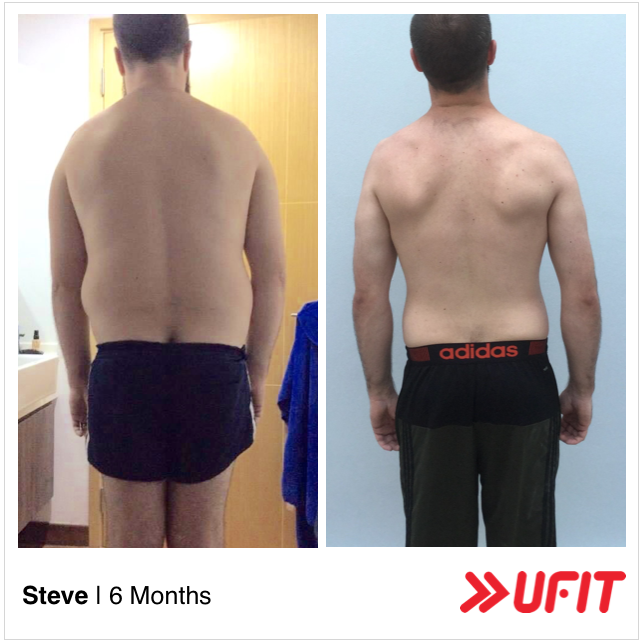 5. How have you felt and looked different since starting your training?
Yes, there has been quite a noticeable difference in my appearance. I have had to buy a lot of new clothes! I also have noticed a big difference in how I am feeling in the mornings. Before I would struggle to get and be snoozing my alarm for as long as possible. Now I get up early, get things done before work and still have energy to work on my feet all day then do whatever I want at night. Its a great feeling, the days are much longer now! Also now I am fitter I feel more confident in trying new things and taking on new challenges including learning to surf, climbing a mountain and the star wars SG run.
6. Do any funny stories come to mind about your trainer or your sessions at UFIT?
I try to see training as something to look forward to, it shouldn't be a chore it should be something you look forward to. There isn't anything that stands out in particular but its always good to come into the gym and chat to the different trainers and have a laugh. Farreez is always in a good mood so always a laugh seeing him.
Interested in your own body transformation story? Find out how we can tailor a programme just for you.