In August 2015, someone made a comment to me which has changed my outlook on training ever since. Up until that point, fitness to me was something I did for fun but with the goals purely being to lose fat, get leaner and just be generally all round fit but with no real performance goals. As a result of this comment, I decided to investigate powerlifting.
What is Powerlifting?
Powerlifting is a sport that involves lifting as much weight as possible in three lifts: the back squat, bench press and deadlift. There are two types of powerlifting: equipped, which, as the name suggests, uses more equipment to help you lift as much as possible; and unequipped or classic, which involves minimal equipment. I compete in classic lifting.
Powerlifting is a weight-class based sport, just like Olympic Weightlifting. You compete directly against the lifters in your weight class for who can achieve the highest total weight lifted. A best overall lifter is also awarded, using a ratio between your body weight and total weight lifted.
My Experience
Following a move to Singapore in September 2015 to pursue my Masters degree, I decided I needed to find a coach who could help me get into, and learn more about, powerlifting. Enter UFIT. I started training at the newly opened one-north studio with Tom Clarke. I don't think he knew quite what he was letting himself in for at the time! After our first few sessions, we decided it would be best if I had a specific goal and therefore found a competition to enter. This would also give me the opportunity to discover if I even enjoyed competing. So together, we worked towards my first meet, which due to recurring knee issues, was a Push-Pull (Bench press and Deadlift only) meet in KL. Tom was meant to be accompanying me to this meet, however, thanks to the wonders of Air Asia his flight got cancelled so there I was heading off to my first competition with no coach and no support, in the back of beyond, in KL. It was an incredibly long and stressful day culminating in a slightly disappointing bench score, a PB in the deadlift and a bronze medal.
Fast forward to April 2016, and I had set Tom the joyous task of preparing me for not just one, but two powerlifting meets in as many weeks, followed by a CrossFit competition, Asia Championships. The first meet was back up in KL, this time successfully accompanied by Tom, and was a much more enjoyable experience, hitting PBs in all three lifts and finishing as the second best female lifter. The second, the School Yard Classic in Singapore, went about as well. Although I only hit a slightly lighter squat, I succeeded in setting the bench, deadlift and total records for my weight class in Singapore. I also finished as the best female lifter overall, my first competition win!
A week later however, due to an e-scooter accident, I ripped the cartilage in my left knee and was sentenced to crutches for 2 months.
During this time, I cannot say enough how much training at UFIT and being coached by Tom kept me sane and on track. While being on crutches shrunk my left leg dramatically, it did wonders for my upper body strength and within about 2 weeks of being allowed to apply force through the leg again, I had broken my previous best bench press by 5kg!
So, to the present day. After 6 months of focussing purely on protection and rehabilitation, I was more than ready to start having another competition to train for. I am now 1 week out from meet day and cannot wait to step back onto the platform, but the prep hasn't been without its ups and downs.
Getting Competition Ready
Dropping Weight
As powerlifting is a weight-class based sport, it is necessary to achieve a specific weight on meet day. With weigh-ins being 2 hours before your first lift, and with still being a fairly novice lifter, I want to be happy that I can hit weight a week or so out from competition so I don't have to stress about water manipulation and so forth. This has meant that since January, while training to increase strength, I have also been trying to drop weight. To do so, I have to carefully track what I eat to ensure that I am fuelled for my training sessions but still in an energy deficit to facilitate that weight loss.
Training
As for training, I am still working with Tom, although remotely, to keep my training as focused as possible. Training includes hitting each of the three competition lifts about twice a week followed by accessory work. To start, training includes higher volume, up to 10 sets, and more accessory work. As training progresses, volume is decreased while intensity increases and accessory work is reduced. Sessions can easily take up to 2 hours, with an hour alone being spent on the main lifts, inclusive of warming up to the working weight. Rest between sets is also an important factor in strength training, hence the length of the sessions.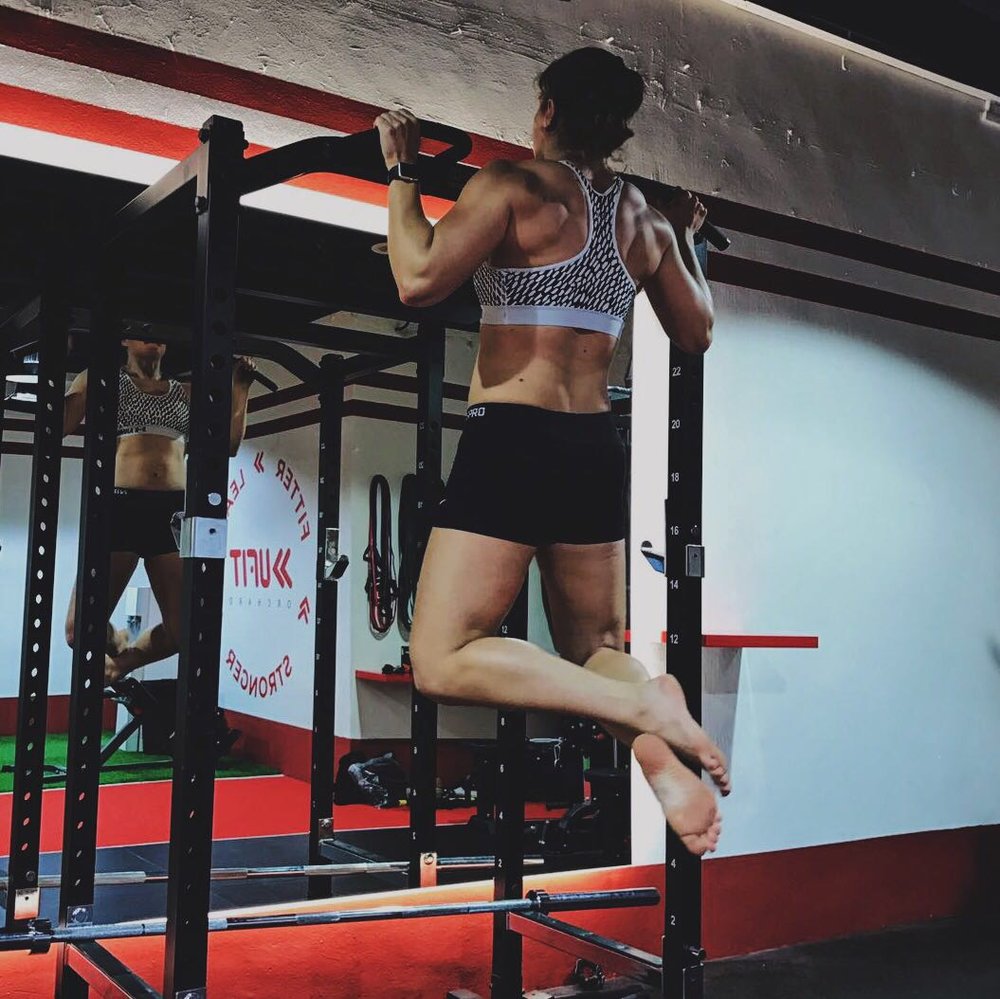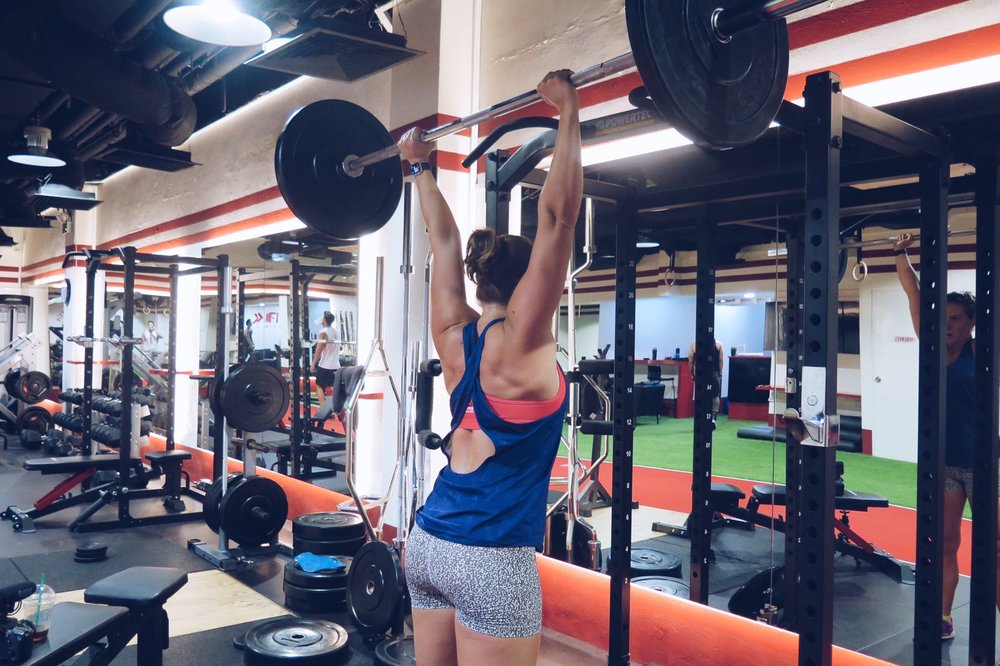 Why do I do it?
Powerlifting gives purpose to my training beyond just training for training's sake. I am someone who wants to be good at everything, and when I see something I can't do I want to learn how to do it. Having set goals and a set timeframe, gives me the focus I need to stick to a program and not get distracted by each new, cool technique I discover. I have days when I can't be bothered and everything just feels super heavy, but I know I need to get the work done. I have days where I want to eat everything in sight, but knowing I have to hit a certain weight helps me to keep controlled, most of the time! Valuing the long term goal over the short term pleasure has been the biggest learning curve during this prep. Sure, I've slipped up. I've had that piece of cake or cookie but then the next meal I'm back on the plan and I don't fret about it. I find it much easier to stay on track when I have a definite time line and goal than when I just used to have vague thoughts of "I want to get fit and get abs"!
Finally, getting stronger and seeing my body change through the training cycles has changed me in ways I never could have imagined. I am so much more confident than I ever used to be. I believe in myself and it is much more about what my body can do rather than what it looks like that is important to me. My advice to everyone would be find something you love to do, and then set yourself some goals to keep you on track. Whether that is to run a 5K or a marathon, participate in the CrossFit Open, go for the prize in the UFIT Clean & Lean Challenge or something else entirely, find what motivates you, it really does make all the difference!
If you are interested in what a powerlifting meet involves, how it runs or just how much some of the people there can lift, please feel free to come along and watch the Singapore Powerlifting Open at HomeTeam NS Multipurpose Hall on 1-2 April, admission is free. More details can be found at https://www.facebook.com/events/1835334903380959/ and I will be competing from 2.30pm on 2nd April