Have you ever wanted to know what it's like to experience the UFIT Clean & Lean Challenge? Kelly Latimer joined us for her first taste of the programme last year and documented her first week of whilst busy travelling. If Kelly can fit it into her schedule then you definitely can.
Hear more from Kelly about the first week and the changes she started to experience.
Spent this week in Thailand on shoot for a new show. I'll be spending 3 weeks of this challenge out of Singapore and away from physical support and meal prepping abilities. Been watching everyone's posts in the Facebook group, feeling a little sad that I can't cook. Production shoots leave little room for choosing food during the day, but I made sure before I left that I brought along almonds, oats and whatever easy snacks that didn't look like they contained too much sugar. Fruits have been the main reach-for items, because that's what the local crew provides. Evenings have been easier. Veg heavy meals with good fresh protein, lots of fresh fish. I've managed to limit processed food consumption to a minimum and I do feel plenty better for that. Although right now all I want is a pizza! Heading home this weekend and really looking forward to eating well in the coming week.
Day One
First day of the challenge and I'm in Malaysia on shoot. I'd be lying if I said I've eaten clean all day today. Curry for lunch at a restaurant. Dove into the veggie curry, but I'd needed to supplement with some rice. Long shoot days become longer with no carbs. I hope this is all in the mind.
Day Two
Home. Scrambled eggs for breakfast to start the day right. Wanted to make egg muffins, but was so tired I couldn't make it out of the house to go grocery shopping. I'll have to work on that. Much of the day spent recuperating from my week of shoot. Dinner for Mother's Day was decent. Chinese food is actually pretty good for eating clean. Roast meats, plenty of vegetables and good soup.
Day Three
Back on the road. Thailand-bound. Does anyone realises how hard it is to find good clean food at the airport?! Skipped on the aeroplane food because it was 80% carbs. There was a little salad that came with it. Devoured that. Avoiding too many raw food dishes, so no papaya salad for me at dinner. Meats and veg all good so far.
Day Four
Breakfast will be sent to your room at 5am, they said. Half a slice of toast, a fried egg and 4 slices of some overly processed ham. I skipped on that. Had oats that I brought instead. First day of shoot. Looking at a 15 hour day. Couldn't survive without some rice today. Options are limited. Apples and bananas for snacks.
Day Five
Another long day ahead. More gross breakfasts. They're trying their best, but the concept of "carb free" and "clean" where I am is a foreign concept. Dinners are OK when I can order what I want, but the lunches have been terrible. Noodles today. Yummy. But definitely not C&L approved. Need food though. Feeling very sluggish.
Day Six
Two short days, but even earlier call times. I don't drink coffee any more, so I'm really finding it hard. I'm just so tired. Filming under shelter today, so it's not as hot. Water is my best friend - when we're shooting in a place with a good toilet. Managed to hit the gym proper today. Other days were just short workouts in the room. Felt so strong, but then afterwards… SO HUNGRY!
Day Seven
Last day of shoot. Going home tomorrow. SO EXCITED! I'm aching from yesterday. Definitely need more protein, but I've gone off beef. Pork and fish seem ok. I want a pizza. Like. I really want a pizza. Been looking at options for a cauliflower pizza base that I can potentially cook next week. The carb craving is real. Haven't needed sugar as much as I'd think I would. I'm sure that'll change and I have been eating fruit. We'll see what tomorrow brings.
---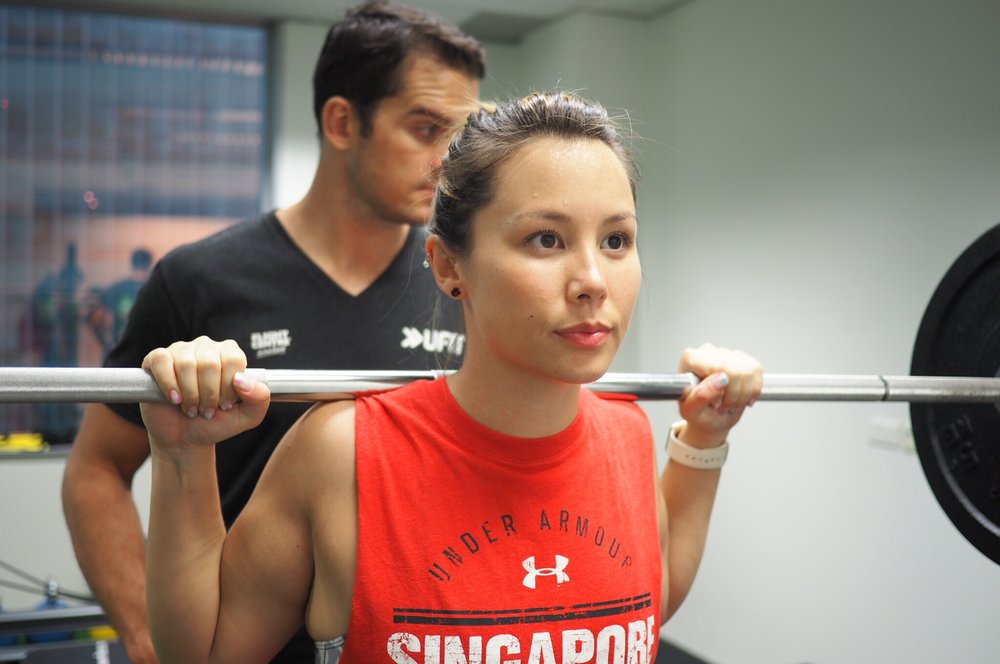 ABOUT THE AUTHOR
Host & Vocal Talent Fitness Enthusiast, friend of UFIT.