Q&A with Nick Lumley, Strength & Conditioning Coach for the Scotland Rugby sevens team.
We've been lucky enough to speak to Nick Lumley during his visit to Singapore for the Singapore Sevens with the Scotland National team. We thought that you might be interested to hear from a top Strength and Conditioning coach from a national side, see just how important Strength and Conditioning training is to being a top sportsperson.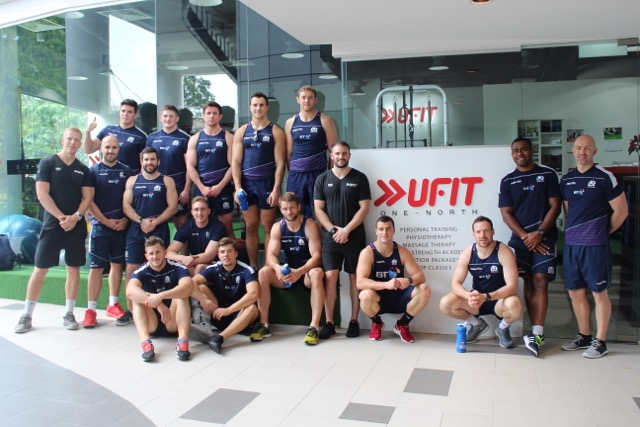 What's the importance of S&C training for 7s?
S&C is essential for all elite rugby players, especially 7s. It is the most physically demanding form of the game, and fitter, stronger and quicker players have an advantage on the field of play in terms of performance. Stronger, fitter players are less likely to get injured and are able to tolerate the volume of work throughout a 7s tournament as they recover more quickly.
Is S&C training different for the Sevens compared with 15's?
Many of the basics are the same; players need to be strong, quick and very fit. In 7s there is an increased focus on high intensity running and repeated high intensity efforts with more demanding work-to-rest ratios. On top of that you have to be ready to play Six games in Two days. Because of this the profile of top 7s players needs to be slightly different, they are typically slightly lighter and quicker than their 15s counter parts. The S&C content also places more emphasis on these qualities and less focus on maximising body mass for collisions and the breakdown.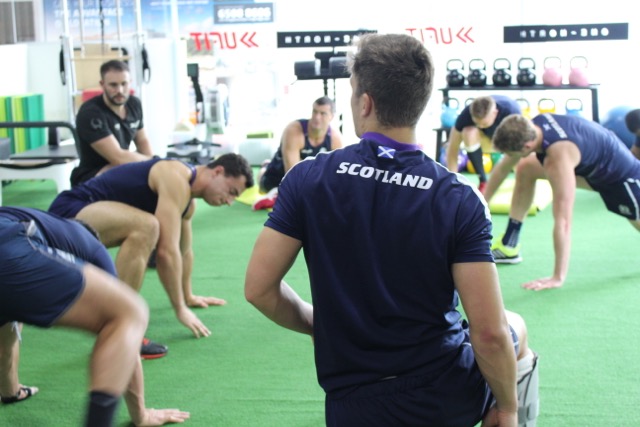 What components for fitness are most covered in S&C for Rugby?
This is pretty hard to answer. I've been fortunate enough to work with quite a few S&C coaches and they are all different! I think alot of people cover maximum strength and aerobic fitness pretty well. Certainly with our 7s team we target these, but quickly move on when we are satisfied with them and place an increased emphasis on maximising speed and our anaerobic pathways, as we believe these are the two qualities that are most essential for improving performance.
What are your favourite types of training with relation to 7s rugby?
I don't really have a favourite! I look at each player and try and identify what limits them come game day and put in place a programme that addresses this. I'm a big believer in targeting a particular training response and coming up with a programme that overloads this appropriately. I think we can get lost in trying to tick too many boxes at one time or trying to be too "sport specific" and getting better at nothing. In reality being stronger, quicker or fitter is sports specific so we target these qualities as directly as necessary.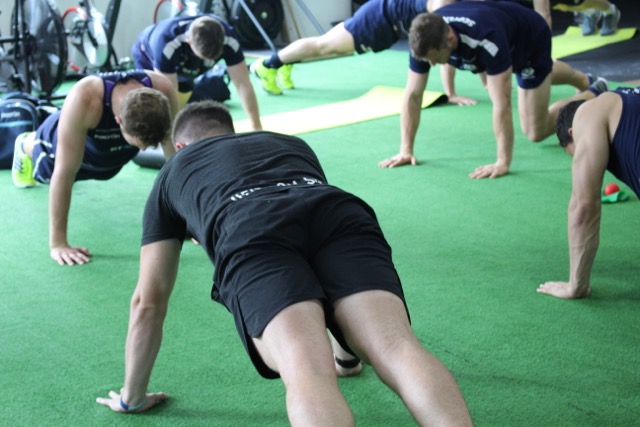 What 3 exercises can someone do at home to target 7s?
Again, this is quite a hard thing to answer because it depends who you are and what your limitations are! The basics done well will make most players better, regardless of training level. Training doesn't need to be overly complicated to get results. I would suggest that if you doing the following, you won't go far wrong:
A compound body life (Squat, deadlift, leg press)
An upper body push and upper body pull done regularly, with weights above 80% for 3-5 sets at least 2 x a week
Regular maximum effort sprinting on a good surface and a combination of some aerobic and anaerobic work
About the Author
Nick Lumley is Scotland Rugby Sevens Strength and Conditioning coach, a job he's held since late 2014. Nick began his training by becoming a Strength and Conditioning/sport science intern for the WRU. He has held a number of different Strength and Conditioning coaching jobs since including, Strength and Conditioning coach for Gloucester Rugby and also Strength and Conditioning at Bath University coaching Olympic sports.
UFIT proudly hosted a number of the top teams during the Singapore Sevens 2016, which includes Fiji, All Blacks, England, Canada, USA and Scotland to train at our gyms.
At UFIT, we exist to inspire and guide our community of members, to realise levels of fitness and confidence beyond what could be possible by themselves. Fitness isn't our job; it is our way of life. Check us out on our website or you can take a look at our Facebook page
Join us – the opportunities are endless.