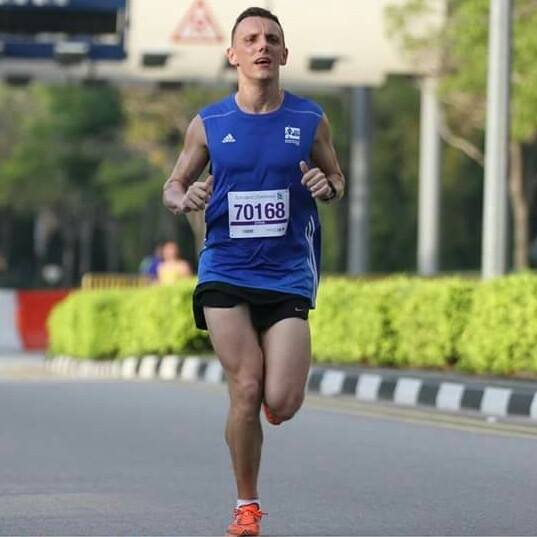 " I first joined UFIT to follow the Salveo Body Transformation programme in October 2014. I spent 6 intensive weeks following a tailored strength and nutrition plan, which saw me lose 5.6kg in weight and 7.7% of body fat. I continued following the nutrition advice over the next couple of months and ended up losing even more – my weight stabilised around 74kg and 14% body fat.
With my weight under control I was able to get into some more serious running training. In my final 10km race prior to starting at UFIT, I clocked 50 minutes, so I was looking for some significant improvements in the 2015 season. I continued my weekly strength training sessions with UFIT coach John Black – who also looks after the RUNFIT group – and steadily saw my times improve during the year. John's focus on free weights and resistance work was perfect – and the sessions never became routine or predictable.
My goal race for the year was the 10km race at the Standard Chartered Marathon in December 2015. In order to maximise my chances of a good placing, I asked UFIT Nutritionist Wendy to design a tailored nutrition plan for my 12 week build-up. Wendy provided amazing guidance and support in this area. With minimal changes to my eating habits, I was able to train harder, longer and more efficiently, which saw major improvements in my recovery period as well as my pace.
I finished the race in a time of 37:35, which put me in 14th position overall, 11th in the men's category and 4th in my age group. None of this would have happened without John, Wendy and the UFIT team – I can't recommend them highly enough."