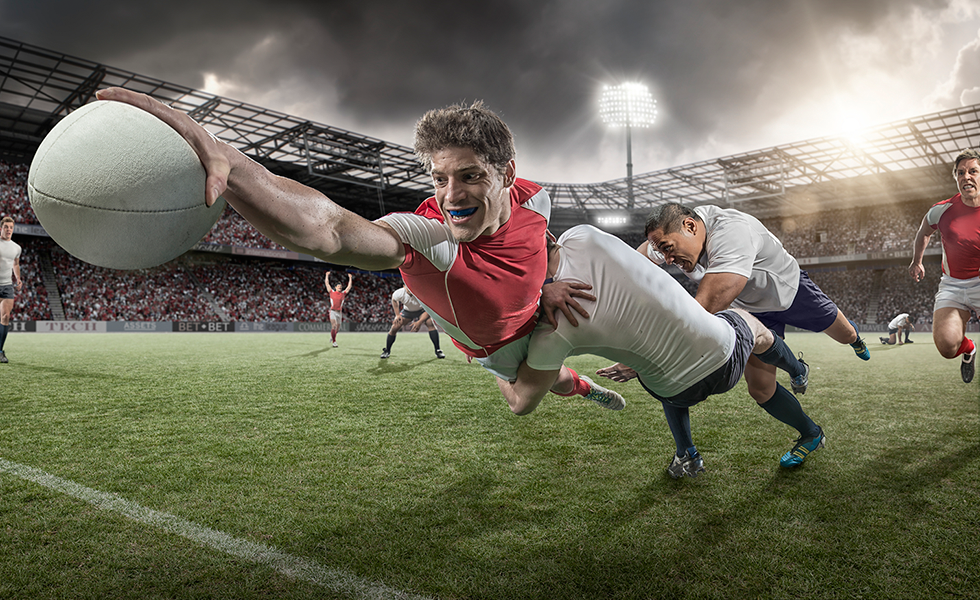 Latest Rugby World Cup Blog from James Forrester
Will Big Be Beautiful Against Wales This Weekend?
First of all what a fantastic first weekend, obviously the big talking point was Japans amazing victory against South Africa. SA came up against a highly motivated, hugely organized team and they were obviously caught cold. Eddie Jones got his tactics spot on, his players work rate was simply unbelievable, they were doubling up in the tackles and 'chopping' very low therefore putting big men on the floor time and time again which tests oppositions speed to the breakdown and their fitness levels. This is of course is an obvious tactic against a bigger teams but planning it and executing it are two very different things when you have 20 stone, 6ft 6', bilton eating Africans men running down your alley. Anyone who played with or against Japans forward coach Steve Borthwick over the years will not be surprised at all by Japans level of detail in their set piece and contact area. Borthwick's attention to detail as a player was second to none and it clearly rubbed off on his team.
Having lived in Asia for 6 years I am over the moon about the result , it can only do the game a huge amount of good having an Asian nation as a serious competitor rather than just a 'also ran'. If rugby is going to become a truly global sport we need these tier 1 & 2 nations bridging the gap and that seems to have happened to some extent this weekend.
To touch on England's game briefly, we were obviously nowhere near direct enough in the first half . England are using these 'lead' runners all the time and 'going out the back' of them to the runners behind which is fine but in the first half they were not holding anyone at all. Fijians are masters at drifting off defenders, they have done it all their lives on the 7's pitch. England must actually use these 'lead' runners to get over the advantage line and keep defenders 'honest'. Once they have done that then opportunities will arise.
My gut feeling is that Fiji are a decent outfit with some top class players and in a couple of weeks this win will look more and more like a good result.
So I write this blog on the plane and as I was boarding there was rumor of the England team selections and in particular the midfield. If rumor is true they have opted for Farrell / Burgess / Barritt . The first thing to say before all the hype is that this change was forced on them in a few ways, Joseph is injured, he would have started otherwise.
So England had a few options but probably the other most likely would have been Slade as a straight swap for Joseph. In my opinion that would have been quite high risk giving Slade his 2nd start against a physical Welsh midfield. So they opted for Barritt and Burgess which sets up a titanic battle in midfield , these boys are bigger than most back rowers 20 years ago, terrifying stuff. The downside for England is that this is about as bad a 'passing' midfield as England have ever put out (and all sorts of people will be screaming about 'balance'), the two B's are not going to be throwing 20m passes at pace off there left hand which obviously slows down our back 3 but saying that those types of chances are few and far between. The positive for England is that these two will give you front foot ball and get us over the gain line all day and in reverse do a job of stopping Wales' front foot ball. They also have good offloading games which again can make all the difference at this level. So do you want guys who can pass well and give out outstanding back 3 space or get you moving forward and give them space later in the phase? England have gone with the latter this weekend.
The other big decision is the dropping of George Ford. This is a tactical decision as much as a personnel one. One of the great advantages of having Ford in there is his ability to play off Bath team mates Joseph and Watson, Josephs injury would have hurt Fords chances as he does not have a ball player in his midfield to work with. I'm guessing the decision was also based around Farrell's attributes as a traditional English 'hustle' 10 playing outside two 'lumps' rather than Joseph who Ford puts through holes on a regular basis. In short what's the value in having Ford in there when he has nobody to run lines off him, his defending is also not as good which is a big factor this weekend.
The Farrell Vs Ford debate is similar to the one that has gone on for 25 years in England. In the 90's you had Rob Andrew the kicker vs Staurt Barnes the ball player. We had the same with Wilkinson vs Hodgson in the 00's. Hodgson who I always massively rated was a much bigger threat and better distributor than Jonny on a fast track but had defensive frailties and was not as consistent with the boot. Jonny was quite simply a winner, he created massive pressure on opposition with the way he puts his team in the right areas of the park , his goal kicking and drop goals and his incredible defence. Quite simply he won games time and time again even when England did not play that well.
We now have a very similar scenario with Ford vs Farrell. Farrel the competitor vs Ford the play maker. England's performance in the first 50 mins against Fiji would have helped Farrell's cause, (Ford did not also play well against France in the warm up) it was loose and was not productive. Farrell came on , got his ball carriers in the game and led England forward. In short England reverted to type (Rob Andrew and Wilkinson), with big set piece, driving mauls, field position and high intensity direct runners. My only worry is that Farrell's lack of threat as a runner will make it easier for Warburton and co to drift off him quicker and get in Burgesses face giving him less time on the ball.
When picking a team there are so many factors to consider, but for me considering the fact we are moving into October , we play at 7pm (soggy ball) , we are playing against a big physical Welsh midfield , considering the injury to Joseph and the impact Burges has made I believe this is a good call. England have gone back to basics and have made a big statement of intent about how they will play this weekend. Its reminds me of Gatland's decision in the 3rd lions test when he picked a monster midfield and he was vilified for dropping the skilful O'Driscoll for the brawn of Roberts…. It went ok that day!