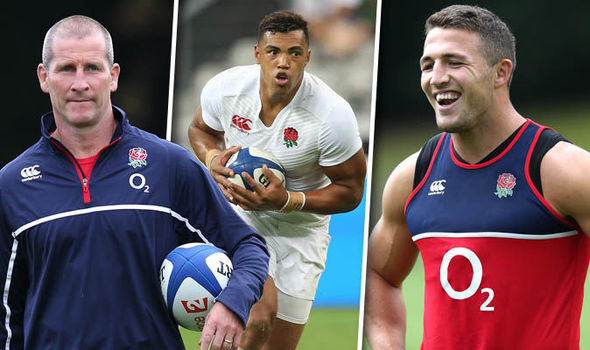 I am doing a little bit of media work in Asia for Fox Sports during the world cup so I thought I would start by adding my 10 pence on Lancaster's selection yesterday for anyone interested.
I will just touch briefly on the more 'controversial' selections , for the sake of time I will not include the great 'French Debate' re Armitage and Abendanon.
Front row – I think with Corbisiero's injury issues , while his exclusion is a massive shame based on his 2013 form , i think it would have been a risk taking him. He's been unfit a lot this year and has surely missed out on a lot of the strength work and has struggled to catch up.
I would also, for the record have personally kept Hartley in the squad, I feel we are going into a world cup very light in experience in the front row , and particularly in our options for hooker, arguably the most important position on the pitch.
Kruis / Attwood – For me the battle for the final lock spot was between Kruis and Attwood, Kruis has really stepped up this year with his leadership and lineout management, he is also a pretty good ball player , and with the way England are trying to play with big forwards passing out the back to the second receivers I think this went in his favour. However I feel if England are going to win this world cup they need to be very dominant up front (which has not been the case against France) and I just feel Attwood would have given us a bit more physicality and ball carrying options which I feel is vital.
Nick Easter – I think they made the right call in the back row , for me Morgan can be a match winner , he has an X factor and if the England medical & S&C team feel he is ready then he should go. I am also a big Wood fan but think his form is a little bit worrying going into the world cup , however he is an outstanding 'jumping' blind side and this would have given him the edge over Easter. England are worried about their hooker options and therefore their default setting is to always pick the better option for jumping and securing ball. Im very sad to see Nick Easter miss out as he has been outstanding but feel with the destructive Morgan fit it was the right call and gives a decent balance to the back row.
Cipriani – First things first is that the England management just did not trust him enough to see him as a viable option at 10, they gave him zero opportunities there in the last 12 months which I think is a shame as his form for Sale has been good this year and his consistency has really improved. With the rise of Slade he also suffered as they now see him as their 3rd choice fly half. So what we are really talking about is whether Cipriani should have gone as a impact player or 3rd choice full back? Again this comes down to trust for me, if England have New Zealand in a semi final and they have injury issues at 15 do they trust him in that position to start? Again the answer is clearly 'no'. That leaves him as only really being an option as an impact player off the bench when England need some magic (which is how they have used him), I'm guessing they felt Slade and Goode also offer this while also being more reliable 'starters'. Despite all the above I feel they have left out their best impact player which I think is a mistake.
Burgess – This is the big one and obviously the most talked about. I would start by saying that knowing a little bit about Andy Farrel I think this was a decision heavily influenced and pushed by him. They are cut from the 'same cloth' . Both big physical men, both great leaders and mentally very tough , both proven at the very highest level of rugby league. I think Andy wanted him in and around the changing room even if he's not that likely to start. The question is not 'would Burges start?' because that is clearly 'no' and I'm sure they would have picked Burrel ahead of him as a 'starter' anyway. Barret and Joseph are their first choice pairing so once again it comes down to the question of who 'offers the most value' off the bench and in the changing room and I think with Burgess' size , physicality and line running as well as his leadership qualities I think you can make a very good argument for him being in there. If Barrett got a serious injury I still think you would see Burrell come in and start ahead of Burgess (as it stands) in a big game (barring a great performance by Burgess against Uruguay). However that must be a very hard pill to swallow for Burrell, I'm glad I did not have to have that conversation with him that for sure but I like the decision from a tactical point of view.
As ever this debate is around the current 'fringe' players, if you remember England went into their final in 2003 with their first choice team , they had no injuries . Obviously Lancaster will be hoping for the same luck this time around, if he does not get it (luck) he will be hoping the likes of Burgess repay his trust in him.
I truly believe in Farrell, Rowntree and Catt we have a world class group of coaches alongside Lancaster who has done a great job join in the last few yeas, time to back their decisions and get behind the team.
Cheers,
James.