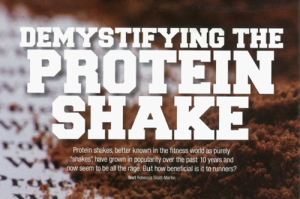 UFIT's very own nutrition consultant Rebecca Scott Martin writes an article for Run Magazine trying to help explain the complicated world of protein shakes.
Protein shakes, better known in the fitness world as purely "shakes", have grown in popularity over the past 10 years and now seem to be all the rage. Look in most homes today and you will find a blender or smoothie machine.
From bodybuilders to athletes and everyone in between, the health conscious are using shakes to supplement their fast-paced lifestyles and weight loss goals to ensure they get the right amount of protein uptake in their quest for a leaner physique, stronger, powerful muscles and post-training recovery. We also see supplement companies recommending shakes as 'meal replacements' for people who want to have a dramatic drop in body fat.
While shakes offer a quick-fix, where possible, I always recommend that my clients at UFIT eat a lean protein source at every opportunity as opposed to a shake. For example, oily Omega-rich fish, chicken or legumes are the best protein sources. With our daily lives growing ever busier, we don't always get a chance to sit down to eat a meal, let alone cook it. So it's all about making the right choices and planning ahead so you have the right foods to eat a balanced (and hopefully clean!) diet.
What are misconceptions on protein shakes?
There are arguments for and against protein shakes. To be honest, it is a very controversial subject with many nutrition experts weighing in on the topic with different points of view, mainly due to the myths and misconceptions that surround shakes.
Shakes are very goal dependent. In general, I would say they can fit everyone. They are easily modifiable – they can be increased in quantity and size, what is placed into them and extra supplements that can be added to them, be that protein or even extra fibre.
Adding protein to your shake can be a positive contribution. It is an undeniable fact that proteins help to promote a leaner body through the body's conversion process into energy. Protein replenishes not only our muscles but many other functions in our body. However, I would advise that pregnant women avoid protein shakes as a natural source of protein should always be added to the diet instead. Beyond that, protein shakes are generally suitable for all active adults.
There are various types of protein supplements, all of which contain complete amino acid profiles that our body cannot produce and must come from the food we eat. For example:
Pea Protein: Suitable for vegans, vegetarians and restricted diets. It is gluten-free, soy-free and dairy-free. It does have a slight taste of pea, but don't let the flavour put you off as this is a great source.
Hemp Protein: Suitable for vegans and vegetarians. It is produced under low heat and contains Omegas 3 and 6. Hemp protein normally comes unflavoured, so it is perfect to add to soups, fruit or shakes.
Casein: Slow digesting protein. Casein generally comes in a variety of flavours like chocolate, vanilla and strawberry.
Pure Whey: Fast digesting protein, and usually the most popular in protein shakes.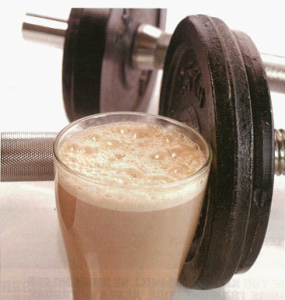 Protein shakes for runners:
I would advise anyone who is training – be that running or weight lifting – to have a good intake of protein. It's important that amino acids are in the body to help build and repair following a big workout session or run.
Running is a sport which requires specific nutritional recommendations. The reason for this is due to the distance you are running and the impact that running has on your body. Pre- and post training nutrition is vital for a successful run, be that during training or on race days, as well as keeping body composition in check to limit injuries and fatigue, among other things.
If you know you will be running for more than one hour, always ensure you load your body up with a good slow release carbohydrate two hours before your run. This will help to keep energy levels up and excess glucose on hand to use for vital energy. Also follow up your run with a good intake of protein, carbohydrate and fat so you can facilitate a speedy recovery.
Keeping it 'clean':
There are many things we can add to shakes to make them 'clean' or not so clean. Ideally you can add anything you want to protein shakes, but ensure the time of day you are having the shake corresponds to your energy output needs.
Always try to make sure you have a good quantity of high GI food in your protein. For example, adding banana or honey following a hard workout session or after a long run is important to get a quick hit of glucose to help replace the energy used up from your muscles and liver. Be aware, however, to try and ensure your combination of protein, sugar and high GI shakes are only consumed following a training session or run. If you consume a shake outside this time, it is likely your body will store the excess sugar as body fat for later use.
Nutritional values are very much dependent on the brand and the other ingredients added to the shake. For example, carbohydrates, glutamine, creatine and other supplements can be added as a pre-packaged complete protein shake for those looking to increase size, but do note this will also increase the calories.
Trying to eat 'clean' and healthy can be a daunting task. Even when we think we are eating healthily, there can be hidden additives that aren't good for us. At UFIT as part of our Salveo Lifestyle program we design a 10-week customised nutrition plan to help clients with total body transformations. This program tailors a client's needs – be that for fat loss, weight gain, for sports nutrition or for pre and post-natal eating patterns. We have had tremendous success with this program around all spectrums.
Recipes for protein shake success:
For fat loss goals, I would recommend drinking a shake following your workout to replenish stores and facilitate recovery. Always pick a protein with minimal carbohydrates.
For weight-gain or muscle growth goals, ensure your post-training protein shake mix has creatine, glutamine and carbohydrates.
Adding berries to your morning shake is a great way to get to extra vitamins, minerals and antioxidants to kick start your day.
Adding a tablespoon of rolled oats will help you feel full for longer due to the low GI, therefore your body will digest it slowly.
Adding a good fat such as coconut oil will also help you feel satisfied, like you've had a full meal, as well as give you those vital fats your need into your diet to keep body fat low.
Use shakes as a mid-morning or mid afternoon snack.
Drink shakes within 15 minutes following exercise. Recent studies have also shown that drinking protein shakes during your training session can also facility muscle recovery.
Casein protein shake recipe for breakfast:
1 scoop of Casein protein (or choose any form of protein from the above, ideally a vanilla flavour)
1 tablespoon of coconut oil
1 tablespoon of organic rolled oats
½ tablespoon of raspberries
½ tablespoon of blueberries
6oz of unsweetened almond milk
½ scoop of chia seeds
1 cup of ice
*Add to blender and mix until smooth*
Protein shake post-training/Run (more than 1 hour in duration):
1 – 2 scoops of vanilla protein (choose any form of protein from the above)
1 cup of applesauce unsweetened
1 teaspoon of ground cinnamon
2 tablespoons of wheat germ
1 tablespoon of manuka honey
1 cup of ice
*Add to blender and mix until smooth*
Also check out this site for more on proteins
Attribute response to:
Rebecca Scott-Martin
UFIT Personal Fitness Coach and Salveo Nutrition Manager
Rebecca has extensive experience in working with clients in London, Bahrain, and Singapore, and formulates individual training programmes to address her client's personal goals. Certified as a level 3 advanced personal trainer, Rebecca is a qualified nutrition advisor with pre and post-natal trainer, and is one of few personal fitness coaches in Singapore to possess the trained ability to advise her clients on safe training and nutrition techniques both during and after pregnancy.