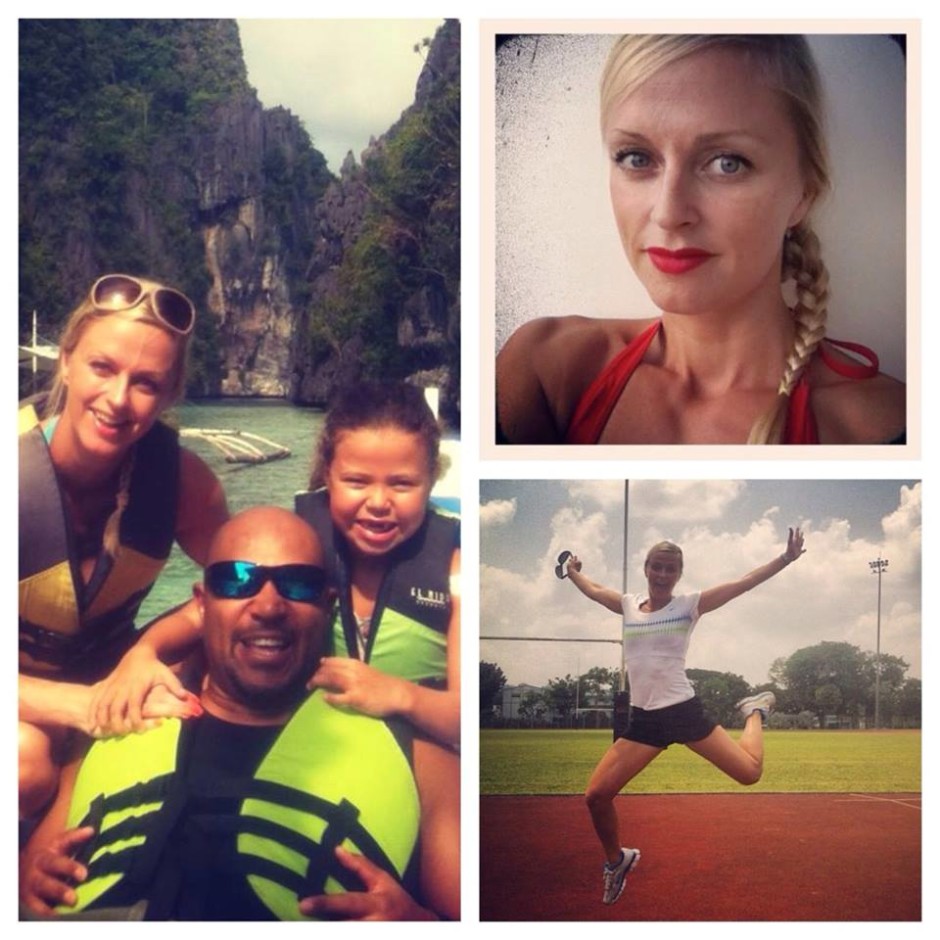 The question we all want to know the answer to! Mona, you get a lot of questions about how to get abs like yours. Can you tell us your secret?
My training incorporates a lot of whole body movements, so in that respect you could say I ALWAYS train abs!
Doing thrusters, squats, lunges and plyometrics engages your abs big style.
I keep telling my clients this, that although it seems like they "only" do leg work ; it´s also an ab/core /fat burning workout in disguise. Instead of holding a dumbbell in each arm, hold a single one (heavy one) up in front of your chest while doing the leg work – and you can literally feel how that engages your abs! As an extra bonus you get killer biceps too! This is what my HIITFIT crew will be doing…hehe
In between the squats I´d do pull overs with the same weight, and in this way you get a whole body / core strengthening / fat blasting workout – all in one!!
Alternatively I love doing turkish get ups, banana tuck ins, jackknifes and overhead kettle bell swings. BUT you need to know what you are doing(!) Otherwise you´ll pay with your back to get your abs. You don´t want that
And planks. "Fifty shades of planks". But again – you gotta do it right. Lots of ppl dread plank and doing it alone as it can be a tad boring. But in that case you have push ups!
Push ups (with donkey kicks) can be much more interesting and also works your abs and core in a great way, -as long as you keep your legs straight
Last but not least;
I´ve noticed a lot of women (in particular) doesn´t know how to flex their abs. So when they do ab exercises the suck their stomack in (stretching their abdominal muscles) instead of "pushing it out"/ flexing it.
Flexing requires a certain technique (look at the fitness competitors), and it´s essencial to have an understanding of it to make your abs show. Another factor is posture. A good posture makes your stomack look flatter and stronger in an instant.
Your favourite bootcamp exercise
Ooh, hard one. So many of them! Burpees for sure. Bear crawls. Star jumps. Sprints! I particularly like whole body movements that works virtually every muscle in the body.
Your fitness experience in the industry is:
I´ve been in the fitness industry for about 15 years in total. I started working as a PT in Norway in 2000, after university. I studied Sport Sciences and Social Sciences and planned to become a lecturer, but as soon as I started working as a PT I was hooked!
Upon coming to Singapore, I first told myself; now I´m going to do something else! Continue my studies, become a lecturer etc… But nah, not yet. Personal training is more than a job…its just who I am. It´s become a life style and something tells me I´m going to be in this industry for a long time still to come. I feel so lucky to be part of this amazing community in Singapore, – surrounded by awesome coaches and clients, and continuously learning new stuff. Never a dull moment!
Tell us about your family
I met my husband 11 years ago in Norway. He was a British ex-banker, who had already fallen in love with the Norwegian way of living… balancing work with healthy free time in the great outdoors. He´s now Managing Director for SBSeating in Asia Pacific, selling scandinavian designed ergonomic office chairs. We have an amazing, almost 8 year old daughter together. She´s an energetic little extravert who loves singing and dancing – and Taekwondo!
What is your favourite weekend activity
It used to be mountain biking back home, but it´s a struggle to find many places to do this in Singapore. So instead I normally go running on Saturday mornings with hubby. I Love it out on the trails! As my husband travels and I work a lot of early mornings, our favourite activity is just hanging out with family and friends. I appreciate my down time "doing nothing", since I run around like a crazy person all week!
What gets you out of bed in the morning
My job! And freshly brewed coffee!
I LOVE my bed in the mornings. But my clients love training in the mornings, so it gives me not much choice. They never seize to impress me with their energy in the AM. It´s contagious.
Plus, as with all exercise, you get better at it with practise, so now I actually enjoy watching the sun rise when on my way to clients!
Favorite healthy meal or snack
Too many to mention. I´m a huge foodie, and few things in life make me happier than great food…and good wine! And great cocktails! Haha – Cannot not mention that; It´s part of my balanced Fitness, Food, – and Fun Philosophy! ;D
And, I´m a chocoholic. Always have been. Always will be.
However, I believe in everything in moderation. I´m a little "allergic" to habits, which means I don´t risk eating too much of anything. Gotta change it up now and then – and again…
Just like I to do when it comes to training!