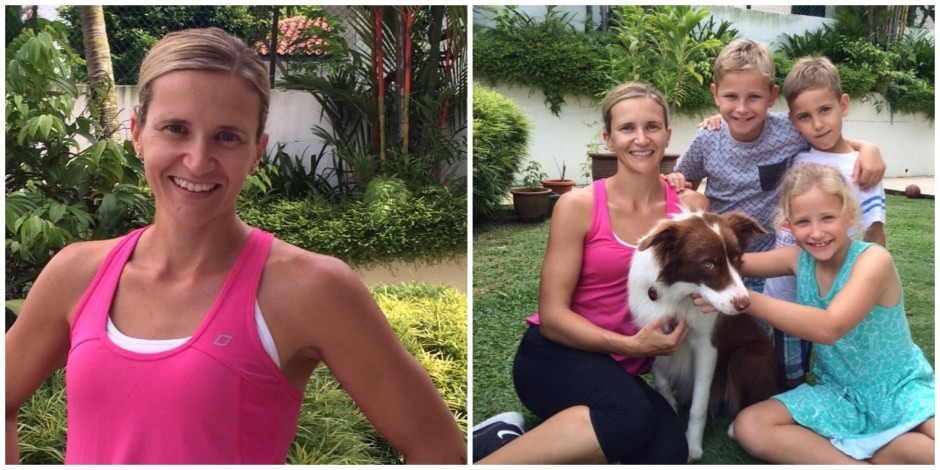 1. Tell us a bit about your gorgeous family we see photos of?
We are all Aussies, we left Australia in 2010 moving to Beijing for my husband's work. After 4 great years in Beijing we moved here last January. My three children, Henry, Yasmine and Thomas are 9, 8 and 6.
2. Bishan Park is one of your favourite locations to train at, but unfortunately on hold at the moment. Where can we find you?
Funny you should ask. We have just recently had to relocate our 9am Tuesday Bishan class to MacRitchie because Bishan Park is currently on red code status for a dengue cluster. We hope to be back at beautiful Bishan amongst the Tai Chi goers and fan dancers by mid August. I am pleased to be able to get the chance to spend the next month of Tuesday's at MacRitchie Reservoir.
3. Your favourite bootcamp exercise?
Tough question, there are so many! I love Leg Cranks, serious leg burn.
Leg Cranks:
24 squats,
24 alternating lunges,
24 split jacks,
12 jump squats
4. Tell us something that we don't know about you?
I do not consider myself a 'runner' but I ran a half marathon on the Great Wall of China… twice. Once, to see if I could make it, and the second time to see how fast I could do it. Moral of the story: sometimes you need to challenge yourself to remind yourself that you can do anything!
5. If you were not a bootcamp trainer you would be?
Probably still trying to figure out what I want to be when I grow up.
6. Tell us about the positive impact that exercising and living a healthy lifestyle has had on you and your families lives
I love that my kids know how important exercise and healthy eating are. I love it when my kids mimic my workouts or even offer suggestions as to what I can put into my next class. This is their 'normal' and it's so important to me that they go into adulthood with a built-in knowledge of good nutrition and exercise and an understanding of it's importance on both physical and mental health.
7. Your favourite healthy snack
My favourite snack is definitely a young coconut slushy. I take the juice and lining from a young coconut and add loads of ice before I wizz it up in my smoothy maker. Delicious!