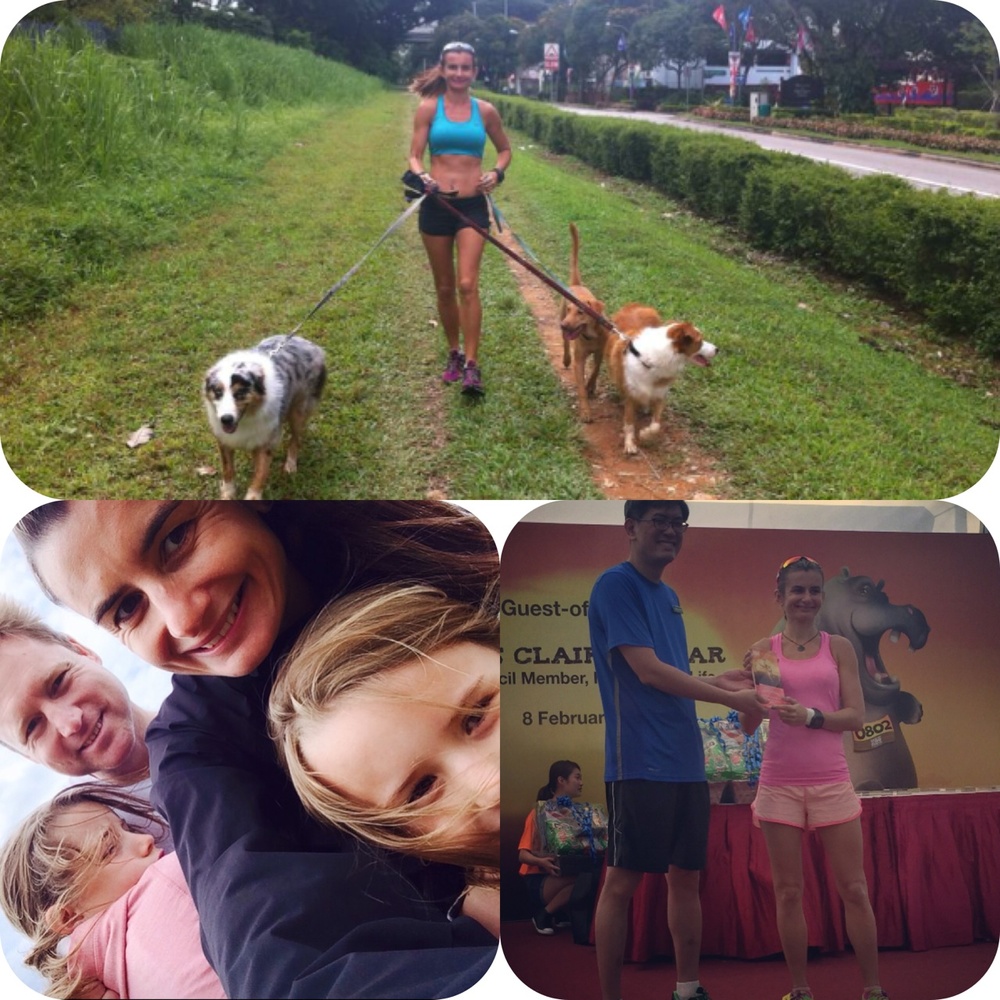 1. How long have you been in Singapore?
10 years in March. I've pretty much been in Asia all my life though, having grown up in Hong Kong, and consider it home.
2. Your favorite weekend activity?
I love the sea, so hitting up the beach with my paddle board is up there on the fav list. I just need to find time to do it more often. Oh, and anything that involves champagne and friends
3. Your favourite bootcamp activity?
I can tell you my least favorite – burpees! I'm a big fan of planks though and all of the variations, there are so many modifications that you can do to spice them up.
4. What gets you out of bed in the morning?
My ridiculously loud alarm. Either that or the cat / kids / dogs demanding to be fed. Don't bother speaking to me though until I have a cup of coffee in my hand. Caffeine addict.
5. Favorite healthy meal or snack?
Love, love, love sushi. You'll find me in Kinki (it's a restaurant!) a lot. If you haven't been, it's defo worth trying. Is it weird that I also love banana protein shakes and am slightly addicted to chocolate chip cookie dough Quest bars? Oh, and the juices from Lucky You too.
6. Tell us about your family?
My family is English but I see myself as a "Hongkonger". Just to confuse matters, my parents and brother are now all Aussies and live in Melbourne. Makes for some great family holidays. I met my husband Rory, a Fund Manager, when we were both living in HK and he was playing rugby for the same club I played hockey for. 17 years later and we've "accumulated" 2 daughters (Holly aged 9 and Riley aged 7), 2 dogs, 1 cat and lotsa fish.
7. Your fitness experience in the industry?
I came to the industry pretty late in the game, qualifying last year from the Australian Institute of Fitness. I was fed up with working in an office and a number of family and friends (particularly Clara who I was training with at McRitchie) encouraged me to qualify to become a coach. I look back now and wonder why on earth I waited so long to make the change, as I honestly love what I do. It's a job where you can never stop learning though. I'm currently studying for a certificate in nutrition, as well as TFW Level 1 certification, but there are a gazillion other courses out there I'm interested in.