Mix up your Christmas dishes this December and try out our latest starter option by our very talented bootcamper Sofi Bon Foster.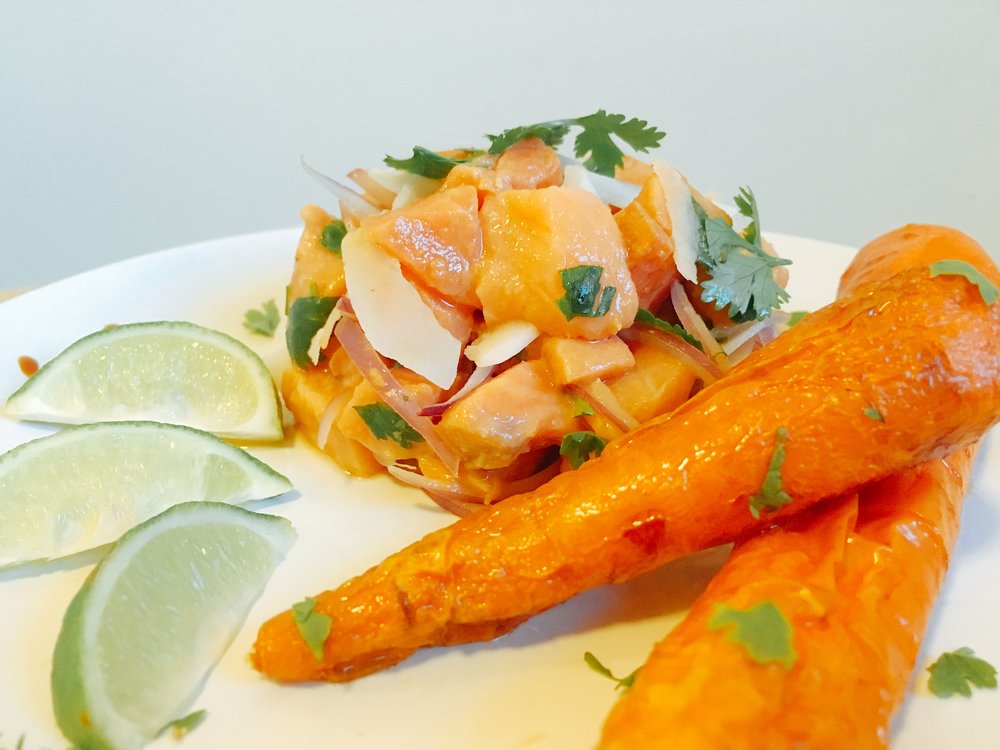 INGREDIENTS:
4 Portions of deskinned salmon (sashimi grade or frozen at -20C for 24hrs)
1 Red onion
6 Limes
1 tbsp coconut chips
Handful fresh coriander
1 tbsp tamari
8 small carrots
1 tbsp coconut oil
METHOD:
1. Steam the carrots until tender. Set aside.
2. Cut the onion vertically in half. Place the flat part facing down and chop thinly. Wash and chop the coriander. Reserve.
3. Slice the salmon into bite sized cubes. On a large bowl, mix with the onions and coriander. Squeeze the lime juice and pour. Combine energetically, cover with film and save on the fridge for 25 minutes.
4. Heat a frying pan to medium-high heat. Toss the coconut oil. Once is melted, put the carrots. Flip every minute until they start becoming golden, then add one tablespoon of Tamari Sauce and stir well.
5. Pick the ceviche from the fridge, add the coconut chips and more fresh coriander.
6. Using a ring and with a help of a tablespoon plate the ceviche. Serve with the glazed carrots and lime wedges. Another way to present the plate is on small shot glasses.
---
For more information for UFITs Nutrition programs get in touch with us here. Join our next Clean & Lean Challenges that we run 4 times a year providing you with the opportunity to change your healthy habits into a lifestyle.
Thanks to @Soff.it for providing these deliciously creative recipes.