Meera is one of our inspiring Personal Training clients at Amoy Street who shares her journey with UFIT so far.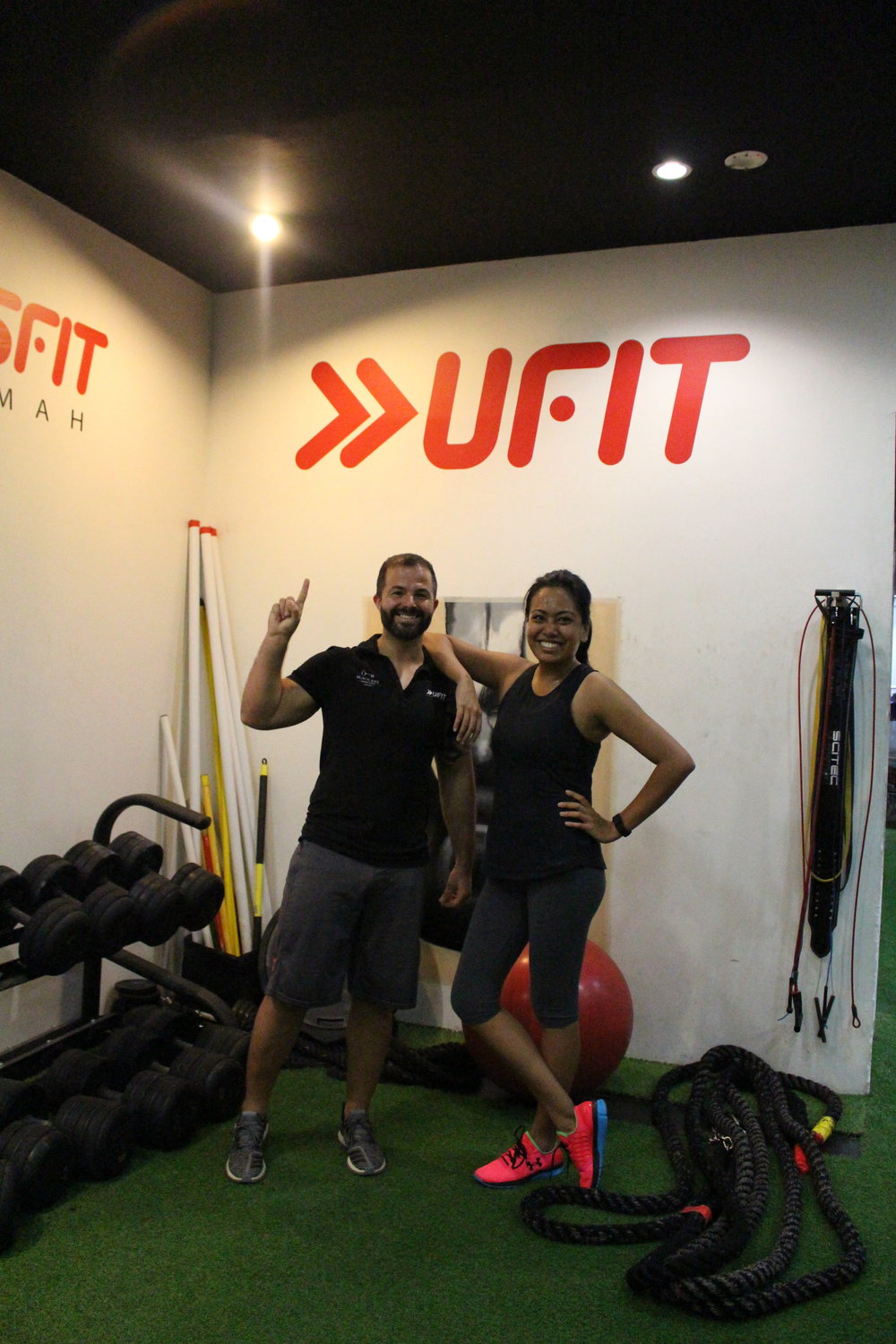 1. How long have you been training with UFIT?
I've been training with UFIT - bootcamps, CrossFit, Personal Training and beach sessions for about two years now. I started out with the Tanjong Beach sessions and then slowly got into the Fort Canning sessions, MetCon (for a while - when it was on!) and CrossFit Bukit Timah.
2. Can you explain what happened 6 months ago and what this meant for your health/training etc?
So I was diagnosed with a ridiculously rare form of meningitis in June of this year - after two months of consistently being told it was a sports injury. Paul from UFIT Clinic was actually one of the first to identify that it didn't seem to be a sports injury.
The meningitis I had was something that happened internally, not viral. Essentially, something popped in the brain and flooded everywhere. I had a brain, blood and spine infection. I was in intensive care for a week and then in a regular hospital ward for an additional 2 weeks and out of work for about 2 + months from what I remember. It was pretty uncomfortable too - put it this way, the multitude of lumbar puncture was a 1/10 on the pain level compared to the headaches I was having for a month and a half prior, and the discomfort that I had from the following months (which was probably a 10).
Everything was a blur during this time - a lot of sleep, way too much medication and a panel of doctors who were coming in to see me in their droves. Health wise, quite simply - walking to and from the shower/ bathroom/ around the ward literally felt like I had just run a marathon. I was tired, weak, really sore and just constantly aching. I remember taking a minute-walk around the ward floor required me holding onto a handrail, bending was next to impossible, and carrying a grocery bag was hard. It was really frustrating.
Cooking was pretty much the most active I got for that whole period - and that was tiring!
Being on steroids (and still!) also meant I was eating uncontrollably and put on about 12 kilos within 2-3 weeks, but I lost a ton of muscle mass from just being in bed and unable to move for almost a month, and just being weak overall. Steroids aren't really fun either - it was like being back in high school - acne, way too much weight, not sleeping (probably 4 hours a night) at the most, and OCD. It was an emotional roller coaster.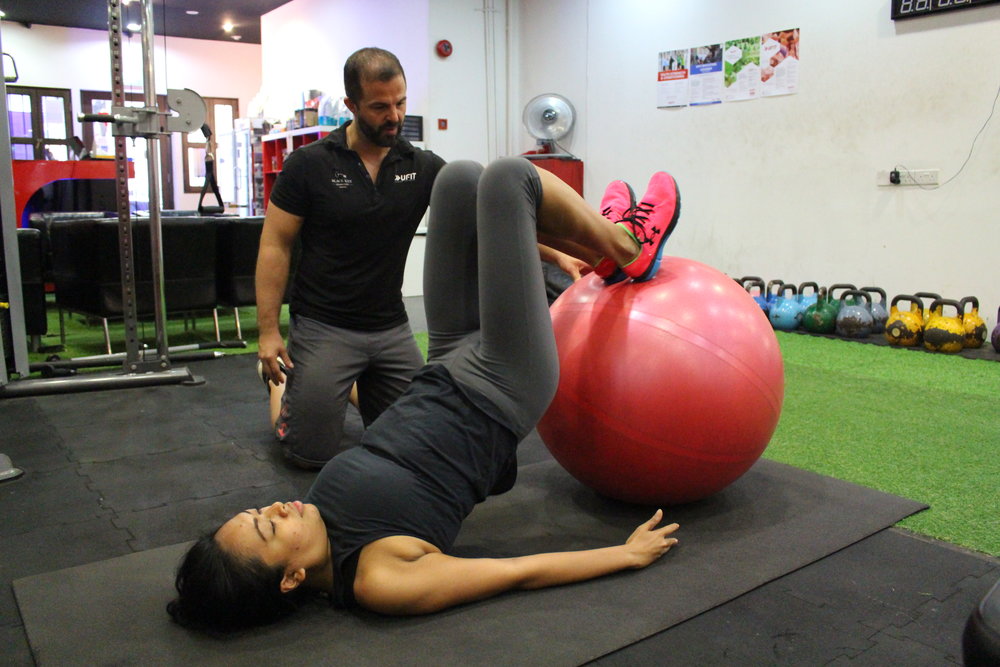 3. What kept you going?
Netflix and YouTube - kidding (but seriously, there are some awesome CrossFit videos and recipes on YouTube, I had no idea!).
Family and my friends. During this time, I had my own personal cheer squad and kept getting reminded about the stuff I could do after this blip in the road. They really helped me stay positive, especially during the tougher days. It was daily calls with hilarious stories of what had been happening while I had been out and text messages which kept me looking forward to getting back to work and regular life!
I also would have to say that grit had a huge part to play - I knew I had two options:
Get really down and wallow, potentially be self destructive by eating too much ice cream or drinking - this would be easy, or
Pushing through and getting stronger, so I can deal with it better and just pushing through the tough stuff, to get through.
The doctors pretty much said to me that I should only walk on flat surfaces, not do any weights and "take it easy" - I didn't like that and was really angry about those barriers. I like challenges and being strong - and wanted to get back to my regular schedule of races, training and being active as a whole.
So I thought I'd just go with the latter and see how it goes. Nathan knew my goals and I'd worked with him at bootcamps in the previous year, so he knew how to help!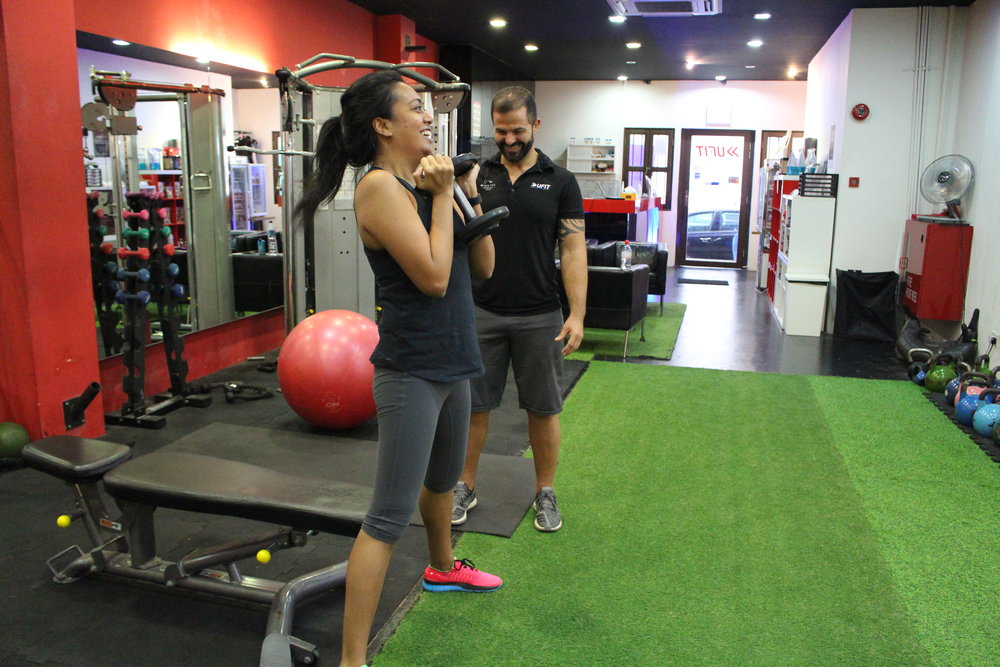 4. How has the training with Nathan helped you get back to full health?
OK, Nathan and Paul are ROCKSTARS. Honestly, I don't think I'm completely back to full form but those two are ridiculously good at what they do. (If this statement gets Paul & Nathan's schedule booked up, I'll take it back).
When I first went in to see Nathan for PT, I couldn't lift any weights and my mobility was pretty much like that of a 90 year old woman with osteoporosis - I couldn't walk up one flight of stairs without my heart racing. He was being really positive, but I could see that he was pretty worried. He gave me a clear training program for work to do at home and work to do in the gym - mobility, body weight WODs. Within the first month, I was back at MacRitchie doing the 10k walk, I'm hitting the prowler now, back to doing some lighter weight work at the gym too!
Paul was the first person to actually recognise something was really wrong from the UFIT Clinic. Two visits to A&E, one ambulance run & multiple visits to doctors didn't. Since I've been back from the hospital - I've worked with Paul on my mobility and have a better understanding of which movement slow-downs are neurological or muscle related, and how to better manage them or build up.
The great thing about Paul and Nathan was the fact that they spoke to each other and kept each other updated on what had been happening, so my training was all rounded and flowed well - keeping up and ensuring that the pace of my recovery was significantly faster than the doctors had actually predicted.
---
---