How the UFIT Holiday Camps helped kids learn new skills, improve technique and make new friends!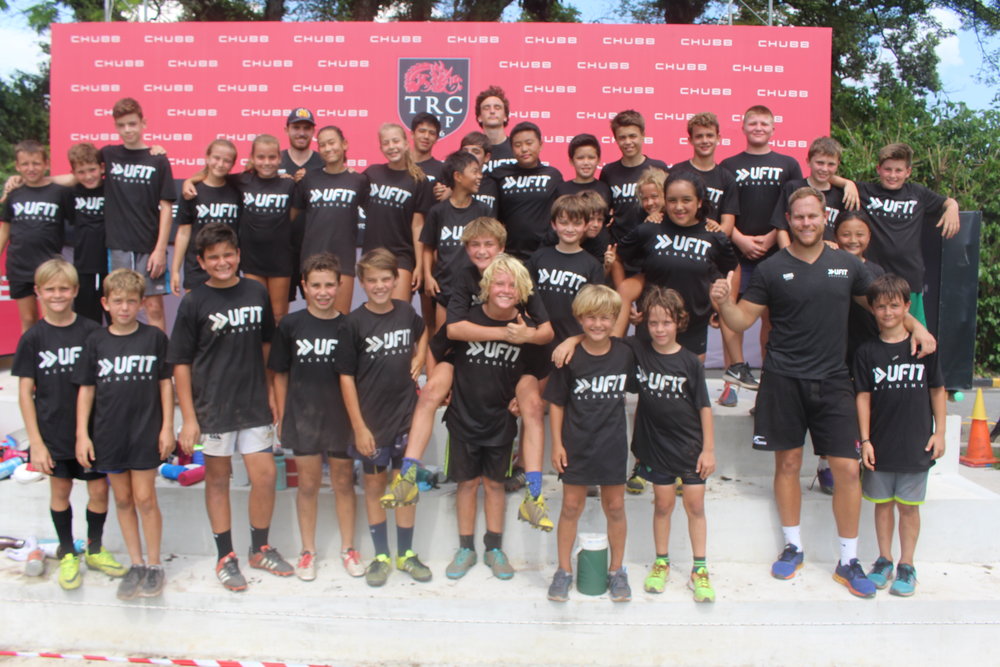 We kick-started our two weeks of fun with 53 kids ready to enhance their fitness, learn new skills, and improve their knowledge about the benefits of good nutrition.
Throughout the two weeks the kids started off with lunches that were not so much on the healthy side, but by the end they were actively heading home, using the notes from their nutrition talks and coming in with some deliciously healthy meals. Not only are our camps essential for kids to learn how to improve sporting abilities, but their diet is key. It's great we have the opportunity to share our knowledge to get them up to speed at such an early age!
They had loads of fun flipping tyres, playing games and using ropes while making new friends. We noticed them developing their skills over that short period of time and really giving it 100% effort when they were with us.
Athlete Development Camp Coach Tom Clarke explains "The main aim of the week was to develop young athletes with a wide range of skills and abilities. We could see this development happening as they listened to our tips and did their homework and came back each day with bundles of energy to learn more. We love these camps as we get to educate kids who love their sport and want to get better, it makes our job easy and rewarding.
We started each day with 30mins of warm-up co-ordination games, mobility and activation. We then moved to The Cage where we covered speed and agility, and did linear acceleration, top speed and change of direction. We used sleds, bands, wall balls and tyres and put the technique into game situations playing bib tag or relay races.
We also hit the gym for a strength session. Our key focus was to improve their technique in fundamental movement patterns such as squats, hinges, presses, pulls, rotate and brace. This was done through a circuit of exercises such as push ups to deadlifts and much more".
---
In the second week we saw an outstanding number of kids keen to develop their rugby skills at the Rugby Development Camp. Hear more from Frazer McArdell of what they got up to during the course of the week…
"We started our week with rugby handling skills to breaking down the catch and pass, strength and conditioning where we assessed their movement patterns to our nutrition talk where we covered basic nutrition for rugby performance which can be applied to a number of other sports."
Over the next few days we covered rugby decision making under pressure, delved into strength and conditioning more by covering speed mechanics and repeated speed. Even more importantly we covered essential recovery techniques for professional rugby players.
By the end of the week we re-capped all of the newfound knowledge on nutrition with some competitions on who had made the most changes to their lunches. We then went into what decisions can you make at the breakdown area and individual jobs within the team. We also played some contact based and situational games which is why everyone was here - to have some fun on the pitch".
Hear it straight from our parents and kids:
"Josh did the rugby camp and had a fantastic week. He enjoyed everything, from the gym sessions to the skills training, and even the nutrition seminars! He came home suitably tired, muddy and happy every afternoon and slept like a baby. He said he would definitely like to do a similar camp next year. Thanks to all the coaches for a really good week of rugby," Kerry, Cracknell, parent.
"The rugby camp was excellent. We learnt all about food to eat pre and post match, skills that will help us in matches, how to exercise so you don't hurt yourself, plus it was lots of fun," James, age 11.
We're dedicated as coaches and as a team to develop and educate your children early enough so that when they reach adolescence they will already be ahead of the game with the knowledge and education.
Let your child continue their growth at our next Kids Camps in April or get them signed up for a free trial at the UFIT Youth Academy that we run after school at 4pm to 5pm weekdays, except Wednesdays. Find out more information here.
April Kids Holiday Camps – save the date:
Athlete Development: 3-7 April 2017
Rugby Athlete Development: 10-14 April 2017
If you're interested in finding out more about the camps in April please don't hesitate to get in touch with our coaches right here.