Antonio is our superstar. He has been such an inspiration from day one and hasn't looked back since.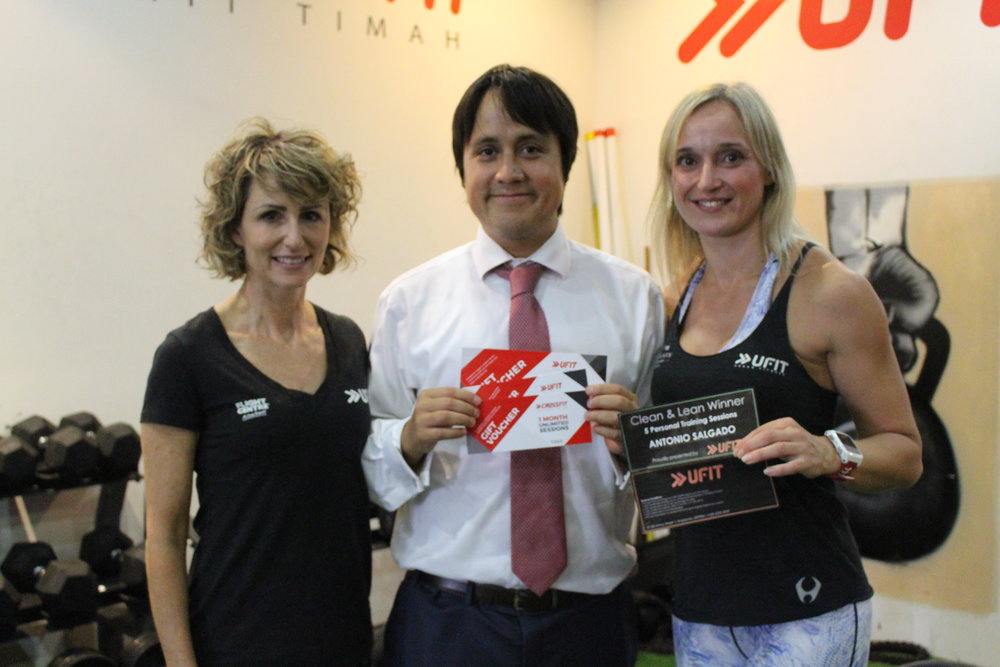 Given that Antonio unfortunately had an injury at the beginning of the programme he proved his commitment and determination to not let it get in the way. We couldn't be prouder of your awesome achievements Antonio.
Throughout the course of the four weeks Antonio showed staggering results in just four weeks and he lost an amazing 9kg and 7.85% Body Fat. Hear more about Antonio's journey and how he stuck at the programme.
"When I signed up for UFIT's Clean & Lean, I wasn't in the market for a weight-loss programme.
I had first leaned about it from Nathan, who mentioned after a UFIT Body Weight training session that one of the people that he trained had managed to change his body completely after only four weeks.
At the time the programme interested me but I was skeptic at first, as I have never been fond of the 'biggest loser' types of competition. I have a strong belief that people should be content with their bodies and that, sometimes, the obsession with physical appearance is too highly prioritised in our cultural agendas.
I had, however, been feeling sick for the past couple of years. I first attributed the feeling to the Asian diet and to the fact that I had "no time" to cook and was constantly eating in the street. For the longest time, I thought that eating yogurt and an apple in the mornings, and a salad here and there, and going to a boot camp session or running a couple of times a week would help me feel better and when it didn't, I just assumed that feeling sick was part of my new normal.
Last summer I went to Europe to visit friends and I discovered that many of them were making efforts to make positive changes in their lifestyle. When I came back, I knew that although I wasn't in the market for a weight-loss programme, I was in the market for a change.
It was not until I spoke with Giles at one of his first training sessions with UFIT that I learned that the program, rather than being designed for you to lose weight, was designed for you to introduce your body to healthier options and to learn to listen to what your body wants or needs.
I decided to give C&L a try. It helped a lot to know that real nutritionists had designed the programme and that it was being organised by UFIT, an organization I had come to trust.
When you go and look at the profiles of the instructors on UFIT's webpage, they are not just 'fit' people conducting bootcamp sessions, they also have professional certifications or studies in their field of expertise. Quite frankly, this made me trust them to sign up and I would probably have not done so otherwise.
The first week of the C&L was probably the hardest not only for me but also it seemed for everyone in the challenge. Week 1 is the week where you quit sugar cold turkey and you concentrate your efforts in cleansing your body. I remember people complaining on Facebook that week about feeling hungry and general tiredness. Myself, I had massive headaches for the first couple of days but luckily they disappeared before the end of the week.
I re-read those Facebook conversations now and laugh when I remember how we were all hurting then J!!!
To me, after the first week, it became quite easy, mostly because your body gets used to it pretty fast and because I started noticing some amazing changes right away. I was no longer bloated all the time and the sickness started to fade away.
The weekly meetings (with new additional ingredients revealed every week!) and the Facebook support group were the two things that kept me motivated the most. The people on Facebook were great, sharing recipes, providers, or stories. They really helped me to get through my moments of doubt. Having the support of my girlfriend, with whom I live, also helped. Even though she was not in the C&L, she would eat the same things that I ate in order to provide me with moral support. I think it's fair to say that we changed our lifestyle together.
Sadly, I hurt my knee on the first day of the challenge. The timing was maddening! I was not able to exercise and therefore thought that my chances of successfully completing the challenge were going to be severely impaired by my injury. I was shocked when I found out that I had won. It made me realise the power that food has in fueling and transforming your system.
This is something that may be obvious to a lot of people, but it was not that obvious to me. Before Clean & Lean, I always thought that if I was not feeling better it was because I was not exercising enough. However, I know now that what I eat can have a deep impact on my mood and my energy levels.
I came out of the C&L with an energy that I have not felt in years and for that I am extremely grateful that I decided to go with it.
The program was an exercise in discipline and it required me to confront a lot of things I thought I knew about eating well. Everyday life has a way of getting in your way. You think you have no time to eat breakfast or to cook, or that having a sugary drink during lunch will actually help you gain energy for the afternoon.
Changing your lifestyle is surprisingly easy to do if you are prepared and you have the proper guidance. UFIT Clean & Lean makes it easy for you in that sense because it connects you not only with providers but also with other people that are looking for similar goals as yours.
Now the challenge will be to maintain this lifestyle after the programme. I am confident that I will, as I learned a lot about the foods that hurt me and about what my body really needs. Now your goal is to keep clean & lean during the week and only drink or eat out once during the weekend. I would never say no to good pizza or beer – as long as it's only on occasion!
I would absolutely recommend this programme to anyone who is in the market for a change but who does not have not a single clue of when or how to do it."
A big thanks to our partners who supported us throughout the programme to keep our community energised, inspired and fuelled for their weeks ahead.
UFIT Clinic
UFIT Bootcamps
CrossFit Tanjong Pagar
The Whole Kitchen
Sarnies
Sabine's Baskets
FitThree Meals
The Providore
Join our next Clean & Lean programme and embark on a journey of a life time. Learn everything you need to know about nutrition and exercise to build a sustainable healthier, happier you. View our next challenge here. Take your first step with UFIT Clean & Lean. Make the change and see the life changing results.