A new spin of quiche heading your way. Try this ultimate quiche topped with Aliolo sauce.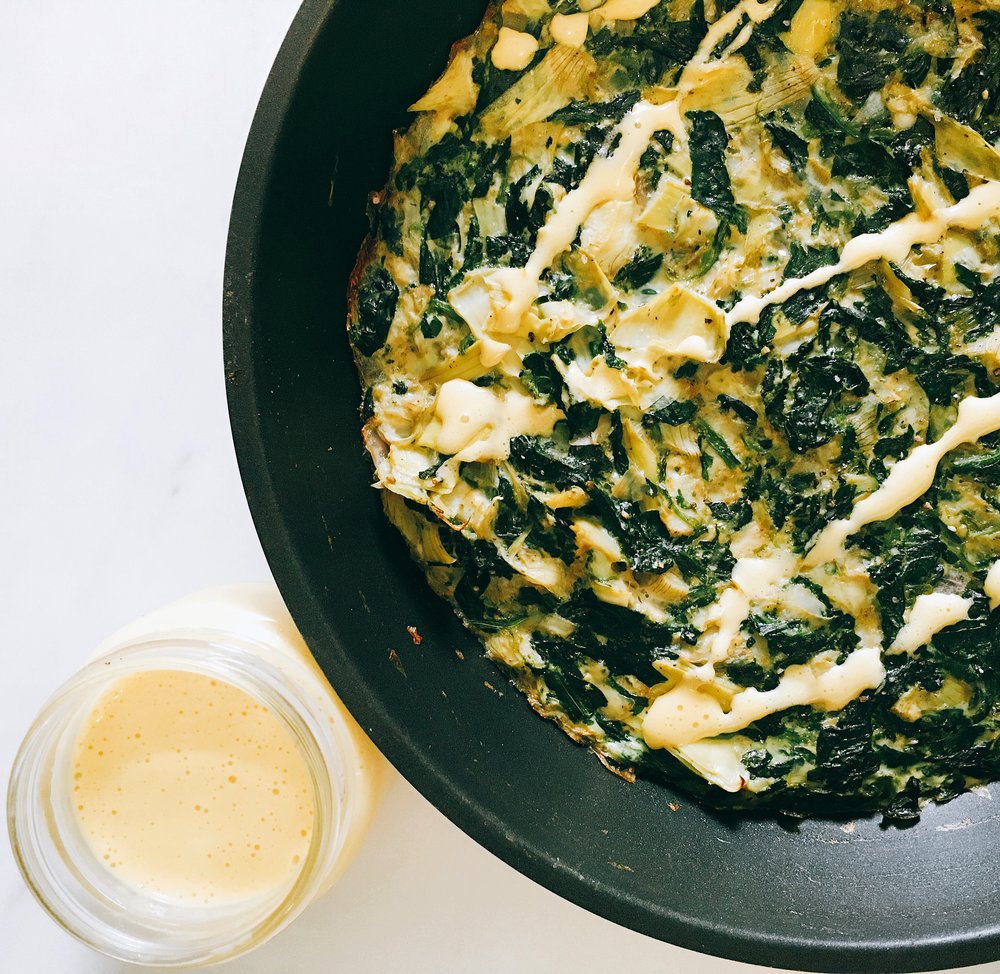 INGREDIENTS
150g of frozen spinach
1 can of artichokes (drained and roughly chopped
1/2 chopped onion
1 tsp of ghee
5 x egg whites (save 4 yolks for Alioli)
1 x egg
Salt, pepper and nutmeg to season.
For the Alioli sauce:
2 x egg yolks
1 x garlic clove finely chopped
3 tbsp of olive oil (traditional recipe requires more, so go ahead if you want)
1/2 tsp of mustard
1/2 tsp of vinegar
METHOD:
1. Preheat the oven to 170
2. Using medium heat and an "oven friendly" pan sauté the spinach and the onion until tender. Add the artichokes. Season to taste. Toss the ghee and mix thoroughly. Set aside and cool down for 10 min.
3. In a separate bowl, whisk the egg whites and the egg with a pinch of salt. Pour into the pan and mix.
4. Put the pan in the oven. Bake for approximately 20 minutes or until set.
For the Alioli sauce:
1. Mix all the ingredients with a hand blender or whisker for at least 5 minutes.
2. The mix has to thicken and turn white/creamy. If you want a "mayo" consistence, keep adding oil by drops.
For more information for UFITs Nutrition programs get in touch with us here. Join our next Clean & Lean Challenges that we run 4 times a year providing you with the opportunity to change your healthy habits into a lifestyle.
Thanks to @Soff.it for providing these deliciously creative recipes.