Sara is a dedicated pilates instructor who touched down in Singapore just a year ago and has been diving deep into movement and posture for almost a decade. With a keen passion for harmonizing mobility and flexibility, she specializes in aiding those with physical conditions like herniated discs, scoliosis, prenatal needs, and post-childbirth recovery, as well as anyone desiring enhanced body awareness and better posture.
She champions a strong core as the foundation that supports the entire body and underscores the importance of spine health, viewing it as the backbone of our well-being.
Sara believes that little changes can have big impacts and that it's never too late to embark on your health journey.
With her guidance, ensure you keep doing what you love, move the way you cherish, and bask in a vibrant life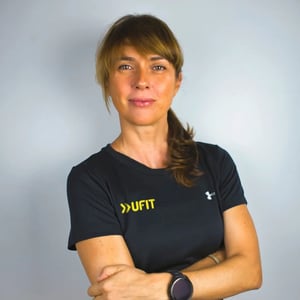 "You can't go back and change the beginning, but you can start where you are and change the ending."
Qualifications
Pilates Mat Specialty Certification - Body & Flow

(

Mat 1 Trainer Beginner and Intermediate

)

Pilates Reformer Specialty Certification - Body & Flow

(

Apparatus 1 Trainer Beginnner and Intermediate

)

Pilates Prenatal & Postnatal Certification - Body & Flow

(

Bkk Ory

)

Anatomy and Physiology - Chiva-Som International Health Resorts Co., Ltd.

(CIBTAC certification)

Diet And Nutrition - Chiva-Som International Health Resorts Co., Ltd.

PMA Certified Pilates Teacher (PMA-CPT) - Pilates Method Alliance (

ID 17164

)
Pilates Mat Specialty Certification - Body & Flow

(Mat 2 Trainer Advanced)

Certified Pilates Instructor - BASI Pilates

(

Korea - Juhan

)

Pilates Health Science Essentials - London College of Osteopathy (

Canada NPCP Id 36305-4037

)

Integrative Health Coach In Nutrition -

Institute for Integrative Nutrition

(April2023)

The Biomechanics Method Specialist - corrective exercise education 2023